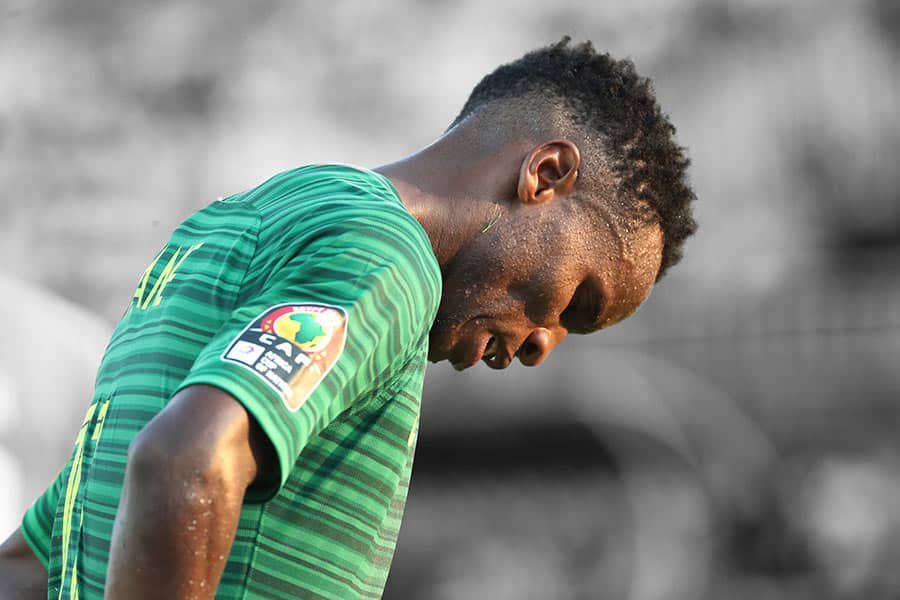 26 June 2019, by: Leonard Solms
AFCON 2019: MATCHDAY 1 REVIEW & MATCHDAY 2 PREVIEW
Matchday 1 of the Afcon 2019 did not disappoint from a neutral's perspective even though Bafana Bafana fans endured their traditional heartache.
Here, we look back at games that have gone by and ahead to matchday 2. There are plenty of mouth-watering clashes between Africa's most prestigious teams on the horizon as well as great value betting opportunities.
Results:
Egypt 1-0 Zimbabwe
Uganda 2-0 DR Congo
Matchday 1 Review:
The tournament started with hosts Egypt edging out Zimbabwe thanks to a stunner from Mahmoud 'Trézéguet' Hassan. The Warriors were unlucky not to pick up a point. Although, they set the tone for an Afcon where the underdogs stand up to Africa's big guns.
Uganda are one of the countries knocking on the door of Africa's elite after a fearsome display in their 2-0 win over the woefully disorganised DR Congo.
Matchday 2 Preview:
Uganda and Zimbabwe go head-to-head at 19:00 SAST this evening in what is bound to be an interesting battle. Both teams have proven they are not in Egypt to make up the numbers and there is plenty at stake.
DR Congo meanwhile will effectively be fighting for survival when they take on Egypt at 22:00 in what should be a one-sided affair in favour of the Pharaohs.
Results:
Nigeria 1-0 Burundi
Guinea 2-2 Madagascar
Matchday 1 Review:
Nigeria were far from their best but did what they needed to against Burundi. They claimed three points thanks to Odion Ighalo's well-taken winner.
Guinea looked set to join the Super Eagles at the top of the table but were thwarted by a stubborn Madagascar in a pulsating contest.
Matchday 2 Preview:
What looked an easy group to predict before the tournament, now appears set to be tightly fought. Nigeria should have enough quality to see off Guinea at 16:30 today in the first game. The Super Eagles are offering good value at 0.85 for the win.
Madagascar kick off against Burundi 24 hours later and a win would at the very least take them a long way towards securing a shock appearance at the round of 16.
Results:
Senegal 2-0 Tanzania
Algeria 2-0 Kenya
Matchday 1 Review:
Senegal and Algeria looked like two of the teams to beat at the Africa Cup of Nations while Tanzania and Kenya each have plenty of work to do. Neither Aliou Cissé's side nor Djamel Belmadi's men afforded their opponents a single shot on target as they both breezed to comfortable wins which could have easily been walkovers.
Matchday 2 Preview:
The 19:00 Thursday kick-off between Senegal and Algeria could go some way towards deciding the destination of the Africa Cup of Nations title. Sadio Mané's return from suspension adds the only missing element to Aliou Cissé's game whilst the Desert Foxes will turn to Riyad Mahrez in the hope of a repeat of his solid matchday 1 shift.
The 22:00 kick-off between Kenya and Tanzania will follow and this match will likely tell us who is set to clinch third place and a potential last 16 spot.
Results:
Morocco 1-0 Namibia
Ivory Coast 1-0 South Africa
Matchday 1 Review:
Namibia's Brave Warriors lived up to their nickname in a 1-0 defeat to Morocco. They put in a valiant defensive effort which was cruelly undone by a late Itamunua Keimuine own goal.
Bafana Bafana also held firm until late on against big guns Côte d'Ivoire. However, Jonathan Kodjia's 64th-minute goal appeared to knock the life out of Stuart Baxter's charges.
Matchday 2 Preview:
There's another clash of titans on the cards as Morocco and Ivory Coast prepares to face off on Friday at 19:00. This match pits two-time Africa Cup of Nations winning coach Hervé Renard against the team which he both beat in the 2012 final with Zambia and guided to glory three years later.
The 22:00 kick-off that same day sees Bafana Bafana take on the Brave Warriors in a must-win encounter for both sides. South Africa have stars like Lebo Mothiba and Percy Tau to lean on, but the underdogs tag gives Ricardo Mannetti's men a license to play with freedom.
Results:
Tunisia 1-1 Angola
Mali 4-1 Mauritania
Matchday 1 Review:
Tunisia were stunned by Palancas Negras despite taking the lead through a Youssef Msakni penalty. The Carthage Eagles allowed Angola back into the game and didn't look quite themselves at either end of the pitch. They eventually were forced to settle for a point due to Djalma Campos' equaliser.
Mali looked the real deal in a 4-1 drubbing of Mauritania with goals for Les Aigles coming from Abdoulay Diaby, Moussa Marega and both Adama Traorés.
Matchday 2 Preview:
Tunisia vs. Mali at 16:30 on Friday should be an absolute humdinger with two lethal attacks going head-to-head. This writer's advice is to lean towards over 2.5 goals at 1.50. Mauritania and Angola clash at 16:30 the following day and Palancas Negras stand a great chance of putting one foot in the round of 16.
Results:
Cameroon 2-0 Guinea-Bissau
Ghana 2-2 Benin
Matchday 1 Review:
Defending champions Cameroon did not quite look indomitable, but it's clear that they have not lost the lion's killer instinct. Second half goals from Yaya Banana and Stéphane Bahoken earned Clarence Seedorf's side the win.
This result was no doubt made sweeter by Ghana's poor 2-2 draw with Benin, although the Black Stars can feel hard done by having been in control of the game when John Boye was harshly handed a second yellow.
Matchday 2 Preview:
The final battle of the big guns in matchday 2 sees Cameroon and Ghana face off at 19:00 on Saturday. Don't write the Black Stars out in the race for top spot at least until this game is over.
The matchday concludes with an intriguing encounter between Benin and Guinea-Bissau three hours later. The former had the better start to the 2019 Africa Cup of Nations but both have some talented players with the ability to swing games in their favour.