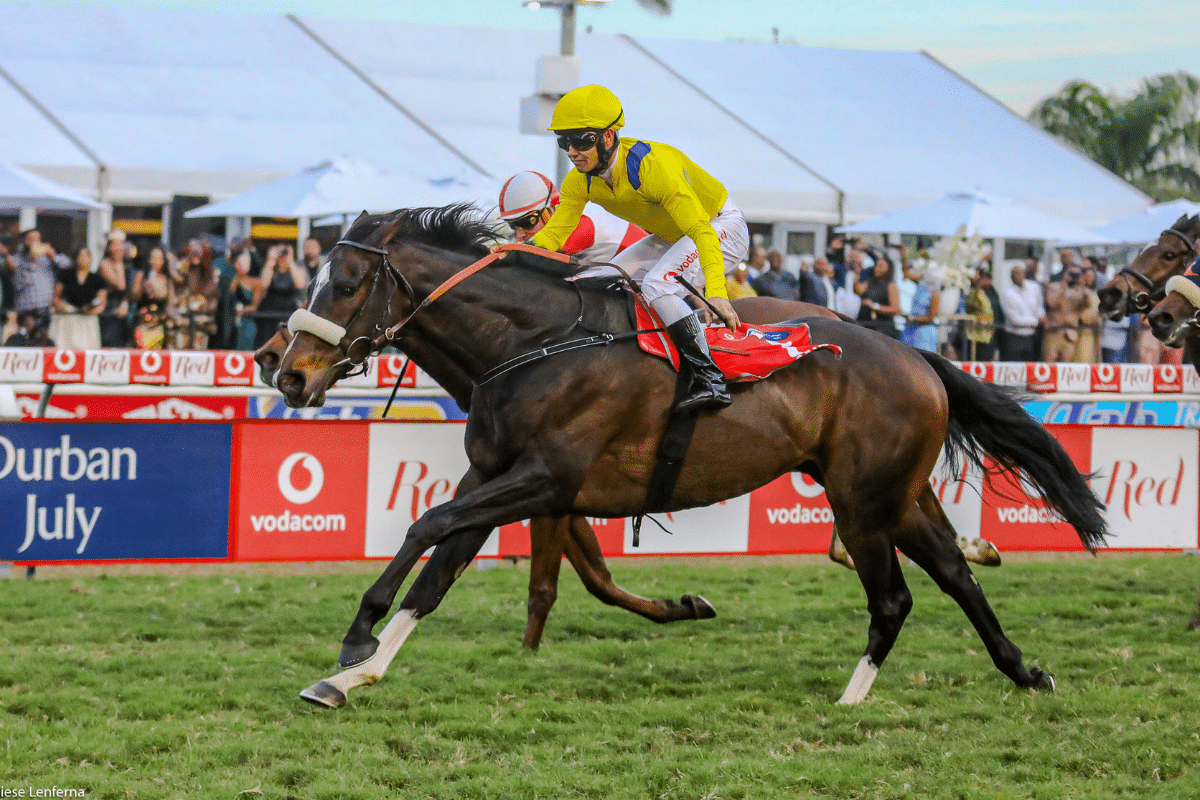 Get ready for an exciting weekend of horse racing with tips for Saturday's Durbanville and Sunday's Greyville meeting. We've selected four predictions for each day to enhance your betting experience. Saddle up for a thrilling ride through the tracks!
Durbanville (Saturday)
Race 2 – Cosmic Rhythm
Cosmic Rhythm, with Muzi Yeni in the saddle, demonstrated significant improvement over this distance at Greyville in his previous outing. After a 16-week break, during which he had the chance to strengthen, he appears poised for a strong performance. With the potential to not only benefit from this race but also secure a rewarding outcome for his backers, Cosmic Rhythm presents an enticing opportunity at a favourable price.
Race 3 – Lickety Split
In Race 3, Lickety Split is the top selection from a wide draw of barrier gate 10 after she put up a formidable challenge in her recent outing over this same course and distance. While she narrowly missed the win, facing a strong competitor in Coulditbe, Lickety Split's determination is evident. Despite the challenge of a wide draw, her alliance with Grant van Niekerk, known for providing exceptional guidance from the saddle, can be a game-changer. As one of the favourites in this race, Lickety Split is poised to showcase her potential once again.
Race 5 – San Pedro
San Pedro displayed notable potential in his recent performance, finishing 2.85 lengths behind another well-fancied horse in the race. While the weight advantage is a modest 0.5kg doesn't stand out to be the most convincing to shift the odds in his favour, the unwavering trust of jockey Richard Fourie in the saddle is a reassuring indication of San Pedro's work back home. With his evident talent and continued support from Fourie, San Pedro remains a strong contender worth keeping an eye on in this race.
Race 7 – Cala Muretta
Cala Muretta, guided by the experienced Richard Fourie, delivered a resolute victory in the Grade 2 Debutante in her last outing. Her strong finishing kick in that race strongly hints at her affinity for the extended 1400m distance. Although she faces older competitors this time, her undeniable talent and form make her a strong contender for securing a remarkable hat-trick.
Greyville (Sunday)
Race 1 – Future Flo
Shifting the focus to Sunday's Greyville meeting, the gates crash open with Race 1, and the standout favourite, Future Flo, steered by Rachel Venniker, commands our attention. In his previous outing over 1200m at Scottsville, he delivered a commendable performance, showcasing impressive speed before being narrowly caught at the finish line. Notably, several horses from that form line have gone on to secure victories. As the son of Futura ventures into the mile distance, his ability to handle the extra ground will be pivotal. With his current form and potential, Future Flo emerges as the top contender to watch and beat in this race.
Race 4 – Time Taker
In the fourth race at Greyville, keep a close eye on Time Taker from a neat draw of gate 3, with the capable Muzi Yeni in the saddle. Last time out, Time Taker finished impressively close to the front, earning respect from onlookers. With a pedigree that includes Time Thief and Constantia Mist, under the training of Nathan Kotzen and owned by Miss S Bhana, Time Taker shows promise. This combination of factors suggests that Time Taker has the potential to emerge victorious in this race.
Race 6 – Good Traveller
Good Traveller, under the skilled guidance of Rachel Venniker, exhibited a promising resurgence in form during his most recent outing over 1200m at Scottsville. With a past victory over this distance to his name, and considering his recent improvement, there is every reason to believe that Good Traveller is poised to be a strong contender and competitive force in this race.
Race 8 – Senor Garcia
Closing out the Greyville meeting in Race 8, the top choice is the well-fancied Senor Garcia, ridden by Serino Moodley. In his recent race over this course and distance, he showed a strong closing kick, finishing fourth. With the added benefit of starting from pole position, Senor Garcia is poised for a competitive run, and we anticipate a strong showing.
SIGN UP TO OUR BET CENTRAL PLAYBOOK

Get weekly emails packed with the best tips and sports content.

Get ahead of the game now - fill in the contact form below.