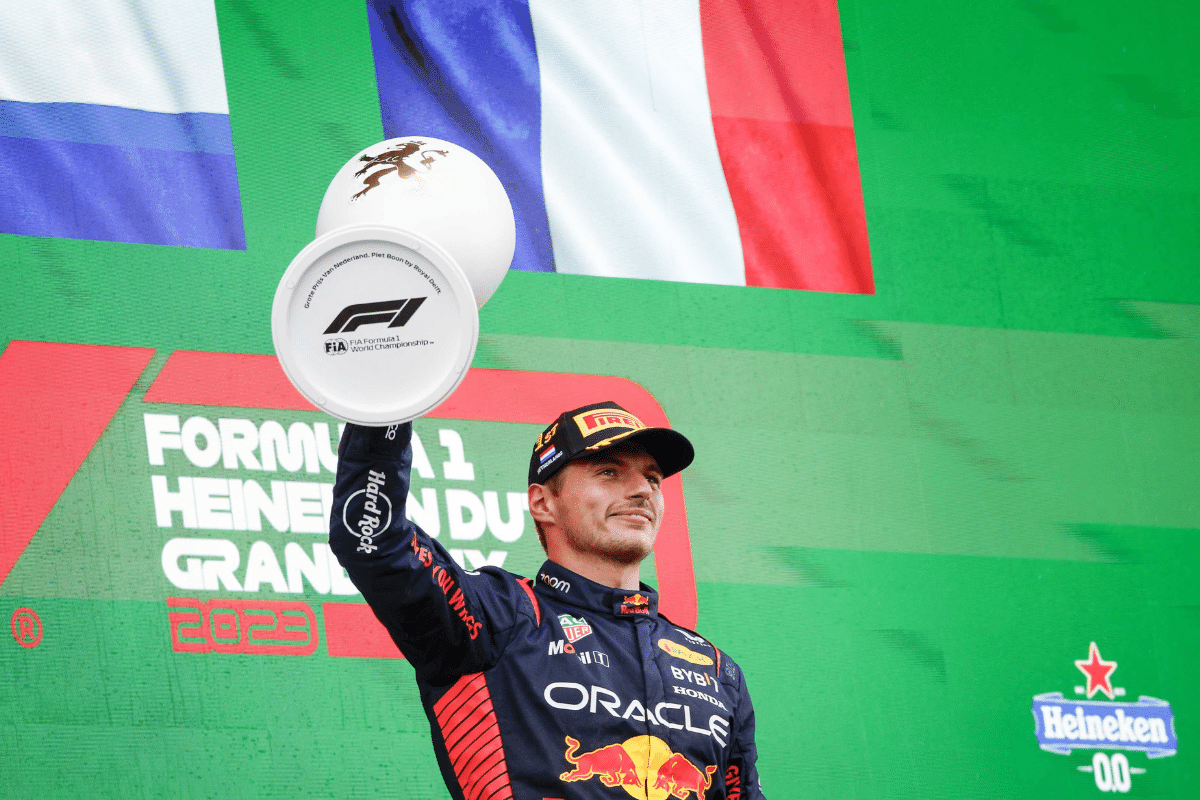 A meme shared on social media over the weekend of the Dutch Grand Prix read: "F1 drivers when they realise they will hear the Dutch anthem twice at Zandvoort".
Title favourite Max Verstappen scored his ninth consecutive victory this season and a hat-trick of Dutch GP win at Zandvoort. He's closing on a third title in as many years, but at which race can he secure the 2023 crown?
The combination of the Honda powerplant and Red Bull engineering has made Max untouchable this season, and a haul of 10 wins from 13 races is remarkable.
After a win at his home race, Verstappen increased his lead over Red Bull teammate Sergio Perez to 139 points with nine races remaining in the season. There's a total of 258 points still on offer this season, and that includes three Sprint weekends with a driver able to score a total haul of 34 points.
Last season the Dutch driver secured the title at the Japanese GP.
Verstappen's substantial lead in the drivers' standings could see him crowned champion at the end of the Japanese GP. That's based on him winning at Monza, Singapore, and Suzuka (and claiming an extra point for the quickest lap). However, that's if Perez fails to score in the next three races. That's highly unlikely as the Mexican has scored an average of 15 points per race this season.
The more likely scenario is that Verstappen continues to win almost all the races in the next few weeks, and scores big over the Sprint weekend in Qatar. We foresee Verstappen increasing his lead over Perez from 138 to more than 180 points by the Qatar GP.
It means the Dutch driver will be crowned champion with five races remaining. Red Bull is in a dominant phase at the moment and Verstappen's excellent driving and composure have propelled the team into one of the greats of the sport.
According to the GP Blog, these are the number of points remaining ahead of each GP:
Italian Grand Prix – 258 points
Singapore Grand Prix – 232 points
Japanese Grand Prix – 206 points
Qatar Grand Prix (sprint race) – 180 points
United States Grand Prix (sprint race) – 146 points
Mexican Grand Prix – 112 points
Brazilian Grand Prix (sprint race) – 86 points
Las Vegas Grand Prix – 52 points
Abu Dhabi Grand Prix – 26 points
SIGN UP TO OUR BET CENTRAL PLAYBOOK

Get weekly emails packed with the best tips and sports content.

Get ahead of the game now - fill in the contact form below.