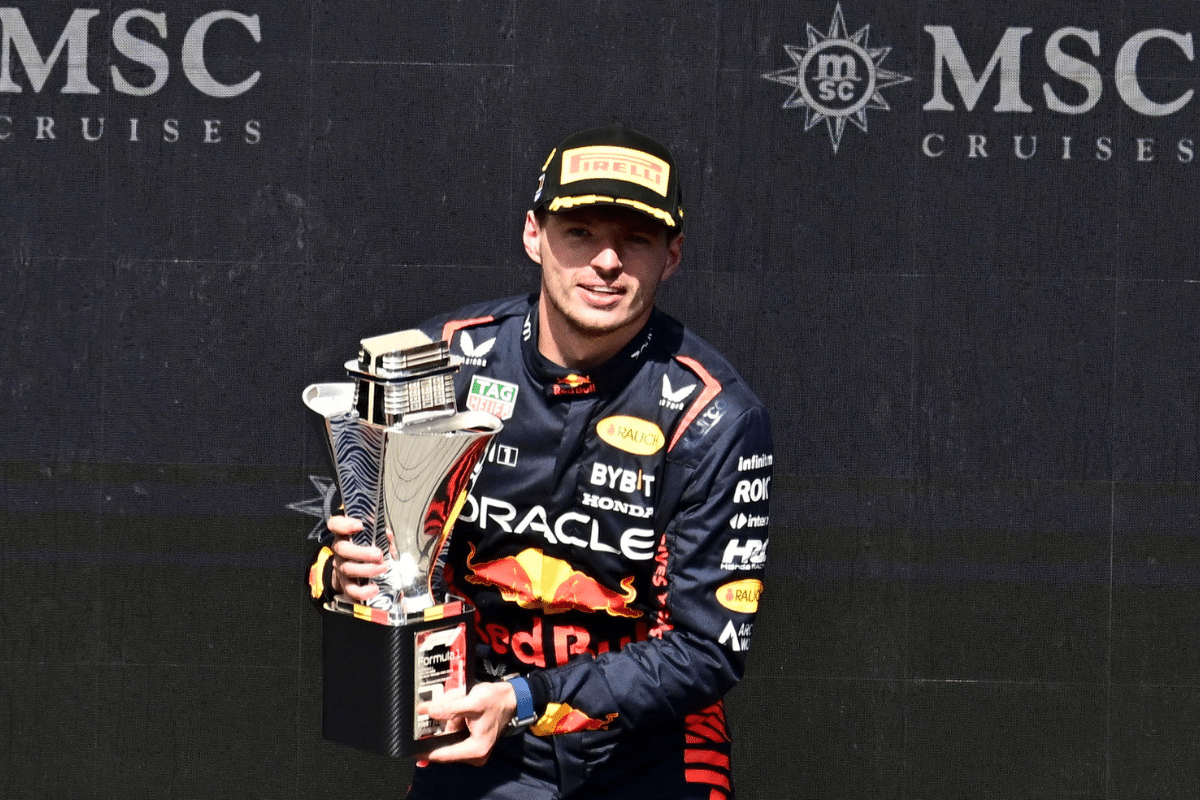 It has been less than a month since the last Formula 1 Grand Prix in which Max Verstappen comfortably beat Sergio Perez and Charles Leclerc to lead a Red Bull one-two in Belgium.
Before we focus on this weekend's Dutch Grand Prix, let's look back at the first 12 races of the season.
There have been achievements and disappointments: Red Bull's dominance has seen the team set a new record for most victories from the beginning of a single season (12). At the opposite end, AlphaTauri released Nyck de Vries after just 10 races.
These are our winners and losers of the season so far:
Winners
The easy option is to pick Red Bull and Verstappen as the biggest winners of the season so far, and we wouldn't be wrong. The RB19 has been incredibly rapid across all different types of circuits. Verstappen has driven immaculately and looked unbeatable. The 25-year-old is super composed and most of his victories didn't require taking huge risks. 
It's unlikely Red Bull will finish the season by winning every race, it has never been done before. We reckon Mercedes or McLaren will challenge for a race win in the event of Red Bull struggling with reliability issues and suffering a DNF. Hats off to the team's engine department, as the Honda power plant in the RB19 offers the best of both worlds: reliability and power.
Interestingly enough, the last time Red Bull didn't win a race was in Sao Paulo in 2022.
Lewis Hamilton has admitted it's tough being on the other side as one team dominates the sport. The seven-time champion narrowly lost out to Verstappen in 2021 and bounced back in 2023 after a horrible 2022 season. 
Hamilton's stupendous lap that secured his 104th pole position in Hungary showed the world that class is permanent, and form is temporary. The Briton is currently fourth in the drivers' standings with four podium finishes, but with upgrades to the W14 in the second half of the season, Hamilton will have his eye on finishing behind Verstappen.
Fernando Alonso has shown that a move from Alpine to Aston Martin was the correct decision as he scored four podium finishes in the first six races of the season. The double world champion drove brilliantly to finish second in two races and occupies third place in the drivers' standings. 
At times the AMR23 looked like it could challenge for a win. However, the Silverstone-based team has come off the boil in the final trio of races before the break and Alonso will hope to reignite the momentum at the Dutch GP.
While we love records being broken there have been moments this season when we've wanted teams and drivers to challenge Red Bull. McLaren had a dismal preseason testing program, finishing stone last.
However, a series of upgrades introduced to Lando Norris' MCL60 in Austria and then Oscar Piastri's car in Silverstone rocketed the team up the order. Norris claimed 12 points in eight races before Austria, in the following four before the summer break he amassed 57 points. The two consecutive second-place finishes in Silverstone and Hungary were impressive. 
F1 rookie Piastri led his first laps in the sport during the Belgian GP Sprint and has scored 29 points in the last three races before the midway point. The 22-year-old Australian's driving style has been likened to Verstappen and under the management of former Red Bull F1 driver Mark Webber, he has a bright future ahead of him.
Finally, we reckon Alex Albon's move to Williams at the start of 2022 might have been seen as a move backward. The British team finished last in 2022 and replaced Nicholas Latifi with American driver Logan Sargeant. 
Under the guidance of new team principal James Vowels, Albon's performances in 2023 have been elevated to a new level. The British Thai driver has scored all of the team's points this season to propel them to seventh in the constructors' championship, he occupies 13th position in the drivers' standings.
The FW45 is rapid in a straight line, Williams had the third-quickest car in pre-season testing. and the team plays to its strengths on circuits with long straights.
Albon's standout performance was in Canada, where he took advantage of the 1.2km straight, as he rocketed Williams' updated car to an impressive seventh place after qualifying ninth.
Albon rued a mistake in Australia that saw the 27-year-old lose the sixth position after barreling into the barriers at Turn 6.
Losers
Ferrari. The sport's oldest team has had a dismal first half of the season by their lofty standards. They started the season awfully after Charles Leclerc suffered a retirement in the opening round with a power unit failure. The Monegasque driver suffered another DNF in Australia and only has three podium finishes this season. 
Leclerc has shown his mettle with a spectacular double pole position for the Sprint in Azerbaijan, eclipsing Verstappen and Perez to start on pole for both races.
The team is languishing in fourth place in the constructors' championship, a stark contrast to the Italian's second-place finish in the championship last season.
Two key issues that plagued Ferrari have been its poor reliability issues and unacceptable strategy calls that have cost both Leclerc and Carlos Sainz valuable points.
The team's pit crew hasn't been up to standard and in a sport where hundredths of seconds count, they need to improve quickly.
The Scuderia have their workout cut out for them and will need to overtake Aston Martin and Mercedes if they want to repeat last season's finish in the championship.
The final loser of the season so far has to be Nyck de Vries. The former Formula E champion and Mercedes reserve driver drove brilliantly to finish ninth at Monza last season as a deputy for Alex Albon. 
AlphaTauri came calling for the Dutchman in 2023, it was somewhat of a surprise to see a driver so closely connected to Mercedes moving to a Red Bull-owned team.
He began the season with two 14th-place finishes before a double DNF derailed his plans. A best finish of 12th in Monaco was a highlight for the 28-year-old, but he felt the wrath of Red Bull's philosophy and was duly let go 10 races into the season. Some felt AlphaTauri didn't give him enough time, but when Red Bull advisor Helmut Marko makes a call the team goes with it.
Marko and co-opted to place former Red Bull driver Daniel Ricciardo in De Vries' place. We feel the Dutch driver should've had more time to show his mettle, and once again it shows Red Bull's unwillingness to allow drivers to make mistakes and learn from them.
Alpine perhaps deserves a mention as they expected big things after recruiting Pierre Gasly to partner Esteban Ocon and their fourth-place finish in the last season's constructors' championship. 
However, it has been a difficult year for the French team with two French drivers. Gasly has had three DNFs, while Ocon had four so far this season.
They're currently sixth in the championship and fired four experienced team members in the form of Laurent Rossi, team principal Otmar Szafnauer, Alan Permane, and chief technical officer and former Ferrari engineer Pat Fry.
We'll be watching what happens at Alpine with bated breath.
SIGN UP TO OUR BET CENTRAL PLAYBOOK

Get weekly emails packed with the best tips and sports content.

Get ahead of the game now - fill in the contact form below.