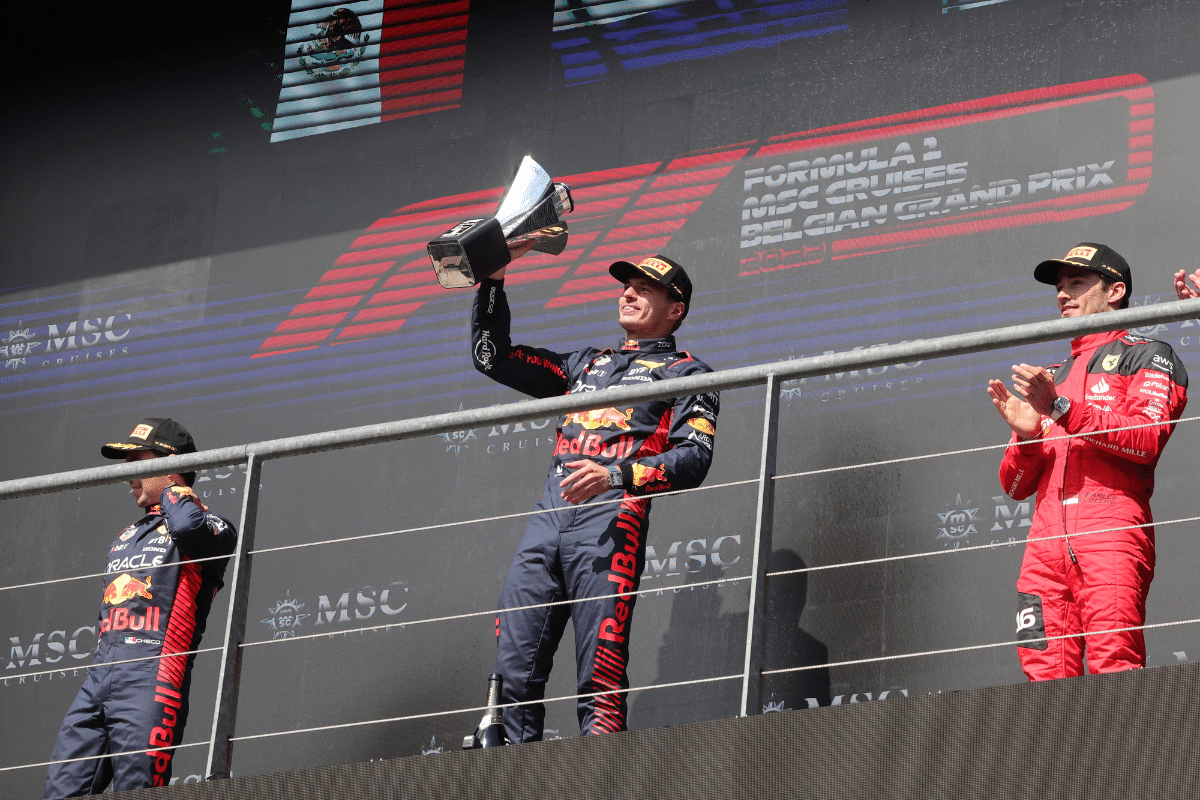 Max Verstappen ended the first half of the Formula 1 season the same way he began it: with a win.
The Dutch driver stayed out of the trouble at Turn 1 despite starting in sixth place due to a grid penalty for sporting a new gearbox.
The reigning world champion had a winning margin of over 20 seconds to teammate Sergio Perez, while Ferrari's Charles Leclerc collected the final spot.
It was Red Bull's first one-two result finish since Miami almost four months ago. Verstappen's wins in the Sprint and Sunday means he holds a lead of 125 points as the sport heads into a four-week-long summer break.
Piastri's Eventful Weekend At Spa
McLaren's rookie driver Oscar Piastri drove brilliantly in the Sprint race to secure second position and score seven points in tricky conditions. The rain-affected Sprint saw the race start behind the Safety Car. Once the action began Piastri showed bravery around the seven-kilometre long circuit and even led his first laps in Formula 1.
"We've still got a little bit of work to do to continue working towards the top, but it's a lot nicer to be up there, and to lead my first laps in F1 was a day I won't forget," the Australian said.
However on Sunday Piastri was left frustrated after an incident with Ferrari's Carlos Sainz early in the race. The McLaren driver was forced to retire the MCL60 on the opening lap.
Piastri said: "I don't know what he was doing. I was there and he just turned in like I didn't exist."
The two drivers had an incident at the tricky La Source hairpin and Piastri found himself squeezed against the wall on the inside of the corner. There wasn't enough room, and in hindsight, the 22-year-old should have been more careful and rather attempted a pass later on in the lap.
Overall, Piastri walked away from Belgium with a positive attitude, "It's still been a positive weekend though and all in all, I think we've had some good learning on track so we can still be confident for the rest of the year," he said.
Good Results For Hamilton, Alonso, Ocon, And Tsunoda
Lewis Hamilton scored 13 points after bagging the fastest lap at the death and finishing fourth after being held off by Leclerc. However, the seven-time world champion said he was concerned about increased bouncing from the W14 this weekend.
"The rear-end is our biggest issue and we had big bouncing this weekend so we were back to the bouncing like we had last year. In the end, I was keeping the Ferrari within a few seconds but I couldn't get any closer to battle and to get the fastest lap at the end, it was nice to have the gap to the car behind," he said.
Aston Martin's Fernando Alonso was happy with a fifth-place finish after he passed Mercedes' George Russell. Fellow British driver Lando Norris finished seventh after going backward at the start of the race. The McLaren driver scored two second-place finishers in the previous two races but was happy to score points for the team.
"We ended up finishing P7, which was, I think as good as the race could have gone today. Tough for the team, but we scored some good points, and we have to take that going into the break," Norris said.
Esteban Ocon ended Alpine's dismal performances in the last two races to bag an eighth place, while AlphaTauri's Yuki Tsunoda finished in 10th to bag one world championship point. His teammate Daniel Ricciardo could only manage 16th.
2023 Belgian Grand Prix final classification
1 Max VERSTAPPEN Red Bull Racing 1:22:30.450 44 laps 2 stops
2 Sergio PEREZ Red Bull Racing +22.305 2 stops
3 Charles LECLERC Ferrari +32.259 2 stops
4 Lewis HAMILTON Mercedes +49.671 3 stops
5 Fernando ALONSO Aston Martin +56.184 2 stops
6 George RUSSELL Mercedes +63.101 1 stop
7 Lando NORRIS McLaren +73.719 2 stops
8 Esteban OCON Alpine +74.719 2 stops
9 Lance STROLL Aston Martin +79.340 1 stop
10 Yuki TSUNODA AlphaTauri +80.221 2 stops
11 Pierre GASLY Alpine +83.084 1 stop
12 Valtteri BOTTAS Alfa Romeo +85.191 2 stops
13 Guanyu ZHOU Alfa Romeo +95.441 2 stops
14 Alexander ALBON Williams +96.184 3 stops
15 Kevin MAGNUSSEN Haas F1 Team +101.754 2 stops
16 Daniel RICCIARDO AlphaTauri +103.071 2 stops
17 Logan SARGEANT Williams +104.476 3 stops
18 Nico HULKENBERG Haas F1 Team +110.450 2 stops
19 Carlos SAINZ Ferrari DNF, lap 25
20 Oscar PIASTRI McLaren DNF, lap 1
F1 2023 World Championship standings
Max Verstappen Red Bull 314
Sergio Perez Red Bull 189
Fernando Alonso Aston Martin 149
Lewis Hamilton Mercedes 148
Charles Leclerc Ferrari 99
George Russell Mercedes 99
Carlos Sainz Ferrari 92
Lando Norris McLaren 69
Lance Stroll Aston Martin 47
Esteban Ocon Alpine 35
Oscar Piastri McLaren 34
Pierre Gasly Alpine 22
Alexander Albon Williams 11
Nico Hulkenberg Haas 9
Valtteri Bottas Alfa Romeo 5
Zhou Guanyu Alfa Romeo 4
Yuki Tsunoda AlphaTauri 3
Kevin Magnussen Haas 2
Logan Sargeant Williams 0
Nyck de Vries AlphaTauri 0
Daniel Ricciardo AlphaTauri 0
Constructors' Championship
Red Bull 503
Mercedes 247
Aston Martin 196
Ferrari 191
McLaren 103
Alpine 57
Williams 11
Haas 11
Alfa Romeo 9
AlphaTauri 3
SIGN UP TO OUR BET CENTRAL PLAYBOOK

Get weekly emails packed with the best tips and sports content.

Get ahead of the game now - fill in the contact form below.