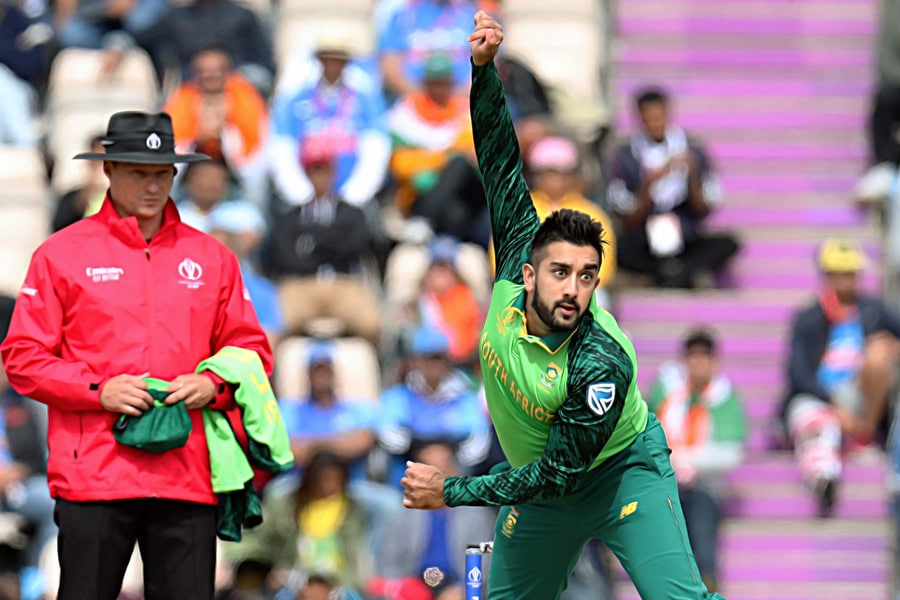 18 September 2019, by: Rohit Sankar of CricXtasy
Time Ripe for 'Masked Magician' Tabraiz Shamsi to Step Up his Act
Tabraiz Shamsi is a weird character. He perhaps won't fit the physicalities of the first cricketer that comes to your mind when you think of a South African. Chubby and a tad short possessing an art that had remained under covers since Paul Adams retirement, the Chinaman spinner was at one time believed to the next in line in all forms of the game.
However, three years after his debut for the Proteas, Shamsi remains just that – a back-up spinner who doesn't quite impress with his performances so chooses to enchant you with his celebrations.
One particularly quirky celebration involved pulling out a neck scarf or mask and covering half of his face with it. Coined as the 'masked magician' celebrations, Shami's antics got noticed by even the ICC, who quickly banned it.
Hahahaha it's the #MaskedMagician Celebration @jpduminy21 ??@MSL_T20 #Celebrations #GoodTimes #JustForFun @ICC pic.twitter.com/pizqFEkxQM

— Tabraiz Shamsi (@shamsi90) December 6, 2018
It is perhaps ironic that Shamsi chose the masked magician as his celebratory run. Despite possessing oodles of talent and at one time appearing to be a world-beating spinner who could be Imran Tahir's successor, Shamsi's skills remained masked.
With episodes of brilliance interspersed with lengthy spells of fickleness, Shamsi became a target for most opposition batsmen particularly since he was mostly part of a near-impermeable attack.
His ODI and T20I records are in disagreement with his skillsets as a spinner. 19 wickets in 17 ODIs at an average of 42 and 10 wickets in 14 T20Is at 38.7 and an economy nearly touching 8, Shamsi has flattered to deceive.
As South Africa look to topple India in their backyard in the shortest format of the game with the T20 World Cup next year presenting the bigger picture, Shamsi will have one final go to seal that spot down. With no Imran Tahir, Shamsi is the lead spinner in the T20I side with Bjoin Fortuin and George Linde, both left-arm spinners like the magician.
But his real test is to assume that lead spinner's role literally. Against the nimble-feet of the Indian batsmen, Shamsi's task is cut out. He has often been erratic when the batsmen look to take advantage of him and it's here that South Africa will closely watch the wrist spinner. If he fails to put a leash on his line and length and bowl to a plan, Shamsi might soon be queueing up below the likes of Fortuin and Linde.
A poor batsman and a very ordinary fielder, all Shamsi has to show for is his exemplary spin bowling capabilities. If he errs there, international cricket can be a hard taskmaster as he has already started realising. What he would want is a dazzling season before the T20 World Cup, something like the domestic first-class season he enjoyed in 2015-16.
Then Shamsi was the leading wicket-taker in the competition in South Africa and eked out 41 wickets at 19.97 in Titans' title-winning season. The period was a bumper one for him with St Kitts and Nevis Patriots signing him up for the Caribbean Premier League 2015 season and Royal Challengers Bangalore bidding for him in the IPL.
He shone in the CPL with 11 wickets at 13.27 but was largely off colour for RCB in the IPL next year. He picked up just three wickets in five matches and after a solitary appearance in 2017 was nowhere to be seen in the league.
This inconsistency is relatable to Shamsi throughout his career. He has never had lengthy periods of excellent form and has often followed by spell-binding performances with listless outings. Despite possessing a bag of tricks, this has left the Chinaman spinner without too many deals in franchise cricket.
With Keshav Maharaj still not a part of the limited-overs side, Shamsi has a golden chance in India to become South Africa's long-term limited-overs spinner. But it comes with a catch. A failure here would mean Shamsi might go back to domestic cricket forever. Unlike before, South Africa have a slew of spinners coming through the ranks – Maharaj, Linde, Fortuin, Von Berg, Muthuswamy and a few others – who not only offer a better deal with the ball than Shamsi but also stand out with their batting abilities.
JOIN BET.CO.ZA NOW AND
GET 100% DEPOSIT MATCH UP TO R1000
Open your BET.co.za account here
Deposit using your preferred method
Your bonus gets added immediately!
MORE CRICKET