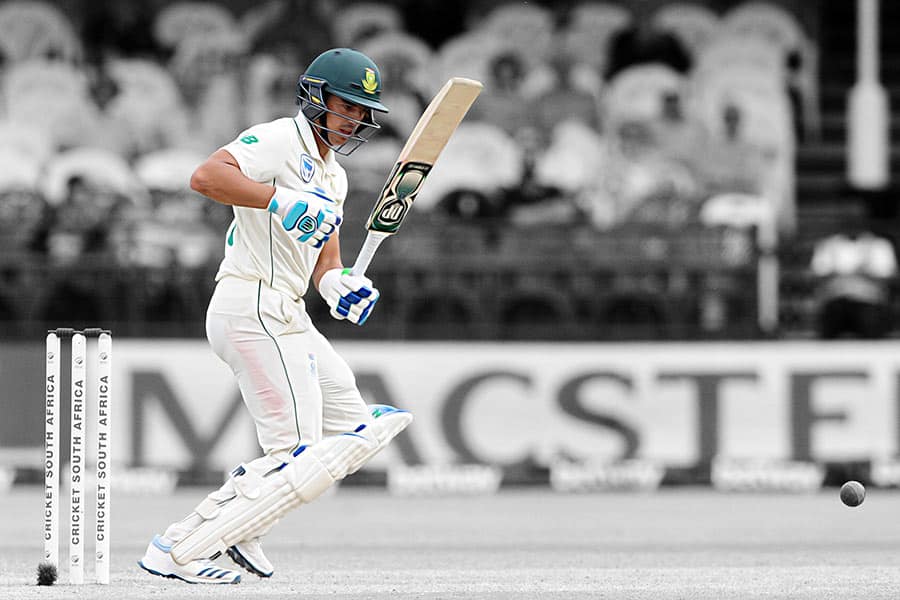 14 January 2019, by: The Popping Crease
South Africa v England: Third Test Preview
The series is delicately poised as we head into the third Test tied at 1-1. England showed their ability to bounce back after defeat in the first Test, it is now time for the Proteas to do the same.
South Africa's resurgence from the first Test was taken down a notch after their loss in the final day of the New Year's Test. One factor that is constantly being spoken about is the shot selection of the Proteas batsmen. Too often we see set batsmen, experienced batsmen throwing their wickets away. This has to stop.
However, what was a positive for the hosts was that, in a bid to bat out a draw, the Proteas opening batsmen, for the first time in 16 Test innings, put on a fifty run stand.
This was good for multiple reasons: 1) it gave the rest of the team some belief, 2) it meant number 3 Zubayr Hamza didn't have to face a brand new ball and 3) it gave Dean Elgar and Pieter Malan much needed time together in the middle to build a rapport with one another.
Despite the second Test loss, the fight that was demonstrated by the inexperienced Proteas players, Pieter Malan and Rassie van der Dussen in their second innings was nothing short of incredible.
van der Dussen received, in my mind, unfair criticism in the first innings of the second Test, when commentators on both SABC and SuperSport were criticizing his strike rate. van der Dussen scored his second Test half-century, in consecutive innings and then went on to have a marathon stay at the crease for 140 balls for 17 in the Proteas' hunt for a draw late on Day five.
His stay at the crease totalling 194 minutes was bettered only by Pieter Malan's 369 minutes. van der Dussen has the skill and temperament to survive and also thrive at this level and the criticism thrust his way was unfair and unnecessary.
Pieter Malan's maiden Test half-century in trying circumstances was simply outstanding. His powers of concentration, skill and grit was exactly what the Proteas needed. His comment that it was a privilege to have a chance to fight for his team, and his eagerness to eliminate soft dismissals from his game show that he most certainly belongs at Test level.
With fighters like this is in the side, the team is headed in the right direction.
There was talk floating around that Dane Paterson may be getting his Test debut for the third Test, at the expense of spinner, Keshav Maharaj or even Dwaine Pretorius.
Admittedly, I do not agree with this, St. Geroge's Park assists spinners, so to go into the Test without a frontline spinner seems risky. As we saw in the first Test, England's attack sans a spinner, looked one dimensional. South Africa cannot afford a one dimensional attack, especially one where consistency may be an issue.
Pretorius has also done enough to stay in the side. His ability to surprise the batsmen and break partnerships is a useful attribute.
With the series tied at 1-1, South Africa know that victory in the third Test will ensure they cannot lose the series. After England won their last Test series on South African soil in 2016, the Proteas will know that they cannot allow the same to happen again.
After only two Tests with the new coaching staff, we have already seen significant changes in the team. The fight that had been severely lacking from the Proteas, the passion in their game, their never say die attitude, was all found. That must continue.
What is absolutely key for the Proteas going into the third Test is keeping it simple. Do the basics right and success will follow.
Proteas captain, Faf du Plessis is under the spotlight after both his captaincy and shot selection came under fire throughout the second Test. Failing to take the new ball in the second innings when it was available showed a lack of intent and a defensive mindset. His dismissals throughout this series have led people to question his hunger. I firmly believe Faf is still the best leader but he needs some runs under his belt.
With injuries taking their toll on the England camp with Jofra Archer at 80% fitness, and James Anderson already ruled out of the series, England will be looking to Stuart Broad to lead the bowling attack. Joe Denly's bowling in the second innings of the second Test was causing visible problems for the Proteas, England may be looking for him to take on more of an all-rounder role given the pitch at St. George's may be more conducive to spin.
The last Test played at St. George's Park was a low scoring affair which South Africa lost by eight wickets, as Sri Lanka went on to claim a famous series victory last year. After the heavy English contingent at Newlands, with Root riling up the crowd as if he was playing in London, not Cape Town, the St. George's band will be incredibly important to cheer on the home side. This is, after all, an away series for England. Let them not forget that.
South Africa have not had a great record at St. Georges Park, but as Mark Boucher said before the series beginning, beware of a wounded buffalo. South Africans are resilient, they are strong. Time to show it.
The third Test starts on Thursday 16th January at 10 am SA time, with the toss a 09:30 am.
JOIN BET.CO.ZA NOW AND
GET 100% DEPOSIT MATCH UP TO R1000
Open your BET.co.za account here
Deposit using your preferred method
Your bonus gets added immediately!
MORE CRICKET