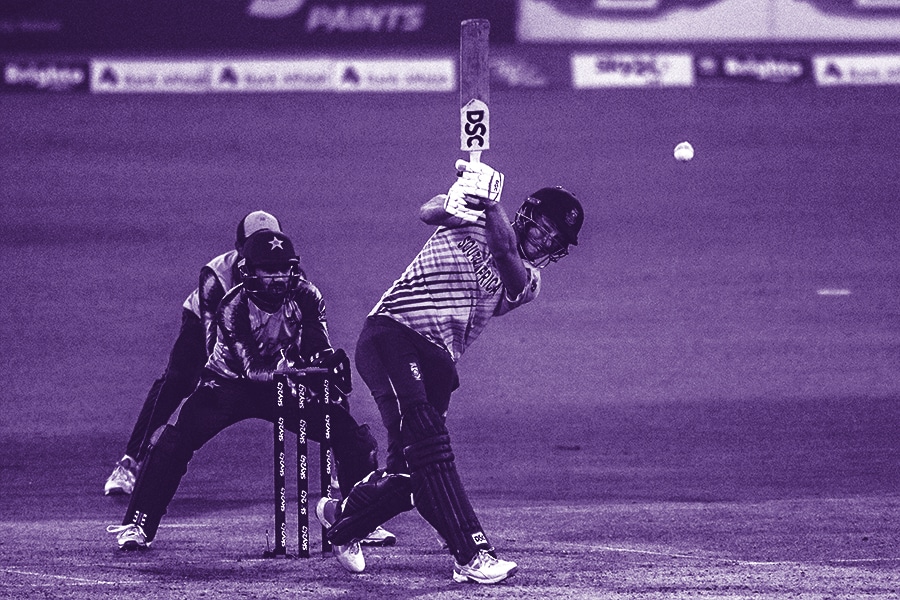 The Proteas suffered another series defeat, this time to Pakistan in the shortest format of the game. South Africa may have lost 2-1 but there are still positives and learnings to come from the series in Pakistan.
However, as usual, there are many concerns relating to the Proteas gameplan, batting, bowling and selections. We discuss the biggest talking points from the series with the T20 World Cup in mind later this year.
No Clear Plan of How Proteas Want to Play T20's
The only time South Africa seemed to have genuine plans as a team with either bat or ball in this series was the second T20 where the spinners tucked up the Pakistan batsmen and Pretorius's line and length was on point. In addition, the batters did not panic in the chase after losing a couple of quick wickets, instead, they timed the innings to perfection.
That match aside I cannot tell you what South Africa's plan is as a T20 side. Do they go hard at the top? Do they wait until the final six overs before going? Do we want pace or spin to win us games? Do we look to chase or set up a total? Having lost ten of our last fourteen T20s that sadly is not something I can answer or tell you in what direction the team wants to go.
Batting Line-Up Problems
The constant selection of Reeza Hendricks in a format that does not suit his strengths (he has played 25 matches already) seems a strange decision, especially when three other young openers are waiting to get their chance in a weakened Proteas side but sadly, between them, they played a total of four games and one player did not play at all.
The constant selection of JJ Smuts is evidence that they want a genuine sixth bowler option should someone have a bad day. The problem is with ten of his thirteen innings batting in the top three he averages a smidgeon over thirteen with a strike rate of 103 which tells you he is not good enough at this level. Andile Phehlukwayo is not a better batsman than Dwaine Pretorius, no matter how often he bats above him. Pretorius is by far the cleaner hitter of the ball and a career average of 37 and strike rate of over 170 shows that. Jacques Snyman is an opener and scored a hundred before lunch in a four-day game doing that. Batting him at three was setting him up to fail while as a precocious talent, he should be given time and not judged immediately.
Janneman is Back Up to Bavuma and De Kock
South Africa needed to make hard decisions in this series, especially when it was obvious the likes of Faf Du Plessis, Quinton De Kock and Temba Bavuma were not going to play in it. The selection of Janneman Malan at the top of the order throughout the series suggests he will be the backup opener to Temba Bavuma and Quinton De Kock going forward. How smart that is when he struggled against the spin bowlers of Pakistan is something that should be a concern though.
This happened despite the Proteas having three other openers in the squad of which one, Ryan Rickelton did not even play a game and another, Jacques Snyman batted at three in his only game of the series. What this all means is Janneman Malan is the back up to Temba Bavuma and Quinton De Kock at the top but only because the other newbies did not get enough of a chance or in the case of Rickelton, any chance at all to prove themselves.
Lack of Death Bowlers
South Africa is in desperate need of death bowlers and while the narrative goes that the likes of Junior Dala and Andile Phehlukwayo are good death bowlers in this format, the truth is they are not. Junior Dala did not bowl in the death overs in the one game he played, going for 24 in two overs but that was why he was picked. He also lacked the sort of variety needed in this format.
Phehlukwayo meanwhile averaged 33 at an economy of over 10 an over and went for 37 in 2.4 overs in the final T20 of the series, against a Pakistan team that was far from its best XI. The fact remains that when it comes to economy rates, outside of Tabraiz Shamsi South Africa is struggling and has been for some time. Chris Morris and Anrich Nortje will be playing for the Titans this weekend.
Shamsi is the Number 1 Spinner
It is well known that Shamsi has been waiting to be the premier spinner for the Proteas since his debut in this format in 2017. For years and including this season, he's been superb in all the formats domestically, which continued in this series with career-best figures of 4/25 in the final T20. He bowled with exceptional control and consistency and allowed the pitch to do the talking. His six wickets in the three-match series for 61 runs at an economy a fraction over five an over was very impressive.
Imran Tahir may well come back in time for the T20 World Cup but Shamsi deserves the status of now being the Proteas primary spin bowler in white-ball cricket. He is currently ranked number two in the world.
Miller Time is Still a Thing
David Miller probably gets talked about more than anyone else in the Proteas white-ball format in the Twittersphere and not in a positive manner. But the truth remains, Miller still has what it takes and proved it with the innings in the final T20. He scored 85 off 45 balls when he came to the crease with the Proteas limping at 46/4. He is the one batsman in the top five who can score at a strike rate of over 140 which is something South Africa desperately lack. He averaged 116 with a strike rate of 156.76 for the series, so South Africa will hope that kind of form will continue with a World Cup later this year.
Pretorius and Phehlukwayo Does Not Work
This T20 series demonstrated that against a Pakistan side without the likes of Mohammed Hafeez, Shoaib Malik, and Imad Wasim, South Africa cannot play Dwaine Pretorius and Andile Phehlukwayo together. Dwaine Pretorius, in conditions that will probably be similar to the World Cup, bowled with real intensity and finished the series with an average of 10.50 and an economy of 7.00 and a South African record best bowling figures of 5/17 in the 2nd T20.
Pretorius is the better bowler in this format as this series showed and considerably a better batsman, finishing the series with a strike rate of 150.00 If he had come in above Phehlukwayo in the first T20 South Africa may well have won. Andile Phehlukwayo, for some reason, batted above Pretorius in every innings of the series, despite having worse batting numbers. It is clear to anyone who has watched the two that Pretorius is a cleaner hit of a cricket ball and if something is lacking in our batting over the last twelve months it is clean hitting.
Going forward South Africa cannot afford both in an XI and I would suggest a replacement for Phehlukwayo is needed and soon, someone in the mould of a Chris Morris or Farhaan Behardien could do a job.
Conclusion
South Africa need a style of play to agree to, whether that is going hard in the power play or build an innings and go hard at the end. We desperately need quality death ball bowlers to finish off an innings and with the World Cup being played in India, good players of spin and a successful opening partnership at the top of an innings are a basic requirement. This can be provided by the return of Quinton De Kock and Temba Bavuma. Tabraiz Shamsi is finally out of the shadow of Imran Tahir and flourishing!
SIGN UP TO OUR

BET CENTRAL PLAYBOOK
Get weekly emails packed with the best tips and sports content.
Get ahead of the game now - fill in the contact form below.