The Proteas – Plotting The Path to World Cup 2023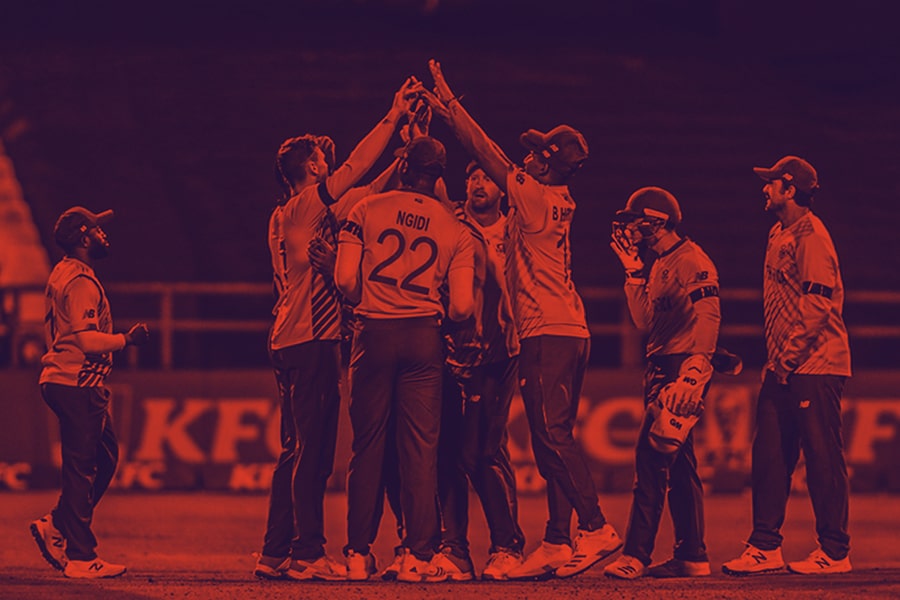 After an offseason marked by off-the-field controversy and discontent, the recent arrival of England on South African shores represented a welcome opportunity for CSA to finally shift the public's attention to on-field developments. While it has been refreshing to see the Proteas don the national colours again, the 3-0 whitewash dished out by the visitors in the T20 leg of their tour was a stark reminder of the state of South Africa's white-ball prospects. More than a year has passed since the disastrous 2019 World Cup campaign in the United Kingdom, and many of the same questions remain.
At 12th Man Analytics, we decided to analyse the current and emerging limited-overs player pool available to South Africa and to identify a group of 25 names that could potentially provide solutions during the next World Cup cycle heading into 2023. From our perspective, these are 25 names that – given what we know today – deserve particular close monitoring and investment from CSA. Projecting talent development into the future is by nature a difficult exercise since player development is not linear and ultimately uncertain. However, the conversation needs to start somewhere.
Our selection criteria were as follows:
The sole objective of the exercise was to identify a group of players that could maximise the Proteas' chances of winning a limited-overs trophy during the next three years. This would include the two T20 World Cups scheduled for 2021 (Australia) and 2022 (India), as well as the 50-over World Cup in 2023 (India).
The list's primary focus is on emerging, lesser-known talent, and hence we have not included players that are 31 or older. However, in practical terms, such players will still play a role in the short term, and some might even be able to contribute in 2023 if they maintain their performance levels. The prominent omissions here are Faf du Plessis, David Miller, Rassie van der Dussen and Dwaine Pretorius. This does not mean that we think they should immediately be dropped and discarded.
No policy considerations were taken into account when compiling the list since we wanted to appraise the talent pipeline in purely cricketing terms.
A key philosophical underpinning is that we prefer investing in players with higher ceilings (but who might flame out completely) as opposed to stable, projectable players with lower ceilings. South Africa needs to unearth a new set of international players with genuine x-factor capability if they are going to challenge the likes of England, India and Australia in the limited-overs formats. Perhaps these players do not exist at present, but we would certainly invest heavily in any player that even briefly demonstrates scarce skills such as genuine power hitting or death bowling proficiency. Such players need to be given every opportunity to reach their full potential because those who end up doing so will provide a much greater pay-off than run-of-the-mill squad fillers.
We present the list in order of our current conviction for each of these players:
Quinton de Kock
Role: Left handed top order batsman and wicketkeeper
Age: 27
Key statistic: 16 – the number of matches he played for the Mumbai Indians during the 2020 IPL.
No great analytical effort needed to come up with this name at the top of the list. He played every match for the champion Mumbai Indians – widely regarded as the best T20 team in the world – during the 2020 IPL. He is the very definition of a cornerstone player. We are, however, significantly concerned over the potential impact of the captaincy burden on him in the South African limited-overs setup.
This is not related to on-field tactical responsibilities, but rather the glare of the media spotlight and numerous off-the-field commitments imposed on modern captains. Unlike Du Plessis before him, we do not get the impression that he embraces media interactions and in South Africa's case these have the potential to be particularly complicated when aspects such as transformation are discussed in public.
Kagiso Rabada
Role: Right-arm fast bowler
Age: 25
Key statistic: 30 – the number of wickets he took during the 2020 IPL.
Another obvious selection – and the only other player with a realistic claim for occupying top spot on the list. He finished as the leading wicket taker during the 2020 IPL, with Ricky Ponting's Delhi Capitals providing a blueprint for how pure fast bowling should be deployed in the shortest format. More on this in a moment…The only concern with Rabada relates to the management of his workload over the next three years.
Anrich Nortje
Role: Right-arm fast bowler
Age: 25
Key statistic: 156.2 – the speed, in kilometres per hour, of the fastest recorded delivery in IPL history, sent down by Nortje during this year's event.
The players near the top of this list are the ones that possess genuine elite and scarce skills and have already been able to harness them at the highest level. Nortje is the fastest bowler in the country, and together with Rabada formed a devastating tandem for Delhi Capitals in the IPL this season.
He was fourth on the wicket chart with 22 scalps, with only Bumrah and Boult between him and Rabada – not bad company to keep! If, during any T20 match of consequence, the Proteas lineup does not include this duo, then we would posit that there is something significantly wrong with the selection process – either intentionally or unintentionally.
Lungi Ngidi
Role: Right-arm fast bowler
Age: 24
Key statistic: 23.2 and 11.4 – his respective bowling strike rates in ODI's and T20 internationals.
Ngidi is the third fast bowler in the top four – an indication that South Africa has a strong core to work with in this department. While he is not quite in the same pace bracket as the two names ahead of him, he does have excellent variations that allow him to be effective during important phases of play. He has been a genuine wicket taker in both ODI's and T20 internationals up to this point and will remain a core member of the bowling attack going forward.
Janneman Malan
Role: Right-handed top order batsman
Age: 24
Key statistic: 44.56 – domestic List A career average across 51 matches
A naturally attacking player with a very high ceiling in our view. He needs to be given an extended opportunity to bed himself in at the top of the order alongside De Kock – a partnership which has incidentally been extremely fruitful in the two Mzansi Super League editions. His maiden ODI ton against Australia earlier this year was a sign of things to come, and we believe that team management should strongly consider committing to him in both formats – it's pointless to slow down his development with intermittent playing time, for example.
Heinrich Klaasen
Role: Right-handed middle-order batsman and wicketkeeper
Age: 29
Key statistic: 242 – the number of runs he scored in the three-match ODI series against Australia earlier this year
Genuine power hitters come at a premium in the modern game, and while their value is obvious in T20, England essentially rode a power-packed batting line-up to the 50-over World Cup title in 2019. Klaasen possesses a skill which is in short supply domestically, and his performances in the ODI series against Australia earlier this year serve as a marker of a player that deserves a full commitment from team management at this point going forward – until proven otherwise.
Sisanda Magala
Role: Right-arm fast bowler
Age: 29
Key statistic: 1.30 – "runs better than average per over" during the death overs of the first two MSL editions. So if, for example, an average death over goes for 10 runs, then Magala is conceding 8.7 runs in such overs.
While his maiden call-up to the South African setup was curtailed by concerns over his conditioning, we believe that Magala is the best limited-overs death bowler currently on the domestic circuit. In the T20 format especially this skill is arguably the most valuable and also the scarcest, and consequently, we feel that he needs to be tested at international level as soon as possible.
The fact that he also hits a long ball with the bat makes him the perfect no.8 in a T20 batting line-up. At 29 he has also had plenty of time to hone his game at first-class level, and hence he is far more likely to succeed in the international arena than some of the younger candidates who we feel are not quite ready for international cricket.
Aiden Markram
Role: Right-handed top order batsman
Age: 26
Key statistic: 183 – his highest individual score in a domestic List A fixture, set in 2017.
The mammoth run totals currently being piled on by Markram in the 4-Day competition (including three consecutive centuries) are a timely reminder of his underlying skillset. It has been a tough couple of seasons for him as his test match star waned and he continued to struggle in ODI cricket and with injury. We continue to believe in the skillset and believe that a top class international player across all formats is lurking inside his statistical profile – a little bit like a race car with an unimpressive exterior but fitted with a V8 Ferrari engine under the hood. Unlocking Markram's potential at international level should be one of the first key performance indicators for the Proteas coaching staff.
George Linde
Role: Left-arm orthodox spinner and left-handed lower-order batsman
Age: 28
Key statistic: 6.08 – his combined economy rate across the three recent T20's against England
Another player who has done the hard yards at first-class level and has been trending steadily upwards in recent seasons. His useful lower-order power hitting could really help to balance the batting line-up, while his guile with the ball should prove to be a stabilising force in the bowling attack. His excellent economy rate of only 6.08 against England was even more impressive when comparing what the opposition did to the rest of the Proteas bowlers. High-stakes usage inside the powerplay in T20's also appears to be a viable role.
Keshav Maharaj
Role: Left-arm orthodox spinner
Age: 30
Key statistic: 14.68 – his bowling average during the 2020 Momentum One Day Cup
Maharaj has previously been pigeonholed as the test match spinner, but a superb 2020 Momentum Cup campaign – during which he claimed 16 wickets at an average of 14.68 runs per wicket while conceding only 3.79 runs per over – has opened up a potential role in the limited-overs formats as well.
Tabraiz Shamsi
Role: Left-arm wrist spinner
Age: 30
Key statistic: 16 – number of wickets during the 2019 Mzansi Super League
Shamsi remains the only viable candidate on the domestic scene to take over the wrist-spinning mantle from Imran Tahir in the white-ball formats. He finished second on the wicket taking table during the 2019 Mzansi Super League and was a key factor in the Paarl Rocks claiming the title.
Bjorn Fortuin
Role: Left -rm orthodox spinner
Age: 26
Key statistic: 6.43 – economy rate during the 2019 Mzansi Super League
Forged an excellent bowling partnership with Shamsi for the Paarl Rocks during the 2019 Mzansi Super League, producing an economy of only 6.42 runs per over across the tournament. He is particularly proficient during the powerplay, and looks to be competing with Linde and Maharaj for the role of control spinner.
Temba Bavuma
Role: Right-handed top order batsman
Age: 30
Key statistic: 133.15 – career batting strike rate in 8 T20 internationals
Initially viewed as a test player during the early portion of his career, he has received increased playing time in the limited-overs formats over the last year and has responded by producing very good strike rates in both formats, coupled with a high batting average in each case (in admittedly small samples of data). A key consideration for the management staff will be to define his batting position going forward, particularly considering the potential roles of Malan and/or Markram in the white-ball formats. One consideration might be the no.3 position as a replacement for Du Plessis once he calls it a day.
Kyle Verreynne
Role: Right-handed middle-order batsman and wicketkeeper
Age: 23
Key statistic: 89.42 – career batting strike rate in List A cricket.
A talented young middle-order batsman who has displayed steady growth over his first few seasons of domestic cricket. His wicketkeeping is likely going to be largely irrelevant given the presence of De Kock, but his batting is very impressive as a standalone skill. While he does not come across as a pure power hitter, his List A strike rate of 89.42 reveals a free scoring batting profile suited to the modern limited-overs game.
Andile Phehlukwayo
Role: Right-arm seam bowler and left-handed lower-order batsman
Age: 24
Key statistic: 14.5 – bowling strike rate in T20 internationals.
An experienced player even at the young age of 24, and one who is tasked with bringing important balance to the limited-overs line-up. His wicket-taking ability and power hitting represent an ideal T20 package to build on in future. The relative lack of viable international all-rounders at this point in time adds additional importance to his role.
Jacques Snyman
Role: Right-handed top-order batsman and off-spin option
Age: 26
Key statistic: 174.64 – batting strike rate during his innings of 124 off 71 balls against the Cobras in the 2020 Momentum One Day Cup.
Arguably the most intriguing player on the list and the first one that is yet to receive a Protea call-up in any format. Having dominated semi-professional bowling across multiple seasons, Snyman finally broke into the Knights limited-overs setup last season and displayed the kind of power hitting that one only tends to find in video games. His recent century before lunch on the opening morning of this season's 4-Day competition was a sign that his skills might well translate across formats and hold up at franchise level.
Whether this will be the case at international level remains uncertain – and he is the classic "high upside" player with a wide range of potential outcomes – but we would want him to be given every opportunity within the SA "A" and Emerging team setups to see whether he might eventually be viable at the highest level. He also offers a very useful off-spin bowling option that should not be underestimated.
Daryn Dupavillon
Role: Right-arm fast bowler
Age: 26
Key statistic: 30.5 – his career List A bowling strike rate.
The fast bowling cupboard appears to be well stocked for the Proteas and we now reach the point on the list where the next wave of emerging pacemen are keeping each other company. The greatest challenge for these players will be to dislodge the trio of Rabada, Nortje and Ngidi, but given the abrasive nature of the pace bowling art form there should be more than enough playing time as a result of player rotation. Dupavillon debuted against Australia in March this year and made a recent return from injury by taking 11 wickets in a 4-Day match against the Knights. He would represent another strike bowling option within the limited-overs formats.
Glenton Stuurman
Role: Right-arm fast bowler
Age: 28
Key statistic: 4.52 – career Lis A economy rate.
Stuurman came to prominence last season largely on the back of some impressive displays during the CSA 4-Day competition where he ended with 18 wickets at a respectable average of 25.33 runs per wicket. He projects as a good support bowler capable of building pressure through accuracy.
Lutho Sipamla
Role: Right-arm fast bowler
Age: 22
Key statistic: 19.2 – bowling strike rate in T20 cricket.
While Sipamla has shown the ability to pick up wickets at a good rate during his short career, it is important to note that at 22 he is still very young and could probably do with more seasoning at domestic level. We are of the view that the selectors need to think very carefully about the optimal development pathway for him since his brief foray into international cricket has been tough thus far. The last thing a management team wants to do is to set back a player's growth trajectory through extended exposure to a level for which he might not yet be fully ready.
Gerald Coetzee
Role: Right-arm fast bowler
Age: 20
Key statistic: 17.2 – bowling average in 5 career List A games so far.
The youngest player on the list and another one that needs to be carefully managed going forward. He is already establishing himself as the spearhead of the Knights attack at this young age and he has an ideal tutor in head coach Allan Donald. This represents an excellent environment for him to grow in and learn, and he projects to be an aggressive strike bowling option in future.
Sinethemba Qeshile
The wicketkeeper position is another one where the Proteas will have significant depth, but more importantly, Qeshile projects as a player potentially good enough to force his way into the team as a pure batsman. His 89.09 batting strike rate in List A cricket is indicative of a player with a wide range of scoring options – ideal for a middle-order batsman. At 21 he has already showed great promise and we are encouraged that he is getting an extended run in four-day cricket for the Warriors which represents an optimal development pathway in our view.
Wiaan Mulder
Role: Right-handed middle-order batsman and right-arm seam bowler
Age: 22
Key statistic: 10 – number of ODIs already played.
At 22 it is strange to view Mulder is somewhat of a forgotten player already, as he was fast-tracked into the national setup during the Ottis Gibson era as part of the desperate search for all-rounder options. Initial returns on this investment were not positive and he has since also had some injury concerns. However, he recently returned to four-day cricket for the Lions and is faring well with the bat. The key question going forward is to precisely define his role in limited-overs cricket, and we believe this will ultimately hinge on his ability with the bat.
Our assessment is that he does not quite have the pace to be more than a fifth bowling option at international level, and hence the question becomes whether he will be able to hold down a batting spot somewhere in the top six. What one wants to avoid is to have players that end up being below average in two disciplines and are then picked as all-rounders. There needs to be a key long term plan with Mulder which likely involves as much first-class cricket as possible in the short term.
Marques Ackerman
Role: Left-handed top-order batsman
Age: 24
Key statistic: 80.90 – career batting strike rate in first-class cricket.
A free scoring left-handed player that has so far produced contrasting first-class and List A statistical profiles at domestic level. Normally one avoids assessing players on statistics from alternative formats, but in this case we believe that his dominant first-class strike rate of 80.90 (along with a career average of 46.61) is indicative of a player that cannot be slowed down by opposing bowlers. As a result we believe that given time, he is likely to translate this pedigree into the limited-overs format as well – an area where he is yet to produce the same level of returns (average of 28.66).
Mbulelo Budaza
Role: Left-arm pace bowler
Age: 27
Key statistic: 16.27 – bowling average during the 2020 Momentum One Day Cup.
Another member of the impressive Knights pace battery. He enjoyed an excellent domestic one day campaign last season, grabbing 18 wickets at an average of 16.27, coupled with an economy rate of 4.71. He is another player who has been around for quite some time and who is starting to trend in a very positive direction. Being a left-armer could also bring some added variation.
Wihan Lubbe
Role: Left-handed top-order batsman and off-spin option
Age: 28
Key statistic: 184.2 – batting strike rate during the 2019 Mzansi Super League.
The final inclusion on the list leans more heavily towards the T20 format, as Lubbe demonstrated prodigious power (strike rate of 184.2) at the top of the order for the Durban Heat during the 2019 MSL. He also offers a more than useful off-spin option with the ball that can be used to target opposing left-handers during the early portion of an innings. He is a bit older than traditional prospects, but had to wait his turn for an extended run at franchise level and we are certainly intrigued by his raw skillset.
This article was compiled by 12th Man Analytics, a consultancy that specialises in data-driven decision making and player evaluation within cricket. Twitter: @12thAnalytics
SIGN UP TO OUR

BET CENTRAL PLAYBOOK
Get weekly emails packed with the best tips and sports content.
Get ahead of the game now - fill in the contact form below.