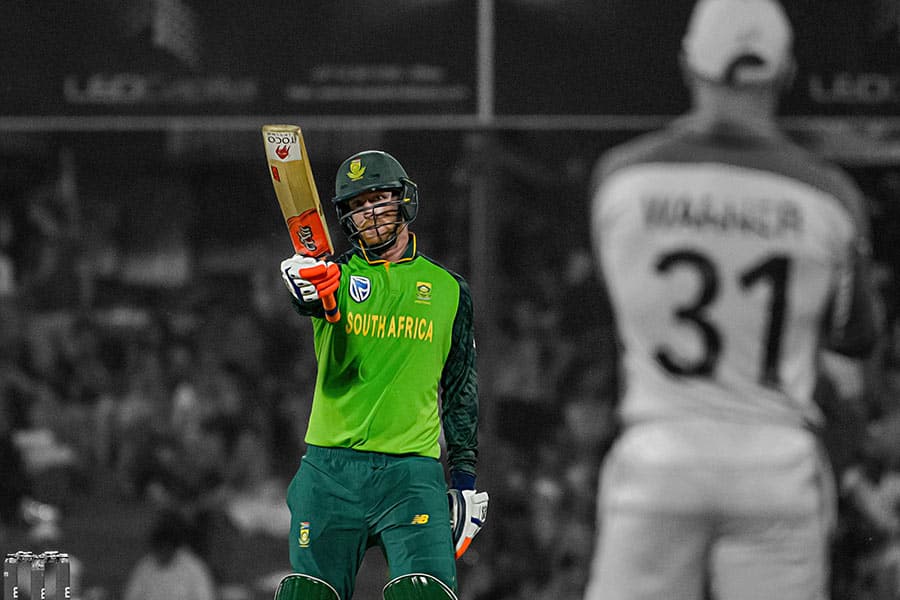 10 March 2020, by: Daniel Gallan
Proteas young batters bring back the joy, for now at least
On Saturday, someone had the best night of their young life in Potchefstroom. Or something close to it at least. How do I know this? Because I've been there. Not exactly there, at Senwes Park where South Africa's male Proteas cruised to a six wicket victory over Australia and claimed a clean sweep in the three match ODI series, but something, or rather, somewhere like it.
It could be the Wanderers or Newlands or Kingsmead or St George's. It could even be Ellis Park or Cape Town Stadium or the Moses Mabhida. Watching South African athletes, in whatever iteration they are gathered, rise above their opponents in a swashbuckling performance does something to that sports-obsessed among us who find it difficult to separate national traits with the frivolous act of watching strangers hit or kick a ball.
Perhaps it's because our collective psyche is so warped by our sporting history. It is impossible to tell the story of the miracle of the New South Africa or the history of Nelson Mandela without mentioning the triumphs of the 1995 Rugby World Cup or the 1996 African Cup of Nations.
This is why sport matters so much to us and why wins and losses are not consigned to the fields of play. They reach into our souls and jangle those strings that are left untouched by other facets of our lives. This is why some youngster embroiled in his or her studies at North-West University stepped out on the town on Saturday night – likely stopping at the Mystic Boer on Dr James Moroka Avenue – and gave it horns.
The sound of the ball cracking off Heinrich Klaasen's bat still ringing in their ears. The sight of Andile Phehlukwayo celebrating the wicket of Steve Smith still burning in their eyes. The feeling of an 11th win in 12 ODIs against the old enemy coursing through their veins.Does it matter that this feeling crashed in on the back of an otherwise meaningless 50 over contest? Well, a little. The next men's cricket World Cup will be contested in the 20 over format in October. Though the colour of the ball will be the same, the style of cricket and the composition of the team expected to take the field in Australia in October is different to the one that so impressed this last week.
This victory also bookends a rather disappointing few months for the South African men's cricket team (the women's side deserve all the plaudits they've received for a tremendous show in their World Cup). All the brandy and coke in Potchefstroom cannot eradicate the mauling England dished out in the Test series at the start of the summer. You can stay drinking at the Mystic for a week and still struggle to wash out the taste of the two humiliating performances against the Aussies in the T20 series that saw the Proteas bowled out for 89 in Johannesburg and 96 in Cape Town.
This was a home season of international cricket where a mighty empire halted its retreat, turned around, dug its trenches and began firing shots of its own. It incurred some damage along the way, but by signing off the campaign with a morale-boosting win, those generals in charge can at least take enough positives to build for the future.
Shining lights have come from stars still forming. Klaasen has almost certainly worked himself into all future limited-overs teams with scores of 66, 22, 123 not-out, 51 and 68 not-out over the summer. Janneman Malan has been included in the squad that will clash with India later this week thanks to an unbeaten 129 in Bloemfontein that decimated Mitchell Starc and Pat Cummins en route to a six wicket win. Add the impressive performances from Temba Bavuma in the T20 series against England at the top of the order and the batting department looks well stocked.That is a remarkable turnaround given the struggles the side endured at the 50 over World Cup last year. Apart from captain Faf du Plessis and Rassie van der Dussen, no other South African registered a pass mark in England and Wales. Now, those two players are not even guaranteed a place in the side on current form.
Against England, Quinton de Kock and Bavuma formed an opening partnership that looked as good as anything in world cricket. They dovetailed superbly in stands of 48, 92 and 84 and must be given time to build on their budding relationship.
Malan has long been earmarked for greatness by those in the know in Cape Town and he certainly showed why. With the carefree youngster striding in at three, South Africa have a dynastic top three in the making.
Klaasen's form means his name is written in ink at either four or five and with Faf du Plessis gearing up for a swansong at the T20 World Cup, he is also assured of his position in the team.
Rassie van Dussen's place is less secure than it was a month ago. Handy, if unspectacular, contributions in the white-ball leg of the season saw him fail to register a score above 43 across eight innings and he'll be looking over his shoulder with some anxiety.
So too will David Miller who remains an infuriating presence or an undroppable saviour depending on which side of this polarising debate you chime with. When on song, few can match his thumping beat. Unfortunately, seismic innings that win games on their own have become too few and far between, though he showed glimpses of what he is capable of with scores of 64 and 37 not-out against Australia in Paarl and Bloemfontein.
Question for the day:

How do you fit de Kock, Bavuma, Malan, Smuts, du Plessis, Verreynne, Rassie, Klaasen and David Miller into a top 6?

Feels good to have positive selection headaches again ???

— Dan's Cricket Column (@DanCricket93) March 8, 2020
In healthier times, Miller would play. But these are far from healthy times and the lack of a top-order batter who can be trusted to bowl four productive overs means positions six to eight might have to be occupied by all-rounders.
Andile Phehlukwayo is no Ben Stokes, as trolls like to point out online, but at 24 he has the potential to one day be included among the pantheon of great South African all-rounders. When batting, he needs saddlebags to carry all that big-match-temperament and when bowling he italicises variation and guile that captains and coaches adore. Sometimes he goes for runs, but who doesn't in this helter-skelter world of modern cricket?
If Phehlukwayo is in, who joins him? Dwaine Pretorius has not been included for the trip to India and he may begin to second guess his decision not to pursue a Kolpak contract as was his plan before Graeme Smith convinced him otherwise.
LUCKY YOU STAR | ??249-6

Andile Phehlukwayo has had a spectacular with ball in hand

He leads the wicket-taking for ?? since 2019

How impressed are you with this chap ❓#ProteaFire #SAvAUS pic.twitter.com/lhiTQ348WH

— Cricket South Africa (@OfficialCSA) March 4, 2020
If anyone's asking, I think he should play. So too should Chris Morris who has stated his intention to return to national duties after the Indian Premier League.
During the 50 over World Cup last year, there was a reluctance to field all three at the same time. The initial strategy before arriving in the United Kingdom relied on a barrage of pace. That was scuppered once Anrich Nortje, Dale Steyn and Lungisani Ngidi succumbed to various injuries and the form of the over-bowled Kagiso Rabada fell off a cliff.
Once South Africa were knocked out of the competition, the three all-rounders played against Sri Lanka and Australia in the final two fixtures. The Proteas won both with Pretorius collecting the player of the match award against Sri Lanka.
In six ODIs and one T20I that have included all three, Pretorius has been the best player on three occasions. South Africa have won five of those seven matches and were only beaten after Ross Taylor and Ben Stokes scored centuries in ODIs in 2017.Against Australia in the T20I in Cape Town, South Africa's last five wickets contributed nine runs. There is a valid argument to be made that handing the number eight slot to an all-rounder rather than a front line bowler is a defensive move.
Over the last two years, there have been 411 T20Is. In that time, the man batting at eight has taken guard just over 30 percent of the time. There have been four half-centuries from 507 innings from this position which has averaged 11.98 with a strike-rate of 110.3. Rashid Khan's nine innings for Afghanistan in this time is a world high and only Sri Lanka's Isuru Udana is the only player with over 100 runs from eight.
The above numbers suggest that a batter is not required in this position but they say nothing of the composition of the teams or of the number of overs sent down by players whose primary function is to score runs. Without JP Duminy, who was always criminally undervalued during his career, or an up-to-standard JJ Smuts, who has not impressed in his short probation period despite his 84 in Potchefstroom, extra depth in the batting order is the solution moving forward.
The benefits are obvious. More potential runs lower down the order could allow others higher up to expand their hitting. It will also diminish the likelihood of the embarrassing scorecards seen in Johannesburg and Cape Town.
The downside is that there is only three places reserved for genuine bowlers. Spin, especially wrist spin is an effective weapon in T20 cricket. Imran Tahir is still a master of his craft and Tabraiz Shamsi is an adequate understudy. Both should play.
50 – Lungi Ngidi has just become the fastest player to claim 50 men's ODI wickets for South Africa (26 matches). Fire. #SAvAUS pic.twitter.com/0hbW9gFTfm

— OptaJim (@OptaJim) March 4, 2020
That leaves Kagiso Rabada, Lungisani Ngidi, Dale Steyn and Anrich Nortje battling for one position. Rabada is the obvious leader of the pack but his recent form, and frankly body language, could suggest his grip on the reins is slipping. Ngidi was good in patches against England and was scintillating in his career-best six-for in the second ODI against Australia. Nortje bowled with gas throughout the summer and deserves to be mentioned. As for Steyn, there is no substitute for experience.
Of course, Shamsi could be omitted for another pace bowler if that is the line of attack Boucher takes. Morris though is a capable new-ball bowler in this short format and is as good as any South African bowling at the death. 
The Proteas need an identity. They need a method that can extract the best out of the players they have. Lighting the Protea Fire will not win tournaments without the backing of strong performances with bat and ball.
The possible addition of AB de Villiers aside, this is the team that will give South Africa the best chance of loosening the chokehold that has made life uncomfortable since 1992:
Quinton de Kock (wk) (c)

Temba Bavuma

Janneman Malan

Faf Du Plessis

Heinrich Klassen

Andile Phehlukwayo

Dwaine Pretorius

Chris Morris

Kagiso Rabada

Imran Tahir

Tabraiz Shamsi
MORE STORIES