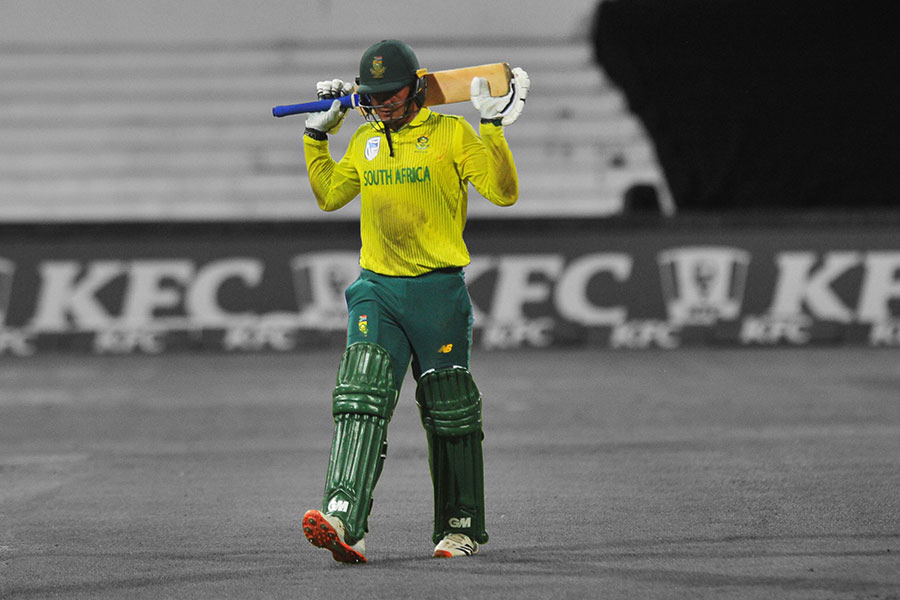 19 February 2020, by: Daniel Gallan
Seeds of positivity planted amidst the destruction left by England
When Kagiso Rabada bowled Stuart Broad In Centurion on 29 December last year, a wave of optimism swept through South African cricket. The Proteas had just claimed a 107 run victory in the first of four Tests thanks to an all-round performance capped by a glittering display from Vernon Philander.
Mark Boucher's first assignment as head coach ended in triumph. Alongside Jacques Kallis, who had been drafted as a batting consultant, the most successful wicketkeeper in Test history had added a healthy dose of credibility to a dressing room short of confidence and clout after a disastrous 12 months.
Graeme Smith's appointment as director of cricket gave underlined the impression that a corner had been turned. The ineptitude of the previous regime would be consigned to history. A new era powered by the fires of the past would drive the organisation forward.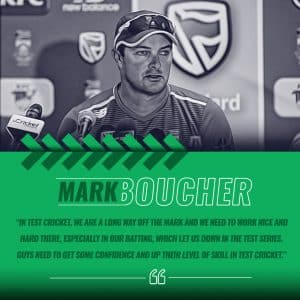 The win in Centurion came with a caveat. England were a side stricken with illness. By the time the circus rolled south to Cape Town, South Africa were facing a side with renewed health and purpose.
Three losses, each more crushing than the last, was inflicted on Faf du Plessis men. Under the shade of Table Mountain, they felt the full force of Ben Stokes' fury. In East London, capitulation against spin rendered the innings defeat a formality. In Johannesburg, at the mighty Bull Ring, England kicked down the door of their hosts' spiritual home and made a mess of the place.
Du Plessis, Boucher, Smith and anyone who was asked said often and loudly that this Test team is a work in progress. We now know that it would be Du Plessis' last series as captain and spelt the end of Philander's career. These departures amplify the recent retirements of Hashim Amla, AB de Villiers, Morne Morkel and Dale Steyn which had already had robbed the Proteas of much needed experience. Against an England team on the rise, they played like a side on the wane.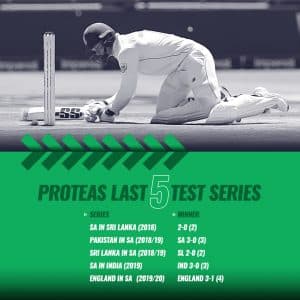 The main concern in whites was the lack of pace with the ball. This is an almost inconceivable problem afflicting a nation that could once bank on an endless production line of snarling quicks capable of cranking it north of 150km/h.
Lungisani Ngidi's injury came at an unfortunate time and the loss of Duanne Olivier to a Kolpak contract last season meant two recent tearaways were unavailable, but the dearth of replacements was telling. Anrich Nortje bowled with both heart and venom, and Rabada was menacing before he stupidly got himself suspended, though they were two eagles in a flock of guinea fowl.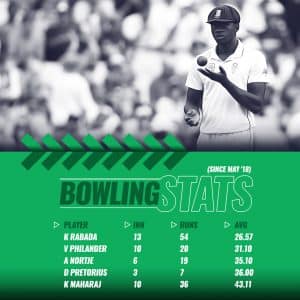 At the Wanderers, Dane Paterson and Beuran Hendricks were made to look like village trundlers by Mark Wood and Stuart Broad batting at 10 and 11. It was painful viewing, especially when Du Plessis had effectively handed in his resignation by stationing eight men on the boundary as the ball routinely sailed over their heads.
There were also struggles with the bat. Big players played too many small innings and Nortje's vigil as nightwatchman was an all too common occurrence. Pieter Malan and Rassie van der Dussen showed glimpses of promise, a small victory for South Africa's domestic structures, but a lack of runs proved the side's undoing.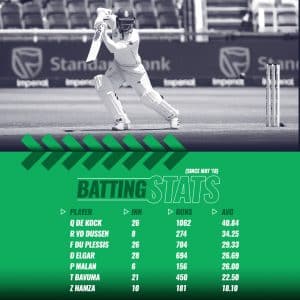 Perhaps the most concerning issues over the four Tests was the racial makeup of the side. At no point was there more than one black African on the pitch and not one match saw Cricket South Africa meet its own transformation targets of six 'non-whites' with two black Africans amongst the 11.
Du Plessis erroneously said at one point in the series that he "doesn't see colour". It was a misspoken line from a man communicating in his second language. But it was an error that resonated at an uncomfortable frequency.
There is no downplaying the fact that a sports team claiming to represent the country could not, on merit, select a team that more accurately portrays the nation's demographics in 2020. Smith casually expressed that he was "not asking for patience" from fans and journalists wondering why the Proteas Test team is more lily-white than it was ten years ago.
That is hard to believe because if he cannot rectify this glaring shortcoming indicative of a failed developmental pathway then he'll need a whole lot of patience from an infuriated public. Soon, there will be none left.

At least during the white-ball leg of the tour, the team was less monochromatic. Melanin richer players such as Andile Phehlukwayo, Lutho Sipamla and Ngidi were included. All shone brightly at various stages but none gleamed with the same radiance as Temba Bavuma.
No other cricketer has ever shouldered the burden that Bavuma has been asked to carry. Before the start of the Test series, the Proteas vice-captain expressed a desire to be treated as a cricketer first and a black person second. He did not get his wish.
From his injury ahead of the first match to his rightful demotion from the team, from his struggles with the Lions to his remarkable 180 and subsequent recall, the colour of Bavuma's skin became a lightning rod for extremists on both ends of the political spectrum.
Silence isn't empty, it is full of answers. pic.twitter.com/WkHMGVJuun

— Temba Bavuma (@tbavuma10) January 11, 2020
All the while, the softly spoken Bavuma worked on his game. Uncountable hours in the gym were followed by an endless stream of throwdowns in the nets. This was a man forced to prove a point. To himself as much as others. He was nobody's token. The mastery of his craft, not the lottery of his birth, would see his name return to the team sheet.
Bavuma's development as a limited-overs opener has changed the complexion of the squad. Alongside new skipper Quinton de Kock, South Africa have a front line pair as good as any in the world.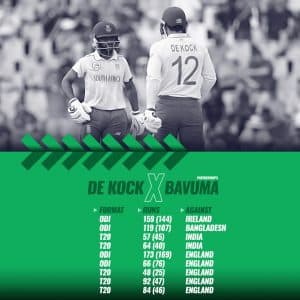 Unfortunately, their explosions were matched by the most destructive batting arsenal in the game. England's power hitters bat like drunk people drive. The loss of a wicket is treated with the same indifference as a minor pothole. Rather than the brief pressing of the breaks, the accelerator is pressed harder in the pursuit of more sixes. Bigger, faster, harder; that is what the Three Lions represent. They won't always win with this cavalier approach, but when the world champions embark on another rolling barrage, nothing can stop them.
That is why, despite the results – a 1-1 draw in the 50 over format and a 1-2 reverse in the T20Is – the limited-overs stage of the tour should be seen in a positive light for the Proteas. They went toe to toe with the most brutal bullies of the cricket world and landed a few telling blows of their own. Add Rabada, Imran Tahir, Du Plessis and possibly De Villiers and there is every chance that South Africa could win the T20 World Cup later this year. It's unlikely, but it could happen.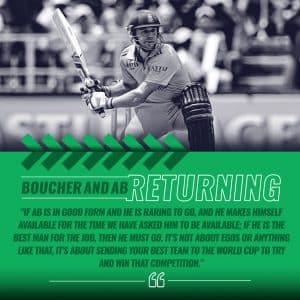 This chapter of the new South African cricket project will not be viewed fondly if results are the only measurement of success. If results and racial representation are the two metrics used then the start of the Boucher and Smith era has been an abject failure.
Dig a little deeper however and there are nuggets of hope. An exciting white ball group is starting to take shape and the domestic game can still produce the odd Test ready player. It's wasn't exactly what we wanted, but it's not entirely what we feared.
MORE STORIES