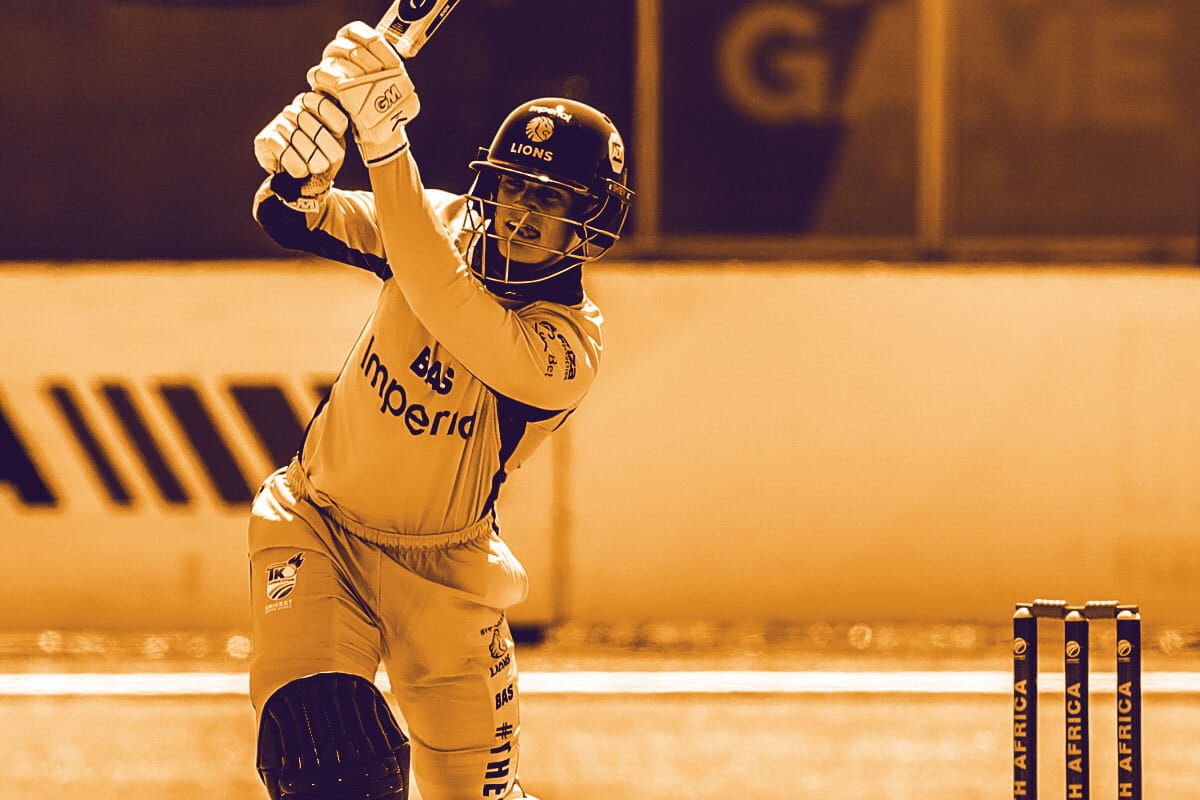 With the SA20 Draft just days away I take a look at 10 local players that really should be bought by the franchises but as with any franchise tournament, there are no guarantees on that front. I have picked 11 local players that are all under the age of 30 along with a couple who have gone on to play for the Proteas already but are not regulars at this point.
Evan Jones
Evan Jones was always going to leave Northern Cape at the end of last season after his exploits that included a 50 against a Western Province side that included Proteas bowlers Beuran Hendricks & Wayne Parnell. His ability to strike the ball so sweetly should mean he gets a contract with one of the franchises without too much difficulty. The fact he is more than useful with the ball with his medium-fast deliveries should help him because all-rounders are like gold dust in franchise T20 leagues.
Junaid Dawood
Junaid was easily the find of last season in T20 cricket as far as spin bowlers were concerned. In a team that was short in this category, he was superb, bowling with great consistency and guile outfoxing many batters who have years of professional domestic cricket behind them and this in just his first season. It isn't controversial to say he could play for South Africa one day. For now, however, this draft is a perfect stepping stone for his career.
Imraan Manack
Imraan is arguably the best white ball bowler that South African domestic cricket has and he is a must for any of the franchises. He is very similar in action to India's Washington Sundar, as well as being very effective in the power play overs. Expect him to keep the runs down as well as take wickets. His 10 wickets last season is more than respectable but his economy of 5.7 would be a real asset in this format.
Lizaad Williams
As I am writing this, Lizaad is over in the UK finding things tough on pitches that don't suit him. However, that shouldn't influence those at the draft; he knows how to do it on South African pitches with 10 wickets at fewer than 7 an over in the T20 Challenge and his career economy is just over that. At 28 he is in the prime of his career and while he won't offer anything in the batting department, his skills with the ball, which include an outstanding slower ball, should make up for that.
Donavon Ferreira
If you are one of the teams in the draft and you can't afford Tristan Stubbs, then Ferreira is the guy to get. He averaged 76 with a strike rate of 153 in last season's T20 Cup and averaged 83 with a strike rate of 136 in the T20 Challenge. He is a big hitter of the ball who, I suspect, will trouble a lot of bowling attacks in the tournament. His 55* off 29 against South Western Districts showed his entire repertoire of hitting that included 3 massive 6's. To go with his more than usual off-spin he should be an easy buy.
Grant Roelofsen
It's been some 2022 for Grant Roelofsen, from a modest home season in 2021/22 he went to the UK in the winter to play some club cricket and ended up playing 50-over cricket for Essex where he was their leading run-scorer, averaging 59 with 3 50's in the competition. He may not yet have the numbers or strike rate overall to be picked in the draft but the form for Essex, where he has been more visible than for the Dolphins at this point should help his cause. A talented cricketer is there.
Wesley Marshall
If you know South African domestic cricket you will know Wesley Marshall. Wesley has been smashing bowling attacks to all parts, whether it is in the red ball or white ball format for a good few years. His strike rate in the 4-Day Series alone last season was 83.58.
His numbers in the two T20 competitions were just as impressive with strike rates of 145.63 & 162.50, including ten 6's. His only real fault is he does tend to get bored at times. This, however, shouldn't happen here as he will be playing with and against high-class overseas talent and should want to impress those watching, because an IPL contract might be a possibility.
Wiaan Lubbe
He has the highest strike rate as a batter for the Proteas (admittedly only 2 games). He is someone who after the T20 World Cup in October should get more time with the Proteas. He had a very decent time in the Mzansi Super League, batting with a strike rate of 180.61 and last season's joint Divison 1 and Division 2 T20 competition had him averaging 28 with a strike rate of 166.66.
His value as an off-spinner, which is something he is doing more under Coach Robbie Peterson at the Warriors, shouldn't be undervalued either where last his economy was just over 7 an over.
Caleb Seleka
There are going to be several local spinners who will be bought in the draft but most of them are either current Proteas players already or very experienced like Shaun Von Berg. Seleka is a different kind; at 22 he is still learning his trade but last season had a successful first season of professional cricket where he picked up 10 wickets in the two T20 competitions combined and kept his economy to fewer than 8 an over. He might be a bit of a dark horse, due to not being that well known but he definitely has the skills for the competition.
Lesiba Ngoepe
Last season was Lesiba Ngoepe's best by some distance, as his coach Robbie Peterson was getting the best out of someone who has always been talented but has not delivered until now. In a competition that will be short of black African batters, in part because there are no numbers that teams have to stick to in this regard, it would be a shame if he wasn't picked. If it is between Temba Bavuma, Keegan Petersen or Lesiba Ngoepe who is picked, I am picking the latter. Largely because he doesn't get stuck in this format unlike the other two and can rotate the strike.
SIGN UP TO OUR

BET CENTRAL PLAYBOOK
Get weekly emails packed with the best tips and sports content.
Get ahead of the game now - fill in the contact form below.