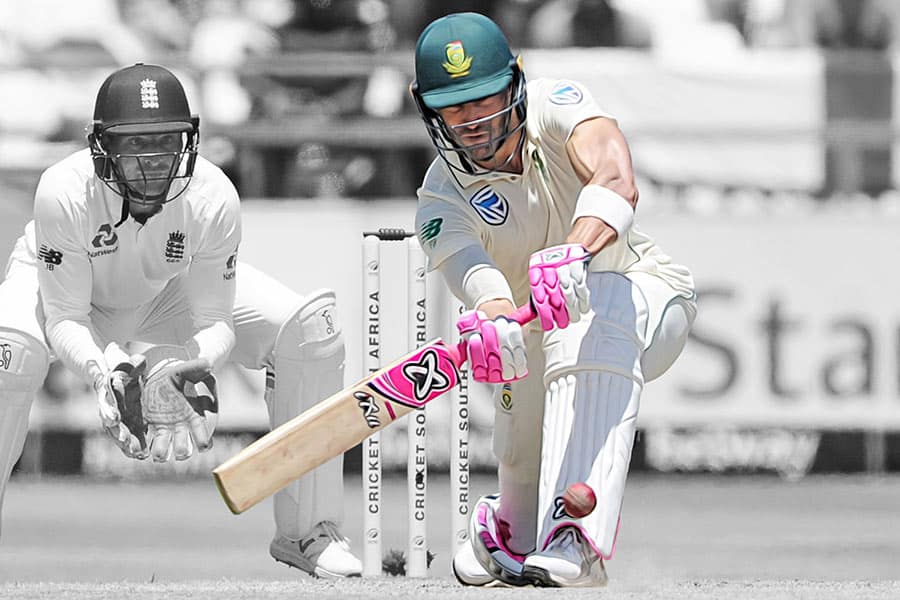 13 January 2019, by: Daniel Gallan
Four Changes The Proteas Must Make
Proteas captain Faf du Plessis rightly credited his team's fighting spirit in Cape Town. This was a side that stumbled from humiliating defeat to humiliating defeat in 2019 as it capitulated under sustained pressures.
Not at Newlands, where a rearguard resistance with the bat brought a famous draw into focus. Were it not for Ben Stokes' late outburst with the ball, South Africa may still be leading this four-Test series.
But hypotheticals are of little consequence in the cut and thrust of elite sport and a 189 run defeat is a gargantuan margin whichever way you spin it. Dramatic improvement is needed in Port Elizabeth. If England win, they will retain the Basil D'Oliveira trophy. Only a mean victory in the Friendly City will keep the wolves from Du Plessis' door. This is how the Proteas can get it done:
A captain that identifies a batter's scoring shots and plugs holes where necessary is one who creates pressure, but too often Du Plessis seemed to be chasing horses once they'd bolted from unshut doors.
Kagiso Rabada would bowl a short and wide ball that was rightfully cut for four and the man at point when be sent to the fence. Dwaine Pretorius would bowl a long-hop that was rightfully pulled to deep square and there would soon be a man stationed exactly where the ball had made contact with the advertising board. Even when Ollie Pope played an audacious ramp shot, Du Plessis took out a slip and had him stand behind Quinton de Kock at long stop.
Bad balls happen. No bowler, even the sniper-like Vernon Philander, can toil for an entire day without pushing one too full or dragging one too short. Rather than react to the occasional stinker, Du Plessis would send a stronger message to his bowlers that he has faith in the plan, and their ability to execute it if he remained patient with the field and the prearranged strategy. Of course, it is important to shift with the tides, but only once you have accurately gauged which way the wind is blowing.
Speaking of patience, Rabada and Nortje over utilised the bumper in their attempts to rattle English batters. No one likes the ball whistling past their throat at 145km/h, but if this vicious weapon becomes predictable then it's potency is diminished.
All the great tearaways in history have relied on intimidation in their practice. In fact, the dismissal of Stokes in the first innings – caught via a leading edge off Nortje – was preceded by a barrage of bouncers that backed the belligerent batter deep in his crease.
But in the second innings, when the Newlands pitch had flattened out and Dominic Sibley's broad bat had blunted the South Africans, the two strike bowlers lost sight of that tricky spot just back of a length outside off.
This one's so obvious that it almost shouldn't be included, but it is so obvious that it would be a glaring oversight not to include. South Africa's chances of chasing down the 438 needed for victory in Cape Town was similar to that of an English fan's skin not being burned in the Cape Town sun. It was probably only going to end one way, but like the application of sunscreen, application with the bat was an absolute must.
In case you've been living under a rock or simply blocked out the three horrendous shots from your memory, Du Plessis, Dean Elgar and Quinton de Kock all meekly handed their wickets away doing things they shouldn't have done. They won't need reminding that as the three most senior players in the batting line-up, their departures placed greater pressure on the relative newbies around them.
Two of those newbies are Pieter Malan and Rassie van der Dussen who demonstrated the sort of steely resolve that must be replicated by the three elders (in terms of caps). De Kock can perhaps be excluded as his dashing approach has the potential to change a match in just a session, but Du Plessis and Elgar must dig deeper if they so get themselves in.
It's been a real tough go for Hamza. He's lacked the composure and concentration of a Malan, which has hamstrung the early stages of his international career. His series-opening 39 was a perfect example of this as he botched a promising knock with a bad shot. He managed just 27 runs in his three other innings, leaving some to question his aptitude for Test cricket.
One of the advantages of having a bowler like Keshav Maharaj is that South Africa have a spinner who can either hold up an end and restrict the flow of runs or take wickets. Ideally, he would do both at the same time.
The Proteas have never had a spinner of this nature but it is this dual character trait that meant Maharaj landed up doing neither in Cape Town.
The slow-left armer bowled 43 overs in England's second innings, conceded 160 runs (3.72 an over) and took two wickets only when Stokes and Sam Curran were on the rampage. Maharaj's ineffectiveness was best summed up by the fact that he was hit for his 100th run before opener Sibley had reached his ton.
Coach Mark Boucher called Maharaj a "work in progress" which must have dented the confidence of a bowler that had just been decimated by pugnacious Poms. But some clarity from his skipper, coach or whoever helps develop his plan would help.
Boucher also criticised Maharaj's ability to land the ball in a consistent area but it is hard to blame the bowler when his field kept shifting. Sometimes there was a man catching at forward short leg, sometimes at short extra cover, sometimes at leg slip. Sometimes the boundary rider was out on the cover rope, sometimes he was patrolling at deep point.
These changes did not gradually occur over the course of Maharaj's 43 overs but played out in a frenetic burst. In one over, the lone catcher was relocated three times. How can any spinner find any rhythm in such erratic conditions? Even the best twirlers need a prolonged shot at a batter with a set plan in place. Maharaj was below his best, and he will need to improve in Port Elizabeth, but he must also be better managed as this series progresses.
JOIN BET.CO.ZA NOW AND
GET 100% DEPOSIT MATCH UP TO R1000
Open your BET.co.za account here
Deposit using your preferred method
Your bonus gets added immediately!
MORE STORIES