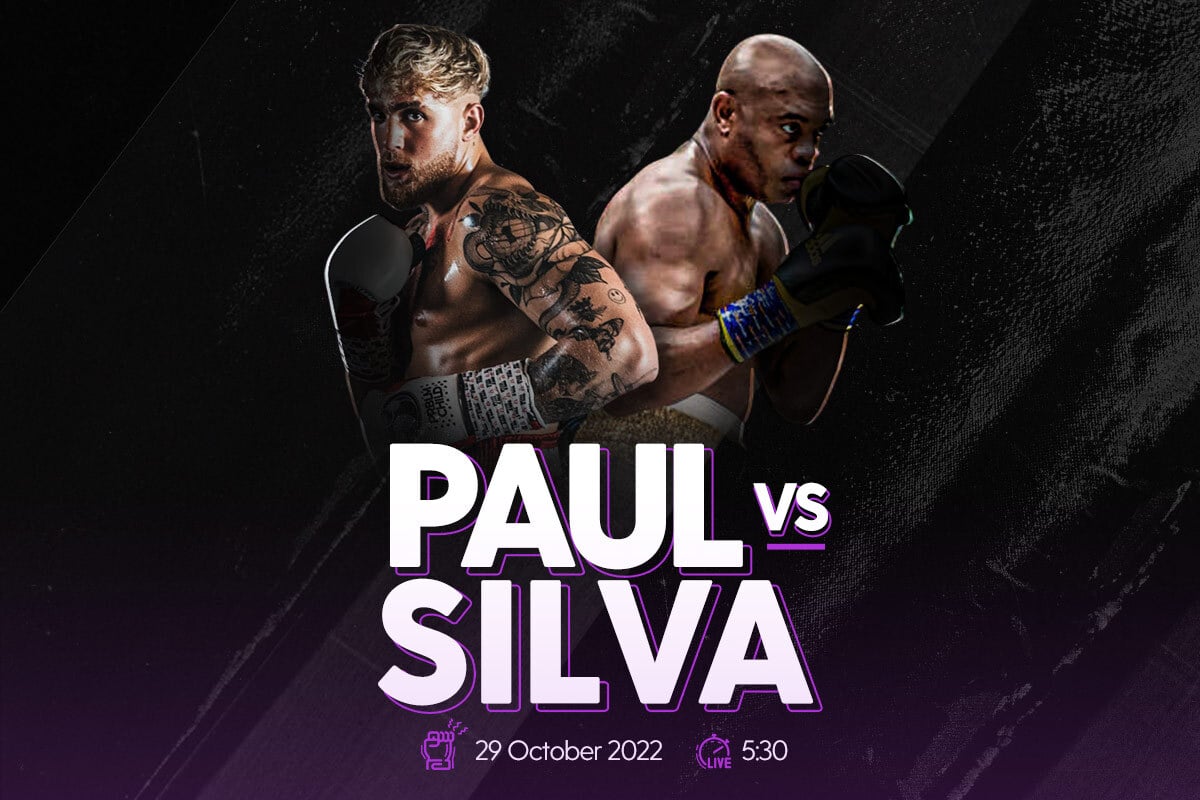 YouTuber-turned-prizefighter Jake Paul returns to the ring at Desert Diamond Arena in Glendale, Arizona on Saturday night (Sunday morning SA time) for his first true test in the form of UFC legend Anderson Silva, writes Quintin van Jaarsveld.
4 AM Sunday SA time
Jake Paul (1.54) v Anderson Silva (2.45) (Catchweight)
On one hand, it's a typically bizarre Paul bout. The 25-year-old, whose journey into boxing has seen him cherry-pick opponents to build a 5-0 record with four knockouts, has again selected an old non-boxer to share the ring with.
To be fair, the social media superstar had signed on to fight two legitimate boxers in Tommy Fury and Hasim Rahman Jr, but both fights fell through.
The bout with Fury was nixed for the second time due to the Brit having visa issues while the intended replacement scrap was cancelled after Rahman Jr informed the Paul camp that he would be unable to make the 200-pound cruiserweight limit.
That brings us to this showdown with Silva scheduled for eight rounds at a catchweight of 187 pounds. Yes, Silva's 47. And, yes, he's another former mixed martial arts fighter. However, he's far from fellow UFC veterans Ben Askren and Tyron Woodley, the last two opponents Paul knocked out.
Askren and Woodley were wrestlers who fought at welterweight (170 pounds) and gave up considerable size to Paul. Silva, on the other hand, built his Hall of Fame career on devastating striking and is the first of Paul's opponents who's actually his size. In fact, the 6'2″ Brazilian's taller by an inch and he'll have a one-and-a-half-inch reach advantage.
Granted, Silva won't be able to throw the lethal elbows and knees that helped him defend the UFC middleweight (185-pound) title 10 times during a record 16-fight winning streak from 2006 to 2012, but his limited time in the boxing ring since bowing out of MMA as one of the greatest ever in 2020 has shown his core striking abilities make him a dangerous opponent for most.
Those are his fast hands, impeccable reflexes, head movement and counter-punching as well as his masterful range control. Adapting the latter has come naturally and all of these skills and abilities saw "The Spider" defeat former WBC middleweight champion Julio Cesar Chavez Jr by split decision in his return to boxing in 2021.
He's 3-1 in boxing, Paul's first opponent with a winning record in the sweet science, his lone loss coming in his debut to Osmar Luiz Teixeira all the way back in 1998. He knocked out Julio Cesar De Jesus in 2005, followed up his impressive win over Chavez Jr with a knockout of fellow former UFC champion Tito Ortiz last September and dominated an exhibition against Bruno Machado in May.
Paul's never fought a professional boxer. He's defeated fellow YouTuber Ali Al-Fakhri, former NBA player Nate Robinson and Askren – all by knockout. He then pipped Woodley by split decision and knocked out the ex-UFC welterweight champion in their rematch in December.
"The Problem Child" has done a commendable job of dedicating himself to boxing over the last three years. While he's still lacking in technical terms, there's no denying he has power and the natural ability to perform on a big stage. However, he's bound to have problems with Silva's switch-hitting sorcery.
Given he's almost half Silva's age, I won't be surprised if Paul's game plan is to clinch incessantly from the get-go to tire the 47-year-old. It'll be an unpopular tactic, to say the least, but with a possible megafight with UFC icon Nate Diaz – a guaranteed pay-per-view hit – dependent on the outcome of this fight, Paul will look to win by any means necessary.
Silva would been wise to this, though, and would've worked on circling out of clinch situations. He's always been a showman, even after theatrics cost him his UFC title against Chris Weidman in 2013, so there is a possibility that Paul catches him with a one-hitter quitter.
However, Paul has, both in size and skill, bit off more than he can chew this time around. Even at 47, Silva's too slick and I see him handing Paul his first loss.
Prediction: Silva by knockout.
Alternative Bet: Silva by KO/TKO/DQ at 3.50.
SIGN UP TO OUR

BET CENTRAL PLAYBOOK
Get weekly emails packed with the best tips and sports content.
Get ahead of the game now - fill in the contact form below.