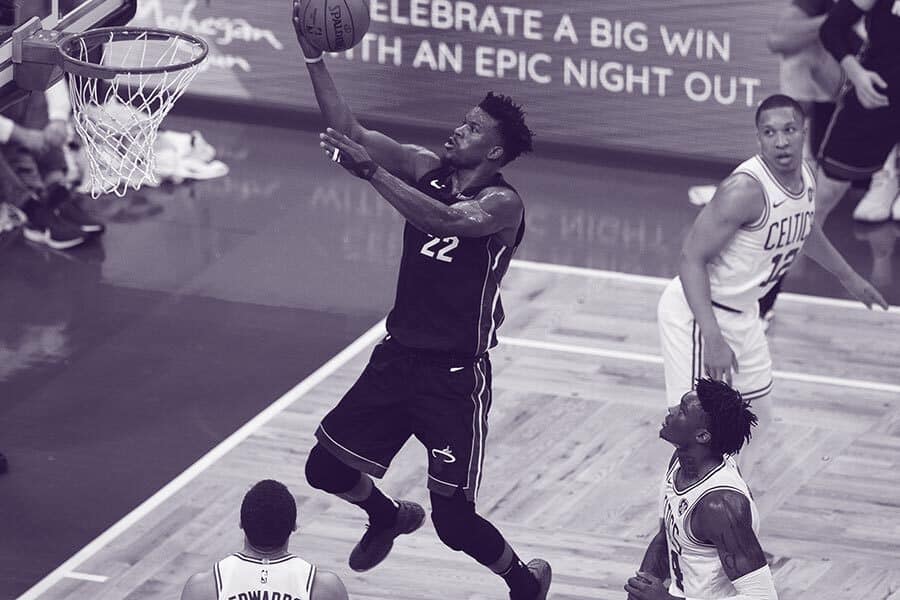 The Miami Heat and Boston Celtics both enter the Eastern Conference Finals as surprise packages. The Heat's demolition job on the number 1 seeded Milwaukee Bucks had everyone sitting up and taking notice. Boston's excellent effort in beating the defending champions the Toronto Raptors in seven games was also unexpected but eye-opening. The Celtics were the third seed as the Heat were the fifth seed, not they'll go head-to-head for a spot in the 2019-20 NBA Finals.
The Case for Miami
It's been a wild ride for Eric Spoelstra's troops who have ramped up their performances with every round of the playoffs. They quietly went about their work in the regular season, not really showing any signs of the team they would become in the postseason. The dogged defensive work showed up on a number of occasions, but not as consistently as they have been delivering now.
Jimmy Butler had been labelled the star-turn in this team and by rights he is, but the way that his teammates have upped their respective games as been extraordinary. Butler has delivered massive showings in the regular season and the playoffs and his focus and drive seem to be rubbing off on the players around him. All season long the younger players, rookies Tyler Herro and Kendrick Nunn had NBA fans salivating at the prospect of them further along in their respective careers, they showed an appetite for big-time displays and were not fazed by the bright lights.
Herro, in particular, has been immense with his long-range shooting in the high-pressure situations. He is a 20-year-old rookie who has ice in his veins. The same can be said for Nunn who is still working his way back to full fitness as the season progresses. His sharp-shooting was a thing of beauty early on in the campaign and that put him in the conversation as a potential Rookie of the Year. His form dipped and he picked up an injury that curtailed that charge. With him back, Miami will be eager to get him running at full speed.
The thing about this Heat team is that they play with a chip on their shoulder, not in a bad way, they want to show the world that they shouldn't have been overlooked and counted out. There has been a real development from good to great at this franchise and that is epitomised by the rise of Most Improved Player of the Year runner-up Edrice 'Bam' Adebayo who became an All-Star this season. Adebayo has had a meteoric rise in the league and has grown exponentially as a player, his defensive acumen and ruggedness has made him one of the first names on the team sheet.
The arrival of Butler seemed to act as a catalyst for this squad as the players have all raised their games, including veteran point guard Goran Dragic, himself an All-Star. Spoelstra and the Heat will be aware that they are probably still the underdogs in this clash against the Celtics and they'd like nothing more than to be underestimated again.
The Case for Boston
Boston have such a rich playoffs history that it is a bit of a surprise that they haven't advanced past the Eastern Conference Finals since 2010. However, they did have a LeBron James shaped obstacle in their way for most of that period. Brad Stevens has led this team to the Conference Finals twice, in 2017 and 2018, now he has a chance to get them to the biggest basketball show on Earth
Leading the team will be young sensation Jayson Tatum, who has been remarkable during the resumption of the league and through these playoffs as well. He is more than ably assisted by Jaylen Brown, Kemba Walker and Marcus Smart. The Celtics have shown a maturity that they'd lacked in recent trips to the biggest game in the conference. Luck has also been on their side for the most part in this run-in. In recent season's the Celtics were hampered by injuries to their star players and this stymied their progress. They haven't had anything as devastating happen to them this season though, fingers crossed.
The Cs are missing All-Star Gordon Hayward who is working his way back to fitness to try and feature in this best-of-seven showdown with Miami. However, Boston have done superbly without him and have also seen a few of their lesser stars get more game time and deliver on the faith shown in them by Stevens.
Tatum will be the central figure for Boston in this series as he has led the Cs in scoring and also showed an eye for 3-point shooting at a high clip. Boston has also improved defensively and that could be what they rely on if their shooting goes cold. With Marcus Smart showcasing his much vaunted defensive tenacity and a recently developed 3-point accuracy there seems little that can stop the Celtics.
Prediction time
Ultimately this is a tough series to call. At the centre position, Nigerian-American Bam Adebayo should be able to outmuscle Celtics centre Daniel Theis, but the German has showed that he can outplay some of the more fancied stars when they do battle. He did just that against the Toronto Raptors. The emergence of young forward/centre Robert Williams for the Celtics has given them a high-energy player who affects the game on both offence and defence.
The Celtics seem to have an edge on the scoring front with many options to choose from that can take the game away from opponents in Walker, Brown and Tatum. The Heat have also found some aces up their sleeves too in Duncan Robinson, Herro and Nunn, and this could become a shootout as both teams will look to catch fire from 3-point range. Even the coaching clash is a difficult one to predict as Stevens and Spoelstra are canny operators who come up with plans for every player and opponent. In the regular season, the Celtics beat the Heat twice in their three matchups, but Miami won the most recent battle. It's super tight.
Prediction: Celtics beat Heat in Game 7.
SIGN UP TO OUR

BET CENTRAL PLAYBOOK
Get weekly emails packed with the best tips and sports content.
Get ahead of the game now - fill in the contact form below.