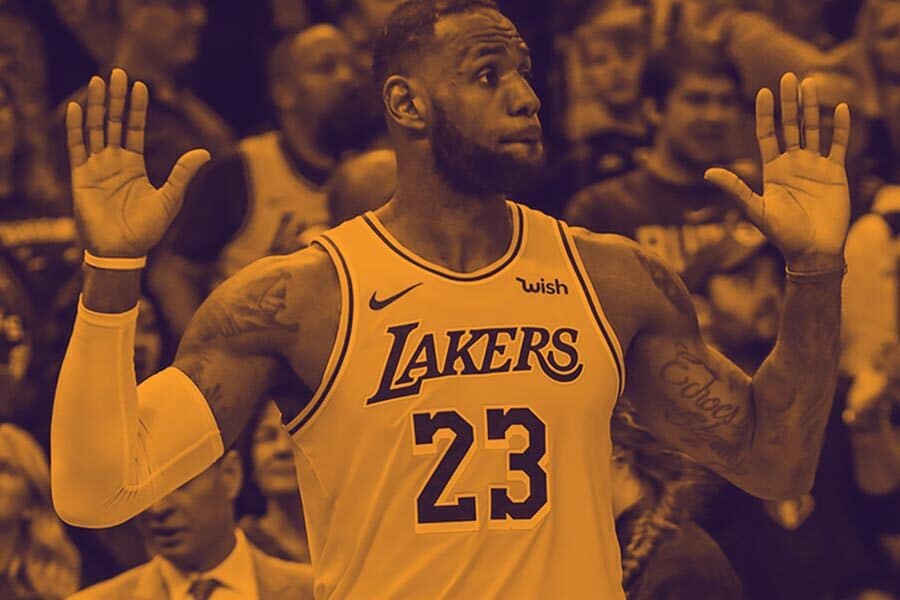 The Los Angeles Lakers made light work of the Portland Trail Blazers in their First Round series and then waited to see who their opponents would be between the Houston Rockets and the Oklahoma City Thunder. The Rockets and Thunder slugged it out in a hotly contested showdown with James Harden and Russell Westbrook leading their Houston side to a narrow 104-102 Game 7 victory. Now the number 1 seeded Lakers face off against the number 4 seeded Rockets in what is expected to be a straight shootout for a place in the Western Conference Finals.
The case for the Lakers
It might be as simple as saying that LeBron James plays for the Lakers and that should be enough of a case for the Lakers to win this best-of-seven series. However, there is more to the Lakers than just King James. Anthony Davis, the imposing All-Star power forward/centre is the other superstar of this show. Together James and Davis have been the heart and soul of this team this term. Davis is 27-years-old and had an impressive regular season having joined the Lakers from the New Orleans Pelicans. He averaged 26.1 points per game, 9.3 rebounds a game and 2.3 blocks a game, throw in a 33% 3-point shooting average and you have a more than solid showing.
Davis was so good on the defensive end that he was nominated for Defensive Player of the Year, losing out to Giannis Antetokounmpo. As good as AD has been LeBron has been even better and the 35-year-old, playing in his 17th season in the league has put up some stellar numbers. In the regular season, he had 25.3 points per game, a 34.8% 3-point shooting average, 7.8 rebounds a game and most impressively he averaged 10.2 assists per game. This was the first season in his long career that he had averaged in double-digits for assists. LeBron, a four-time MVP was yet again nominated for the award this season but isn't expected to win it. There is literally nothing King James can't do at an elite level. He is looking to lead his third team to a title, which would be the fourth of his career, having won it twice with the Miami Heat and once with the Cleveland Cavaliers.
The Lakers are seen as a two-headed monster with James and Davis as the heads of the beast, but there are a number of very important players in the mix. Kyle Kuzma the small forward/power forward is in his third season in the NBA and he has finally started to deliver on the potential he has shown over the years. The Lakers also have Rajon Rondo, the veteran point guard who has won a championship before but has been plagued by injuries.
JaVale McGee and Dwight Howard have been rotating at centre and been playing well. Danny Green is an excellent shooter with good defensive capabilities. The list is almost endless with the players who can offer the Purple and Gold some serious help. They will all need to contribute on offence and defence in the series against Houston who can shoot the lights out when they're in hot form. The Lakers have proved to be vulnerable when asked to guard against teams who shoot 3-pointers well. LeBron will need to lead the troops in his usual exemplary fashion.
The case for the Rockets
The Rockets would have felt like they got away with one when they rode their luck against the Oklahoma City Thunder in their matchup, but they can't rest on their laurels after that victory. They now have an even more difficult task of beating the best team in the West who will be well-rested and eager to perform.
The Rockets have key assets on their side that could be very valuable in the pursuit of glory, former MVPs James Harden and Russell Westbrook. Both players bring different skill sets to the mix and will be fired up to use their talents to stun the more fancied Lakers. Harden is a scoring machine, he ended the regular season as the scoring leader in the NBA, averaging 34.3 points per game. He is deadly from 3-point range, making 35.5% of his shots and he averages 7.5 assists per contest. Critically for Houston he also gets fouled a lot which means he shoots a lot of free throws, he is clinical from the line, averaging 86.5% from the charity stripe.
Westbrook is different to Harden in style, though they share the same desire to win. Having only recently returned to on-court action after recovering from an injury, Westbrook is an explosive guard who blows by players at will. He averages 27.2 ppg, 7.9 rebounds and 7 assists. His 3-point shooting is nowhere as good as his teammates, but he makes up for it in commitment and drive. The one-two punch that they provide will give the Rockets their impetus going forward. Coach Mike D'Antoni has put together a versatile team of shooters around his two All-Star players and that contingent of players can give you hell from beyond the arc. Eric Gordon, Jeff Green, Robert Covington, Danuel House and even Austin Rivers can get hot from distance and Houston will use their quick ball movement and clever interplay to get them free to shoot.
This will be the key to any Rockets success, they will live and die by the 3-point shot. The Rockets have traded away most of their height and play a brand of 'small ball' with shorter players who shoot well. The Lakers have one of the tallest teams in the league and might use that to gain an advantage. But taller players tend to be slower than shorter players and this makes the Rockets a tough team to guard and stop. The taller more physical Lakers will play most of their basketball through the powerful tandem of James and Davis. The Rockets showed against the Thunder that they have a defensive answer for the bigger teams by collapsing on them and then swarming the big men, forcing them to get rid of the ball. That should work, but it will take a lot of commitment and focused defensive effort.
Prediction time
This is a case of, 'which formula works best in the series for victory?' The Lakers are favourites for a reason. There might be a couple of factors working against them, such as the long wait that they had whilst the Rockets and Thunder battled it out, so they could be sluggish and rusty. The Lakers might lose the first game and this could cause jitters again. However, as good as the Rockets are as a unit and how lethal Harden can be, you never bet against LeBron James. It is a rule of thumb that has served many people well.