Pitso Was Right, Rivaldo Coetzee is Special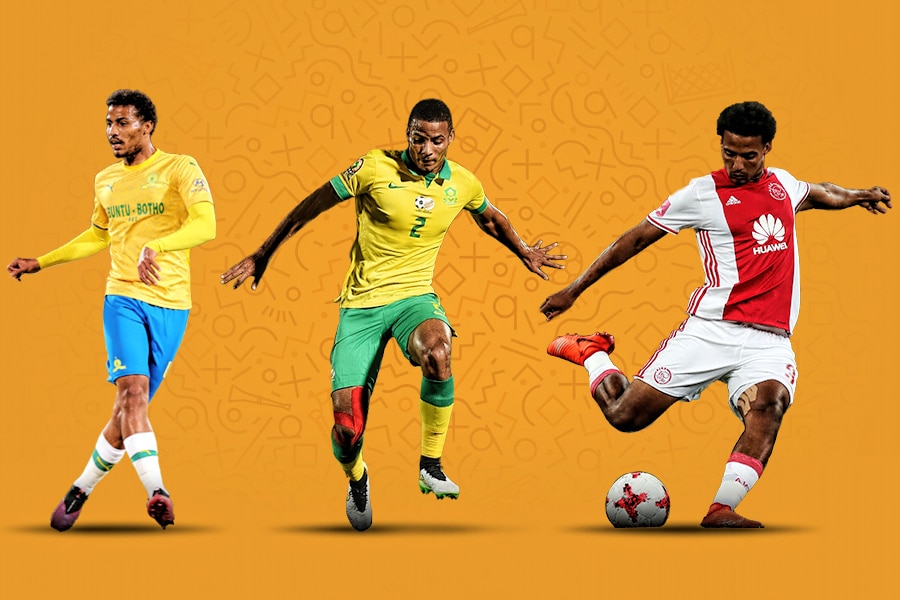 By Rob Delport
Every now and then a footballer comes along who rekindles my passion for the game, and a few years ago the teenage Rivaldo Coetzee was one such player.
It is amazing how times flies and that it was almost eight years ago that Rivaldo burst onto the scenes domestically. Now a regular at Absa Premiership champions Mamelodi Sundowns, Rivaldo has grown in leaps and bounds since the first time I saw him. But it has been far from smooth sailing for the prodigious talent, who remains a polarising character. Pitso Mosimane jumped to the defence of Rivaldo recently, saying that the now 23-year-old is an incredible talent, who doesn't get enough credit for the work he puts in.
Rivaldo is an unbelievable player, he doesn't get the credit that he deserves. Sometimes people don't like him and I don't know why they don't like him. He is an accurate passer with the right and left foot and he wins headers in the midfield and brings the ball back. But it takes time, maybe people will start realising why we pick him sometimes.
Mosimane said in defence of Coetzee.
I've heard this before, about six years ago, when Coetzee was a teenager and being picked by Shakes Mashaba for Bafana Bafana. Several journalists and football pundits, especially those up north, questioned why he was playing ahead of more experienced defenders. Some even tried to promote other young defenders over Coetzee. They would pinpoint any mistake he made. Now bear in mind we are talking about a kid at this time, and young footballers will make mistakes. But the truth is Rivaldo did not make many when he was young, in fact there were so few, it was easy for people to remember them when they occurred. It is actually why coaches like him, and why throughout his years, different coaches have learnt to rely on him, despite his age. He delivers what they expect from him.
The first time I saw Rivaldo was for an Ajax Cape Town youth team. He was 15 or 16 at the time, and he immediately caught my eye. It wasn't because of anything he did on the ball, it was watching his positioning and how he was aware of any threats that came in his direction. While most defenders' best weapon is their tackle, Rivaldo's was his ability to read the play. He was always one step ahead of the midfield, intercepting passes or closing off attackers before they got the ball. But when he did have to tackle, he showed intelligence. He was also deceptively quick.
While different in style, his football maturity reminded me of a teenage Nasief Morris who I had seen years earlier. While he lacked a creative spark that you would expect from a player named Rivaldo, he was also pretty good on the ball. He could use both feet, and his line-breaking passing was accurate. He looked the ideal ball-playing defender for the Ajax system, who often start playing the ball from the back. He was quiet and reserved, a lot of that came down to his age, and he was also still relatively new to Cape Town.
Coetzee was born in 1996 in Kakamas, a small town on the banks of the Orange River in the Northern Cape. Less than 10000 people live in Kakamas, which roughly translates to the "place of the raging cow". It is not a place where you expect a footballer to come from, and especially not with the name of Rivaldo Roberto Genino. But Rivaldo's father Trevor was a big fan of Brazilian football, and the legend Rivaldo was his favourite player. An avid amateur player himself, although a goalkeeper, not a defender like his son, perhaps Trevor Coetzee knew something we didn't. Rivaldo would begin kicking a ball almost as soon as he could stand. He recalls playing behind the goals during his dad's club games, and as he grew older, everyone in Kakamas began to talk about the talented youngster, beyond his years. By the time he was 13, he was playing in the same team as his father.
"My father is a huge fan of Brazilian football and Rivaldo was his favourite player, which is why he named me after him," Rivaldo once said.
"I've had a ball with me ever since I was a little boy. He played in goal for an amateur side. When he was out on pitch, I was behind his goal with my friends, kicking my ball around. I grew up in a small place, and everybody knew how much I loved football. Maybe they thought it was just the right name for him to give his son, because football was his life."
His road to signing for Ajax wasn't exactly smooth. He missed out when he first came for trials. This happens at youth trials when hundreds of kids try their luck. But fortunately, he persevered and when he returned a year later, the scouts saw his potential and he was offered a contract.
"Rivaldo came here, he was recommended, he came here, he showed good qualities, but in their opinion, not enough to maybe bring him on board," Sergio Dos Santos told me.
Dos Santos, a former star player and coach in his day, playing and coaching teams like Cape Town Spurs, Hellenic and Kaizer Chiefs, was one Ajax's scouts when Rivaldo came on board.
"It took two, three visits before it happened, and now we all know what the history is, and I can assure you that in my opinion that Rivaldo has got the ability to play anywhere, and I mean that sincerely, I think he can play anywhere. I think we must watch this space. Keep watching this space, because I am sure, eventually, he might go bigger than people think he can."
Coetzee was making waves in youth football, and the Ajax juniors were dominant in youth football in the Cape during Rivaldo's time, winning back-to-back Engen Knockouts and the 2014 Bayhill tournament. They also went to Europe and were victorious in the Copa Amsterdam. It was no surprise that he was on the radar of the junior national selectors. In fact, they had spotted Coetzee before he even came to Cape Town, as Rivaldo had almost joined the School of Excellence.
Rivaldo fast became a key player for Shakes Mashaba's 2013 under-20 side as they won the All Africa Games and the u20 Cosafa Cup. At the time a lot of attention went to Rivaldo's centre-back partner, Ayabulela Konqobe (Magqwaka), who was the captain of the team, or it was Orlando Pirates starlet Nhlakanipho Ntuli who would grab the headlines. Ntuli would make a big move to FC Twente in Holland, but unfortunately never seized his opportunity, and today is in the football wilderness. But Coetzee was one of the actual heroes. He covered the defence brilliantly, and with his young team-mates caught out of position a few times, he had to cover a lot of ground. It was a talented under 20 team that featured several current high profile players like Motjeka Madisha, Aubrey Modiba, Jody February and Fagrie Lakay.
It was also during the Cosafa tournament I noticed his deceptive pace. Because of his tactical awareness, he was very often in the right position, but when challenged, he was able to mark players who seemed much quicker than him. For lack of a better metaphor, Rivaldo was like one of those horror movie villains in a chase scene. While you are sprinting away, it seems like he's only walking, and he remains on your tail and closes the gap! He was always preserving his energy, but when needed he would sprint and show good pace.
So it came as no surprise when Rivaldo made his Ajax first-team debut. The truth is that despite his age he was as good as any defender at the club, and deserved his promotion. He soon became one of the first names on then-coach Roger De Sa's team sheet. Coetzee also visited Amsterdam on a few occasions to train at De Toekomst. I had always hoped he might go that route, and while there were many stories that he might go to the Dutch mother club, nothing ever happened.
Around this time a documentary was being made about the video game I work for, Football Manager. The documentary, An Alternative Reality, was about the impact of the game in the real world, and it also focused on its unrivalled global scouting network. The director Louis Myles came to South Africa to follow me around a bit and get a glimpse of how I research for the game. While we visited a few teams and spoke about a lot, one of the inserts that made the final cut, was me 'introducing the world' to Rivaldo and speaking about his potential. Having watched him for some time, I was confident in my prediction that Rivaldo was going to be a future Bafana Bafana star, and I also didn't think he would remain at Ajax much longer, with a European opportunity sure to come at some point.
Not long after Mashaba had taken over the Bafana Head Coach role, and Rivaldo was one of the shock selections in his first squad. It ended up being the perfect timing. Just before the documentary's worldwide release, Rivaldo made his debut for Bafana Bafana, becoming the youngest ever Bafana international at the time. A week after getting that first cap, Rivaldo was featured at cinemas across the United Kingdom, and also on a worldwide television broadcast. If you haven't seen the entertaining documentary, it's still worth a watch, especially if you have any interest in Football Manager.
"You know, where I am overall, I never expected to be here so soon," Rivaldo told me, "it shows once again, that hard work pays off."
I used to tease Rivaldo a lot. Because of all the attention, the young man was getting, media would often request interviews with him. And while for someone his age, he was good at them, he hated interviews and just wanted to concentrate on the football. And so every time I saw him, and I mean every time, I would tell Rivaldo that we were going to be doing an hour-long sit-down interview later. We weren't. But I kinda enjoyed seeing him shake his head and squirm. Eventually, he realised I was joking, and the squirming stopped, and once or twice he would even ask me when our interview was?
I actually can't recall how many interviews or chats I had with him over the years, but I usually enjoyed them. I watched as this kid matured into a young man, and grew in confidence each year. He also got more comfortable talking to me, and to be honest that is what a lot of my teasing and joking was for. I love this game, and I love talking to players and coaches and want to show them in their best light. Too often players use generic answers in interviews and seem afraid to let their personality shine. But over the years, as they get comfortable with me, and realise that I have no wish to exploit them, I get to see who these guys are. I've always believed that sports stars with a strong sense of their self are better players too. And you remember them.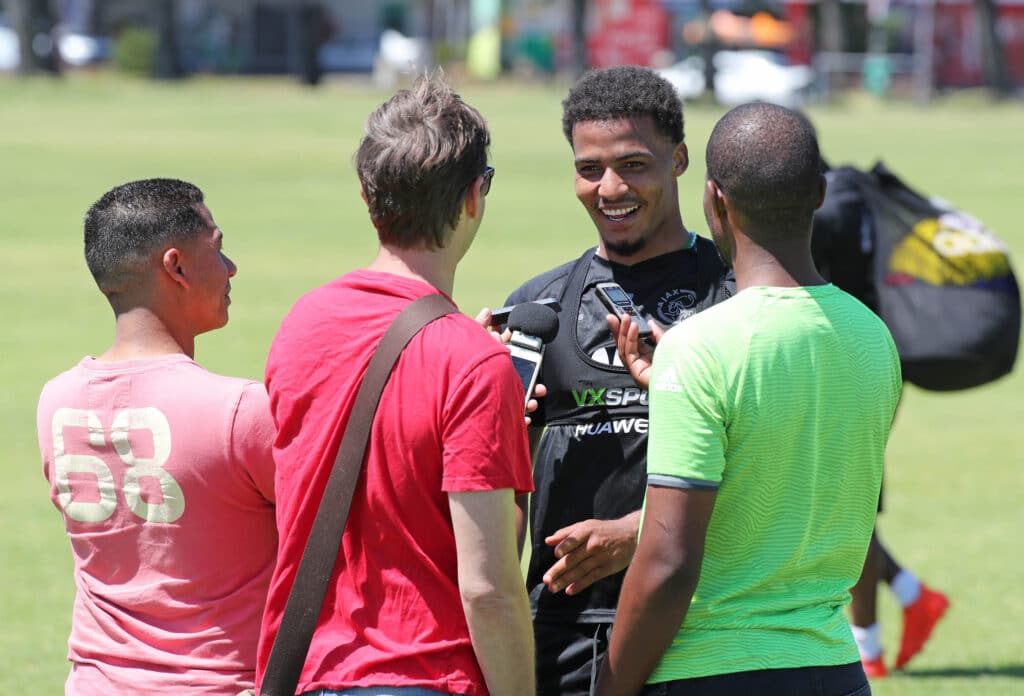 Coetzee tasted his first silverware as a player as part of the Ajax team that won the MTN8 at the start of the 2015/2016 season. The youthful Ajax team, dominated by graduates from their academy, shocked Kaizer Chiefs 1-0 in the final in Port Elizabeth. It was their second final in just a few months, as Ajax had been runners-up in the season before's Nedbank Cup. They lost on penalties to his current team, Sundowns.
"You know they say we're a very young team," Rivaldo told me back then, "But we're also a very good team. Reaching two finals, for such a young team, it's a plus for us, it boosts our confidence, and it pushes us every time we get a chance to play. It's always special winning a first trophy in a professional league, you know, and to do it with this young talent, that's a bonus because most of us came up from the youth together."
Having already featured at under-17, under-20 and senior team level, Coetzee added Olympian to his resume, when he played for the under-23 team at the Rio Olympics. Playing in Brazil was special for Rivaldo, and even more so for his number one fan, his Brazil-loving father. While South Africa didn't advance out their group, they did famously hold hosts Brazil to a goalless draw. At the end of the 2016/17 season, Rivaldo was named Ajax's Player of the Season and Player's Player of the season, and word around the club was it would probably be his last season at Ikamva.
"I'm very honoured to have won these two awards," Rivaldo told me at the awards ceremony.
"You know Coach Mich (Mich D'Avray) said something important to me now, that the Player's Player of the Season is actually the most important, because you know that your teammates value you, they see what you can do, your ability. Also, you know they helped me throughout the season to be the player that I am, so credit must go to them as well for making me the player that I am today."
At this point, Rivaldo had been promised a chance to leave the club, and he was excited about the prospect.
"You know my aim is to go Europe obviously, but if nothing happens, we'll have to see when the window opens," Rivaldo said. "But I'm confident in my ability and what I can do so I am sure something will come up. I've been waiting for this opportunity for so long, it's just up to me to grab it with both hands if I get it."
But when it looked like there was no progress in any transfer, the young man grew disillusioned. He went AWOL for a short time in the 2017/18 pre-season, but the issue was resolved, and he returned to the club, offering an apology.
"I had a meeting with the boss to discuss my future with the club, " Rivaldo said on his return. Firstly I'd like to apologise to the club, the coaches and my teammates for the way I behaved for the past three weeks. Ajax Cape Town has played a big role in my career, in my development so far, and me and the club are working together to help me develop any further."
The coach at the time was Dutchman Stanley Menzo, the former Holland and Ajax Amsterdam goalkeeper.
"Yah, I think it was the best thing for him to come back, he made a mistake, he told me so, " Menzo said when Coetzee returned to training. "Everybody makes mistakes, I make mistakes, as long as you are aware of it, and we took him back in our arms. We know what his ambitions are, okay, so let's deal with it, and in the meantime train and play your games for the club. We will see where we end at the end of the transfer window, or not. In football you never know."
And that was true because before you knew it, the offers came in.
It looked like my European move prediction was finally happening when in August 2017 Ajax Cape Town announced that Rivaldo had been sold to Glasgow Celtic, subject to a medical. It was the news I had expected, Rivaldo was primed for a move to Europe and it seemed the world was at his feet. But it was those feet that became the stumbling block, well, one foot in particular. What should have been a dream move for the youngster turned into a nightmare, when it was announced that he had failed his medical after a scan of his foot revealed a mysterious injury. You could understand how much this failed move devastated Rivaldo. He had been preparing to leave Ajax and was reeling.
But his spirits rose again when ten days later Mamelodi Sundowns came in with an offer, and despite the injury, agreed on terms with Ajax for the defender. Before leaving Ajax, Rivaldo would also finally score a goal. In one final game for the Urban Warriors, he would find the back of the net for the first time. I was delighted as I had teased him for years about this, and I'm sure so had a few teammates. I had seen him score dozens at training but chances were elusive in games. To be fair, he wasn't part of the attacking set pieces for Ajax, so didn't get much time in the opponent's half. But it was a fitting exit for the young man, who was a bright light for a struggling Urban Warriors team. He would leave Ajax just short of a hundred appearances, by far the most experienced player of his age in the country.
At Sundowns Coetzee would begin his rehab. And time passed. The club was patient, but it led to all sorts of speculation. There were reports that Sundowns had made a mistake, and that the player would never get on a field again. With his absence from the pitch, this speculation grew louder and louder. But the club and Coetzee persevered. Months and months passed and Rivaldo almost became the forgotten man for a while.
But last season, 16 months after his last game for Ajax, Rivaldo would begin that comeback. It was a steady return, and Rivaldo would also get an opportunity to play in the midfield with Mosimane and Sundowns seeing his potential in that position. While a few niggles meant it was a stop-start season, it was reassuring to see Rivaldo back on a pitch, and smiling again. He would play in 17 games in all competitions in 2018/19 and also get his first taste of CAF Champions League football.
This past season he has featured a bit more, and while he has been rotated in a very competitive midfield, he is definitely a key player in the future plans of Mosimane, that is if he remains in South Africa. Sundowns have now won the league for the past three seasons, and he has got to grow in that winning environment. Rivaldo will only be 24 in October, and while he missed out on that move to Scotland, it wouldn't surprise me to see him make a move to Europe soon. He is actually better equipped than he was when that first move failed, having now successfully adapted to a midfield role. With added versatility and experience, and having played alongside and learnt from players like Hlompho Kekana, Ricardo Nascimento and Andile Jali amongst others, Rivaldo remains a great prospect for many European teams.
More importantly, he is going to be key for Bafana. It has been three years since Rivaldo represented the national team. It will be another new beginning for him, and hopefully, he seizes that when it comes, like he did when he was a teenager and adds to his 23 caps.
Pitso is right. Rivaldo Coetzee is special, he always was, And I think he'll be special for many years to come.