English Premier League Betting: The Best Outright Bets for 2020/21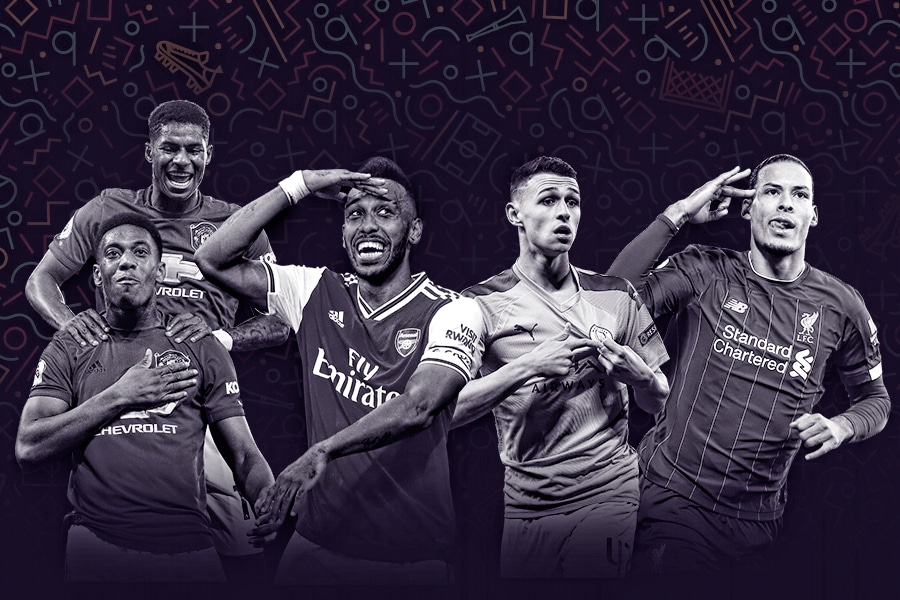 By BET Contributor
With the planet's most exciting football league returning next week and the drama that is about to come with it, we take a look at some valuable outright markets in the English Premier League available on Bet.co.za as we draw closer to Liverpool defending their first league title in 30 years.
Can Manchester City reclaim what has been theirs for the previous two years? Or will the likes of Chelsea and Manchester United return to their glory days and spring off an upset? Stranger things have happened in England's top-flight, and while nothing is considered impossible, we dwell into what seems nailed on in the 2020/21 season, with the obvious risk of taking a cheeky gamble on what could be too.
GET THE BEST CASH OUT
AT BET.CO.ZA
Available on more matches and markets.
Use partial cash out to redeem part of your winnings immediately.
Offer exclusive to BET.co.za customers.
Who will win the Premier League title?
With Liverpool and Manchester City creating ridiculous targets in the past couple of years, earning 100 points, losing once all season, with the Reds even finishing runners-up with 98 points, it would take something miraculous for a team to break the top two.
Liverpool are by no means a selling club and will surely add to what is already considered to be one of the best teams in world football. The longer their players stay together, the better they become. Now, there's even talk of Jurgen Klopp's side adding Thiago Alcantara into their midfield, giving them much more creativity in central areas, cutting out the over-reliance put upon Trent Alexander-Arnold and Andrew Robertson in the full-back positions.
As much as that will incredibly strengthen Liverpool, Manchester City could trump that with the signing of six-time Ballon d'Or winner, Lionel Messi. It seems like the 33-year-old maestro will finally leave Barcelona and could seek a new challenge in the blue half of Manchester, where he will reunite with former Barca boss, Pep Guardiola.
Messi guarantees goals and silverware, but City's biggest problem has been their defence since the departure of Vincent Kompany, coupled with the injury of Aymeric Laporte. The club have already acquired the services of Nathan Ake, while Kalidou Koulibaly is also on the club's radar.
After a disappointing season, City can certainly make it a two-horse race again.
Winner without Liverpool and Man City
Chelsea – 1.40
This promises to be one of the most fascinating seasons in Premier League history. For the first time in a long time, the entire big six go into the new campaign with plenty of positives to take from last season, all being on board with the manager's plan or project at each respective club.
By far, Chelsea seem to have done the best bit of business in the transfer window, making up for lost time when they had a transfer ban, while some of their big players were still departing during the club's worst time in the Roman Abramovich era.
It's no surprise to see them priced up as favourites to finish above the rest of the league, apart from Liverpool and Manchester City, of course. They've signed Thiago Silva, Timo Werner, Hakim Ziyech, Ben Chilwell and are closing in one of Germany's finest football talents in Kai Havertz.
The Blues will be confident of stretching the gap between themselves and the likes of Manchester United, Tottenham and Arsenal, however, based on the way the Red Devils finished off last season, Chelsea shouldn't get carried away.
Since Bruno Fernandes' arrival in the Premier League, United haven't lost a league game, starting the new season with a 14-match unbeaten run, dating back to February. Ole Gunnar Solskjaer's side were already the third best team last term, and with Donny Van Der Beek joining the club from Ajax, while the signing of Jadon Sancho or Jack Grealish is still on the cards, United could pose a real threat this coming season.
With this being Jose Mourinho and Mikel Arteta's first full campaign at Tottenham and Arsenal respectively, the North London clubs will definitely be much stronger, although life in the UEFA Europa League could drain them in the long-run.
Winner without the 'Big Six'
Last season, an extraordinary turn of events took place which saw Leicester City gate-crash the top six for the first time since they won their fairytale title back in 2016. It's not a feat that happens very often, and instead of being labelled the best from the rest, like it usually is, the Foxes put themselves among the mix and have shown what they're capable of over the course of a 38-game season.
It remains to be seen whether Brendan Rodgers' side can challenge for a top six finish with the disruption of European football in midweek, especially since the they finished in the bottom half of the table last time they featured in an UEFA competition.
Since earning promotion back into the top flight, Wolves have finished in seventh spot in both seasons, and with England's traditional top six making steady progress, finishing off their campaign in the same position will be another outstanding achievement.
They've been ultra-consistent since making the jump up to the Premier League, and without any European football in the upcoming season, you'd have to fancy Wolves to push the big guns all the way.
A dark horse in the mix seems to be Carlo Ancelotti's Everton. The Toffees have always had an incredible home record, while the possible signings of James Rodriguez, Allan and Abdoulaye Doucoure could take their game to the next level. Like Wolves, Everton will have a clean sweep at having a full go in the Premier League after missing out on UEFA Europa League football last season.
GET UP TO 30% EXTRA
ON YOUR MULTIPLES
Available on selections from any sport
Increase your winnings with every leg you add!
Offer exclusive to BET.co.za customers.
Who will claim the Golden Boot award?
Pierre-Emerick Aubameyang – 5.50
Individual accolades are not often the primary target for any fan out there, but some footballers would be lying if they said they wouldn't want to finish the season off with an award or two, particularly, the Golden Boot. Despite a late push from Pierre-Emerick Aubameyang and Danny Ings towards the back end of last campaign, it wasn't enough to catch Jamie Vardy who scooped the prestigious award in the top flight for the first time in his career.
To no surprise at all, Mohamed Salah is the favourite to outscore his striking rivals. In what was considered a poor season by his standards, the Egyptian forward still bagged 19 goals in the division. The two previous years before that, Salah scored 22 and 32 goals – claiming the Golden Boot award in those seasons.
Aubameyang narrowly missed out on the award last term, but looks full value for money if he were to move into a more central role up front for Arsenal, with rumours suggesting that Alexandre Lacazette could be on his way out of the club. In 85 Premier League appearances, Aubameyang has already breached the 50-goal mark, netting 54 times.
Harry Kane looked to be back to his best in the latter stages of last season under Mourinho at Spurs last term, but his injury record has become increasingly worrying, which has seen the England skipper feature in less than 30 games in the last two seasons, resulting in him scoring 18 and 17 goals in the past couple of years.
Those numbers are just not good enough to compete with the likes of Salah and Aubameyang, and while the same can be said for Sergio Aguero, perhaps the dark horse could be Chelsea's Timo Werner.
Because of what Salah has done at Liverpool, its not crazy to imagine a forward coming from another league and hitting the ground running in his first season. Frank Lampard's side have made big improvements to their attack, and with Werner at the forefront of it all, you can't rule out the German giving the African duo a run for their money.
Highest Scoring Team
When it comes to scoring goals in the Premier League, Manchester City are simply unmatched in that regard. Over the last three campaigns, Guardiola's charges have scored a staggering 303 league goals, averaging over 100 goals a season.
No team in the division has been able to come close to those numbers – not even Liverpool. Who knows what could happen should the Messi deal go over the line.
If it were to be another team other than Man City, you'd get the feeling that it would be the champions, Liverpool. They boast arguably the best front three in the business, while their defenders tend to chip in with a goal or two as well from time to time.
Lowest Scoring Team
It's never easy to predict who will finish as the league's lowest scorers, but what would be better, was to eliminate some possible options. Fulham are the favourites to finish bottom of the scoring charts, but that seems highly unlikely given their track record in the Premier League, while they also boast last season's top scorer in the Championship, Aleksandar Mitrovic.
Whenever they play, their defence has let them down on a number of occasions, giving the feeling that finding the back of the net isn't really an issue for the Cottagers. A team worth taking could be West Brom. They scored quite a bit of goals in the Championship last season, which came from all different areas of the pitch, proving that they don't have a lethal goalscorer in their ranks with Hal Robson-Kanu and Charlie Austin finishing as the club's top scorers with 10 goals each. In the world's toughest league, you'd only imagine those numbers worsening.
From the teams that were in the Premier League last season, Crystal Palace were the worst of the lot. The Eagles' striker crisis has been well-documented and their over-reliance on Wilfried Zaha could come back to bite them with various reports suggesting the Ivorian could be on his way out. Roy Hodgson's side scored just 31 goals in the division, but keep a close eye out on Aston Villa and their situation surrounding Jack Grealish. He's their go-to man in attack and should he depart, its impossible to picture anything but the worst for Dean Smith's men.
JOIN BET.CO.ZA NOW AND
GET 100% DEPOSIT MATCH UP TO R1000
Open your BET.co.za account here
Deposit using your preferred method
Your bonus gets added immediately!