Who is the Greatest South African Sportsmen?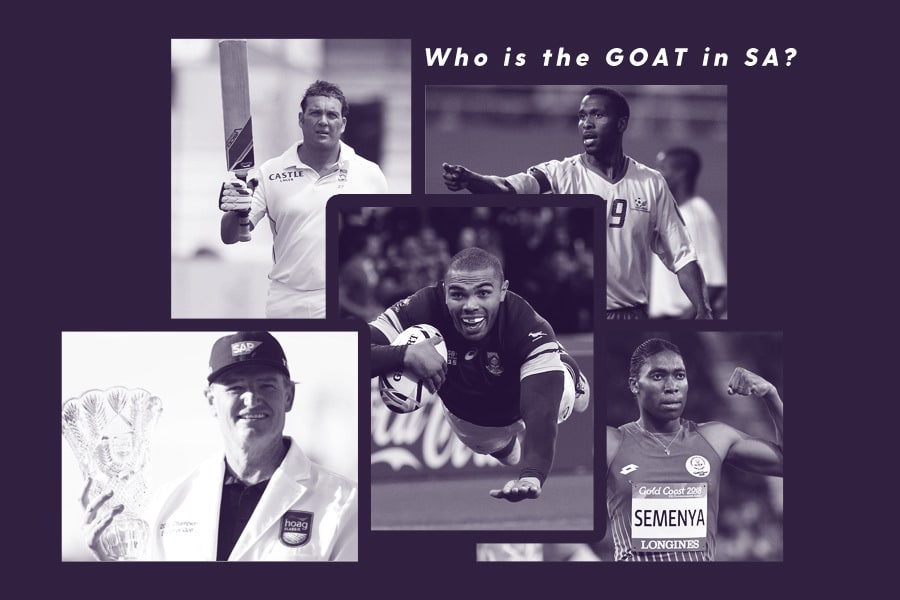 By Carl Lewis
28 April 2019, by: Carl Lewis
Who is the Greatest South African Sportsmen?
In the Bet.co.za, a debate raged on about who the greatest South African Sportsman would be, it is a very subjective debate as some sports get way more attention than others while other South Africans have quietly become world-class in their field without much media hype. So we decided to put this question to a vote, "Who is the Greatest South African Sportsman ?" – please note that athletes that competed since sporting readmission in 1992 were only be considered.
So we decided to group 16 of the best South African athletes who we feel have a claim to the title of Greatest South Africas Sportsman together. We randomly drew the 16 athletes into a last 16 bracket (see below). You can vote on Twitter and you see below how the tournament will unfold.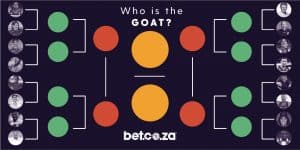 When the voting goes live on Twitter @betcoza – here considerations for you voting
1. World-class in their sporting code
2. Considered the best in South Africa (at some stage)
3. Global impact in their code
4. South Africa impact in their code
5. Legacy
6. Their personal story to get to the top
. Give it a try and send your best XV's on twitter to @betcoza.
Jacques Kallis – Cricket
Kallis is in the conversation for the greatest cricketer of all time, not just the greatest South African cricketer. He exemplified technique, solidity, reliability and class as a cricketer who excelled with the bat, ball and at second slip. Every team prized his wickets as the most valuable, you get Kallis you've punctured the spine of the South African batting line-up.
Kallis ended a career spanning 18 years having played 166 Tests and 328 ODI's, his career stats make for even better reading scoring 13 286 Tests runs averaging 55.37. In ODI's he averaged 44.36, amassing over 11 000 runs in the 50-over format. What makes him even more special is the fact he picked up 292 and 273 wickets in Tests and ODI's respectively.
Makhaya Ntini – Cricket
Ntini broke the mould when he burst onto the scene to become the first black South African Test cricketer in 1998. It came at a time when the nation was desperate for a player of colour to represent the national team as Proteas were still struggling to confirm.
Fast forward over a decade and Ntini is recognized as out of the greatest South African fast bowlers collecting over 400 Test wickets including an incredible four 10-wicket hauls, one of those 10fers was at Lords in 2003 (he became the first South African to take 10 wickets in a Lord's Test). Five years later he owned the best Test match figures by a South African: Ntini picked of 13 for 132 against the West Indies on a docile pitch and searing heat in the Port-of-Spain. This effort typified Ntini's best traits, fitness and relentless testing of the batsmen.
Ernie Els – Golf
"The Big Easy" is undoubtedly one of South Africa's best-known sportsmen. As a former World number one, Els is one of the most prolific and consistent winners of his generation, 71 victories which includes four majors (The US Open '94 & '97 and The Open '02 & '12) confirms this. Els was inducted into the World Golf Hall of Fame in 2011 and the South African Golf Hall of Fame in 2009. Els' career includes topping the 2003 and 2004 European Tour Order of Merit (money list) and winning the World Match Play Championship a record seven times.
He was the leading career money winner on the European Tour until overtaken by Lee Westwood in 2011, and was the first member of the tour to earn over €25,000,000 from European Tour events. He has held the number one spot in the Official World Golf Ranking and until 2013 held the record for weeks ranked in the top ten with 788.
Schalk Burger – Rugby
Burger was well known as a physical blond-haired wrecking ball that captured South African He was a member of the 2007 Rugby World Cup-winning team, has twice been named South African Rugby Player of the Year (in 2004 and 2011), and was named IRB Player of the Year in 2004, among other accolades. He also holds the record for the most appearances (84) and most tries scored (13) by a Springbok flanker.
Not only was Burger a warrior on the field, but even more so off as he was fighting for his life from bacterial meningitis but immediately made a recovery and worked his way into contention for South Africa's Rugby World Cup squad in 2015. Burger's illness was so bad because of a cyst close to his spinal cord, that his family were advised to say their goodbyes.
Bryan Habana – Rugby
Habana is widely regarded as one of the greatest rugby players in modern history. The rapid speedster showed his appetite for the tryline on debut against England at Twickenham and never looked back, he is second amongst the all-time Test try scorers, with a total of 67 tries.
He was a crucial part of the Springboks team that won the 2007 Rugby World Cup, in fact, he was one of the stars of the tournament scoring eight tries and equalling the single-tournament record set by Jonah Lomu in 1999. He was subsequently named the 2007 World Rugby Player of the Year which was a testament to his standing in the game. During the 2015 Rugby World Cup, he equalled Lomu's career record of 15 tries in World Cups. He is in second place among all-time test try scorers, with a total of 67 tries behind only Daisuke Ohata.
Chad le Clos – Swimming
le Clos is one of South Africa's most decorated swimmers after being crowned Olympic, World and Commonwealth Games champion and he still only 28. as well as the Commonwealth record holder in the 50 and 100-metre butterfly. He won gold in the 200-metre butterfly and silver in the 100-metre butterfly in the 2012 Olympics in London. Le Clos has won the Swimming World Cup four times: 2011, 2013, 2014, and 2017.
In 2018, Le Clos claimed three gold medals in the 50m, 100m and 200m butterfly events at the Commonwealth Games. With another win in the 200m butterfly, Le Clos made history by becoming the first man to win three consecutive 200m butterfly Commonwealth titles.
Penny Heyns – Swimming
Heyns broke her first world record, the 100 m breaststroke, in Durban in March 1996. Heyns was again part of the South African Olympic team in Atlanta in 1996, where she won the gold medal for the 100 m breaststroke (also breaking the world record for the event) as well as the gold medal for the 200 m breaststroke (also breaking the Olympic record for the event). This made her the only woman in the history of the Olympic Games to have won both the 100 m and 200 m breaststroke events.
During the 1998 Goodwill Games in New York, Heyns set the 50 m breaststroke world record. In 1999, Heyns set a spate of eleven world records in three months, swimming at events on three different continents. This made her the simultaneous holder of five out of the possible six breaststroke world records, a feat that had never been achieved before in the history of swimming.
Hank McGregor – Canoeing
McGregor is a marathon canoeist and surf ski racer, one of the most successful ever. He has won eleven gold medals at the ICF Canoe Marathon World Championships. World Paddler of the Year 2014.
All the major canoeing races in South Africa (including the Dusi) McGregor has been victorious. He has been a prolific winner during his career.
Caster Semenya – Athletics
Semenya is one for the most middle-distance runners of her generation the 2012 and 2016 Olympic gold medalist. She won gold in the women's 800 metres at the 2009 World Championships, the 2016 Summer Olympics, and the 2017 World Championships in her new personal best, 1:55.16. After the doping disqualification of Mariya Savinova, she also was awarded gold medals at the 2011 World Championships and the 2012 Summer Olympics, all in the 800 metres.
Her career has been marred by controversy but her handling of the media onslaught has been done is such a respectable and classy manner which has earned her iconic status in the country.
Natalie du Toit – Swimming
She is best known for her five gold medals she won at the 2004 Paralympic Games as well as the Commonwealth Games and breaking the norms and traditions of someone who has a disability. She was one of two Paralympians to compete at the 2008 Summer Olympics in Beijing. Du Toit also became the third amputee ever to qualify for the Olympics, where she placed 16th in the 10K, "Marathon", swim.
In 2003, competing against able-bodied swimmers, Du Toit won gold in the 800 metres freestyle at the All-Africa Games as well as silver in the 800 metres freestyle and bronze in the 400 metres freestyle at the Afro-Asian Games. Du Toit is seen as inspiration not only in South Africa but around the world for her achievements.
Ryan Sandes – Endurance runner
Sandes has pushed his body and human limits to new extremes in his illustrious career. He was the first person to win all four races in the four Desert Series and in 2013 became the first person to ever win an ultra trail race on all seven continents. His achievements has earned him an ambassador role of the prestigious Laureus Foundation and special mention about his phenomenal career was made at the International Laureus Awards in Abu Dhabi.
One of his greatest victories was in 2017 when he won the Western States 100 known as the world's oldest 100 miler. At the beginning of 2018 Ryan and a friend, Ryno Griesel, set a new trail running record on a section of the Great Himalayan Trail through Nepal. An eye-watering time of 25 days 4 hours and 24 minutes was set with a distance of 1 435km was covered, climbing the equivalent of climbing 7.5 Mount Everest's.
Lucas Radebe – Soccer
Radebe began playing his career with Kaizer Chiefs, before transferring to Leeds United, where he played 256 matches for the Yorkshire side. During his spells at these clubs, he picked up the nicknames "Rhoo" and "The Chief". He was the captain of Leeds United during their best period in the Premier League era and also of the South African national team, most notably at World Cup 2002 and in 1998.
Radebe personifies the word South African icon and is revered in the city of Leeds to this day for this excellence on the field and his character off it. Arguably South Africa's greatest citizen, Nelson Mandela once said of Radebe: "This is my hero.
Benni McCarthy – Soccer
No other footballer has achieved the success that McCarthy has in his career. The kids from the Cape flats became a national hero in 1998 when he scored four goals against Namibia at the Afcon and he scored South Africa's first World Cup goals in 1998. He became a global superstar when he won the Champions League with Porto, he also scored an outstanding brace against Manchester United.
He earned a move to Blackburn Rovers where he was second in the golden boot race behind Didier Drogba. McCarthy is the Bafana Bafana's all-time top scorer with 31 goals. Undoubtedly the nations best goal-scoring export.
Wayde van Niekerk – Athletics
Anyone who beats a world record held by Michael Johnson deserves iconic status. In the 400 metres, van Niekerk is the current world and Olympic record holder, and Olympic champion. He also holds the world-best time in the 300 metres.
Van Niekerk was the silver medallist in the 400m at the 2014 Commonwealth Games. At the 2015 World Championships, he won the gold medal in the 400 metres. He defended his title two years later, in London, where he also won the silver medal in the 200 metres race to showcase his versatility
In the 2016 Olympic Games men's 400m, Van Niekerk won the gold medal with a world record time of 43.03 seconds (reaction time 0.181 s) at age 24 years, he beat the time of 43.18 seconds set by Michael Johnson during in 1999.
In 2017, after a 30.81 seconds victory in the seldom-run 300 metres distance, breaking Michael Johnson's world-best time of 30.85 which was set in 2000, Van Niekerk became the only sprinter in history to have run sub-10, sub-20, sub-31 and sub-44 performances at 100m, 200m, 300m and 400m respectively.
Greg Minaar – Mountain Biking
Minar has been one of the best mountain bikers in the world for some years now. Quietly exemplifying excellence, Minnaar might not be the most famous on this list but his achievements speak for itself.
Minaar is three-time Downhill World Champion (2003, 2012, 2013), three-time Downhill World Cup Champion (2001, 2005, 2008); he has achieved 21 downhill World Cup victories and 77 downhill World Cup podiums. In total, Minaar has 10 downhill world champion medals (3 gold; 4 silver; 3 bronze).
Jordy Smith – Surfing
Jordy Smith set for greatness since being dominant as a junior over a decade ago. His sublime talent was evident for everyone and seem to justify a massive bidding war, he was as being wooed by the likes of Tiger Woods and Michael Jordan to join Nike, he eventually went with O'Neill, who he's been with ever since.
He earned his first two Championship Tour wins in front of a home-country crowd at Jeffreys Bay, South Africa. The outspoken Durbanite is a two-time runner up to the World Title (2010, 2016). But after his breakout 2010 season, where he came second to Kelly Slater, Smith endured a string of injuries that nagged him for five years.
In 2016, his first full year back, he finished runner-up again, Smith turned in three more Top 5 finishes in 2017 and 2018. In 2019 he was selected to represent South Africa at the Tokyo 2020 Summer Olympic Games.
SIGN UP TO OUR

DAILY BETTING DIGEST
Get our morning email packed with the day's sporting action.
Beat the lack of sport and get our tips for our best picks of what's on.
MORE SOCCER