State of the Franchises: Sharks in Super Rugby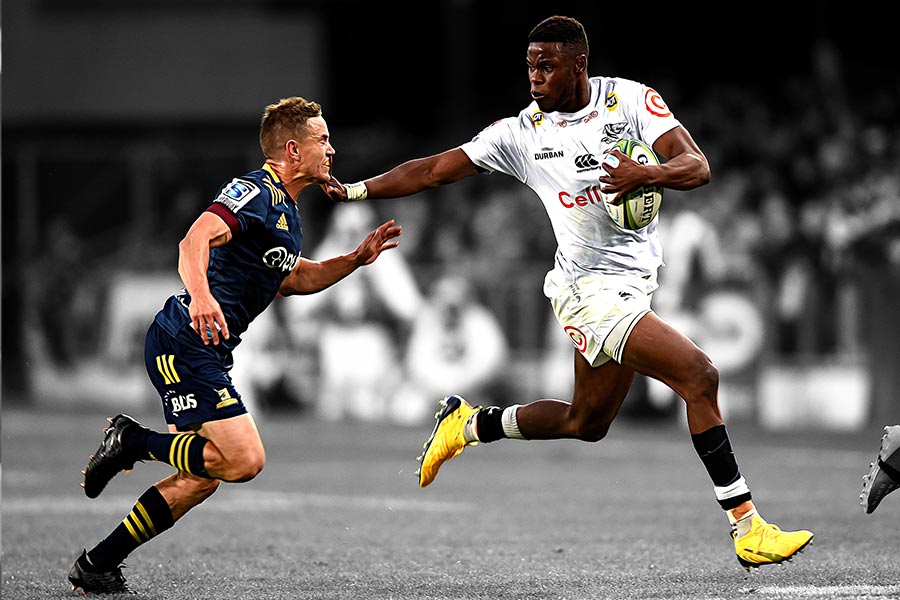 By Quintin van Jaarsveld
In the final part of our series on the state of South African Super Rugby sides at the unprecedented suspension of the tournament after the seventh round due to the global coronavirus pandemic, Quintin van Jaarsveld takes an in-depth look at the Sharks.
It took an unprecedented modern pandemic to slow down the surging Sharks. If that doesn't tell you about the flourishing state of the franchise, I don't know what does.
A terrific but ultra-taxing Australasian tour couldn't do it, as they somehow outmuscled, outworked and outlasted both the Jaguares and Stormers upon returning from their four-week trip.The Durban side have emerged as the darlings of not only the South African Conference but the tournament as a whole. The men from KwaZulu-Natal have comfortably been the best South African side this season and deservedly top the overall standings on 24 points after winning six out of seven, including three out of four on tour.
The fruit of their scintillating labour sees them sit at the summit with a one-point lead over both the Australian Conference-leading Brumbies (second via points-difference) and New Zealand Conference-pacesetting Crusaders, and seven points clear of the second-placed Stormers in the local division.
? #SuperRugby – The Sharks have positioned themselves this season to become not only a playoff contender but a team that could go deep into the Super Rugby season through their turbo-charged rugby. Read Now: https://t.co/Rpsb4OF8uW

— bet.co.za (@betcoza) March 2, 2020
Their surprising surge has been a joy to watch. It's a story of a young side, stripped of a raft of star players including Springboks Tendai Mtawarira, Akker van der Merwe, Coenie Oosthuizen and Du Preez brothers Dan, Jean-Luc and Robert, coming together in complete unison.
It's a story of the next wave of warriors weaved together by an all-in mentality and belief in new coach Sean Everitt, his philosophies, gameplan and vision. In seven weeks, the Durbanites have gone from darkhorses to serious title contenders, and they've done it with an enterprising brand of rugby that the east coast of South Africa hasn't seen in years.The Sharks have been South Africa's flag bearers in every sense. Most transcendently, they're champions of true transformation. Everitt, in his first Super Rugby season at the helm, has consistency fielded sides made up of over 50% black players. The word quota hasn't reared its ugly head once because the Sharks have taken a sincere, authentic and fresh approach to the issue.
In January, Faf du Plessis, then still captain of the Proteas, was asked why a white player – Rassie van der Dussen – was selected ahead of a returning black player – Temba Bavuma. He answered: "We don't see colour and it's important that people understand that.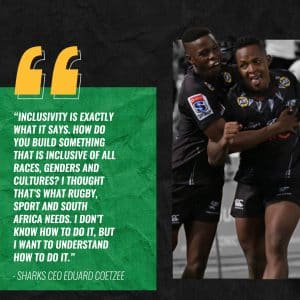 "Opportunity for any colour is important' so when I mention Rassie' it's about consistency when it comes to the giving and the backing of opportunities and being fair in terms of giving players a chance." Du Plessis clearly had the best intentions and his answer certainly cannot be condemned. It was honest and rooted in the team's progressive transformation track-record.
The Sharks took it upon themselves to offer a fresh perspective on the sensitive issue. In the process, they transformed – pun intended – an often divisive issue into the foundation of their new, flourishing culture. They then shared their profound philosophy with rugby lovers via a campaign called #iseecolour.
Two giant #iseecolour banners, with the words 'inclusivity' and 'diversity' on them, covered part of the South Stand at Kings Park when the hosts took on the Jaguares in their Round Six homecoming. Curwin Bosch, the Man of the Match in the 33-19 win, and captain Lukhanyo Am, then wore #iseecolour caps in their post-match interviews, sparking fan interest in the unannounced slogan.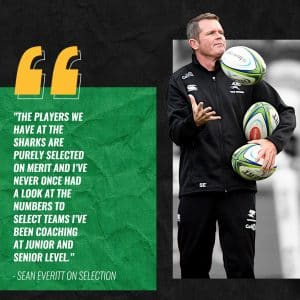 Sharks CEO Eduard Coetzee took to Twitter to explain the campaign, saying, "#iseecolour is a statement of intent. A lens by which we see the world. It speaks to a positive mindset and a language of hope and opportunity. It's vibrant, positive and colourful and focused on humanity. #iseecolour is an invitation for all of us to look again with fresh eyes what is already there and call it out. We celebrate every colour and culture that makes up the rainbow nation."
Not only should they be applauded for the new, genuine take on transformation, but also its pure intentions and refreshing unveiling. It wasn't launched with a splashy press conference or force-fed to fans; it was a quiet, internal cultural change that grew into something greater that they then had to share, which they did in the best way possible, by planting a few seeds that sparked curiosity and led to an inviting, ongoing conversation.In the same vein, the appointment of Am as captain was organic and unique. "I know it's easy to say now that things are going well, but we didn't make Lukhanyo Am captain. He was chosen by his peers because he is a natural leader in a team with several strong leaders," Coetzee told the Daily Maverick.
"Lukhanyo is simply an unbelievable human being. His pass to Makazole Mapimpi in the World Cup final (for the Springboks' first-ever RWC final try, which Am could have scored himself) showed how unselfish he is by nature, which is the essence of leadership. If everything is underpinned by culture, your leader will reflect it," Coetzee added.
? Switches to Xhosa commentary: @kaundantunja delivers a notable introduction for Sharks captain Lukhanyo Am ???#SuperRugby pic.twitter.com/XQlRCGBINS

— SuperSport ? (@SuperSportTV) March 9, 2020
Players allowed to pick their captain by the CEO and head coach of a multi-million rand franchise…now isn't that something in the increasingly money-driven modern age of sport. The respected and reserved Am has answered the call with aplomb, leading by example as a clever and composed captain on top of being the highly-skilled and defensively brilliant linchpin in the backline.The Sharks brass also deserves plaudits for the smart recruitments they made. It's now clear that they unquestionably 'won' the off-season from a South African standpoint. Forgotten Springbok Sikhumbuzo Notshe, snapped up from the Stormers, has been their best player while fellow loose forward James Venter, lured from the Lions, has made a massive impact as the franchise's specialist fetcher.
Ox Nche grew in stature every week, while fellow Cheetahs signing Henco Venter and former Pumas gargantuan Le Roux Roets have made their presence felt off the bench. The common denominator between these vastly different forwards is the fact that they were all brought in, specifically, as cogs of a calculated, well-constructed machine. Therein lies the success of the Sharks' recruitment drive.
? Sikhumbuzo Notshe is becoming a special player. Look at this run! #SuperRugby pic.twitter.com/I41luKS0u6

— bet.co.za (@betcoza) February 29, 2020
In addition, backing Bosch at pivot has proved every bit as successful as many frustrated Sharks supporters had told Robert du Preez it would be from their living rooms last year. There's a stark difference between giving a player an opportunity in the No.10 jersey and making said player your franchise flyhalf and the 22-year-old has flourished because of the faith Everitt placed in him.
Everitt, too, has proved to be the breath of fresh air the franchise desperately needed following the fire that raged on at press conferences throughout 2019 as his predecessor, Du Preez, ripped into reporters, or "cockroaches" as he called them. Different to Du Preez in every way possible, on a human as well as a rugby level, Everitt has been in the background, like he'd been throughout his successful rise up the Sharks coaching ranks, keeping the focus on the players and the action between the four lines…where it should be.They're hamstrung by an over-reliance on brute force and defence. Tactically, they've taken a page out of the Springboks' book. With so many Green and Gold giants in the pack and Jantjies at 9, why wouldn't they? The issue is, it's almost impossible to sustain such a physically-demanding style for a marathon 18-week season. Seven weeks, the time it took South Africa to pull off their third and arguably most taxing World Cup triumph last year, is hard enough.
The majority of the injuries they've suffered, as Dobson pointed out in the aforementioned quote, weren't workload related, but the toll their tackle-first tactics take is already evident. The Cape side deserves all the credit in the world for the defensive masterclasses they put on to shutout out the Hurricanes and Bulls back-to-back in the first two weeks.
? "Friday ??????? yes I know, yes I know
I know I must be ready for you, just be waiting for you" ?

Aphelele 'Weekend Special' Fassi… simply brilliant to watch ?#SuperRugby pic.twitter.com/TIANOenuQN

— SuperSport ? (@SuperSportTV) February 7, 2020
As a result, opportunities arise as the opposition get impatient and make mistakes, and the Durbanites have been peerless predators when it comes to punishing teams with consistent counter-attacking strikes. It's this ability that has allowed them to thrive despite struggling in the set pieces.
A team with the worst-performing lineout (78.4%) and second-worst scrum (82%) should not be able to have the impressive attacking stats the Sharks boast, let alone top the log. They're joined fifth with the Blues with 25 tries, fourth in both metres gained (2,710) and elusiveness (beating 164 defenders) and sixth in clean breaks (67) despite being down in lowly 11th when it comes to carries (626).
They are, in essence, rugby's version of mixed martial arts superstar "The Notorious" Conor McGregor – masterful counter strikers.The less eye-catching but equally vital part of their game is their gallant, stoic defence. With an 85% tackle success rate, they're streets ahead of their nearest countrymen the Bulls (11th on 82.8%) and fourth overall behind the stone-walled Brumbies (87.1%), Crusaders (86.6%) and Blues (86.1%).
The suspension has given the Sharks much-needed time to rest after seven straight weeks of rugby warfare. The longer the lockout lasts, the more difficult it'll be for the Stormers and Jaguares (both on 17 points) to reel them in in the South African Conference as well.At the same time, it's robbed them of the type of boulder-sized snowballed momentum that isn't often earned, while it would also, if the tournament resumes and games are lost, aid teams who were meant to tour during the period of any possible cancelled clashes. They'd take it, though, if it means getting back onto the pitch.
With the future of the season in serious doubt, it would be a great shame if the surging Sharks aren't afforded the opportunity to continue their chase for a maiden Super Rugby title.Log position:
First overall
Results:
Beat Bulls 23-15
Beat Highlanders 42-20
Lost 38-22 to Hurricanes
Beat Melbourne Rebels 36-24
Beat Reds 33-23
Beat Jaguares 33-19
Beat Stormers 24-14
Remaining fixtures:
Chiefs (h)
Lions (a)
Waratahs (h)
Stormers (a)
Brumbies (h)
Lions (h)
Jaguares (a)
Bulls (a)
Crusaders (h)
MORE RUGBY