17 March 2020, by: Daniel Gallan
Covid-19 Allows Cricket a Chance for Reflection and Change
South Africa's male Proteas returned home from their trip to India without a ball being bowled. The first of three one-day internationals was a washout as the skies above Dharamsala released its contents and stole the show. The remaining fixtures joined a lengthy list of sporting casualties claimed by the coronavirus.
And while few sports fans, even those obsessed with this strange bat and ball game, will mourn the passing of this seemingly pointless 50-over series, it does provide an opportunity to remind ourselves that the structures of international cricket need to change.
Pointless is the best way to describe the series against Virat Kohli's troops. Even before the global pandemic sent its shockwaves around the globe, this columnist's keys were clicking away ready to launch a vitriolic and incredulous tirade against the banality of it all.
Why, in all that is good about WG Grace's beard, was Quinton de Kock and 15 of his mates – not to mention their support staff – asked to fly across the world to compete in this shambolic jamboree? The next men's World Cup takes place in Australia in October and will be contested across 20 overs. Of course, the mechanics of delivering and hitting a ball remain the same across formats, but the strategies involved and the mindsets required for success are wholly different. This series in India involving two blockbuster nations served one purpose; making money.
That is neither revelatory or necessarily abhorrent. We all know that the most successful sports codes, leagues and franchises are money-making machines. Capitalism and greed are woven into the fabric of modern sport that to separate them now would require something akin to removing a brain tumour. It might save sport from itself, but it might also kill it.
And though we might criticise the obscene amounts of money in modern sports, we cannot criticise the athletes or governing bodies for cashing in. If they are monsters then we are all Dr Frankenstein. We created this top-heavy model by packing stadiums for international T20Is while accepting empty stands at domestic competitions as the norm. We continue to pay for expensive cable packages while abandoning the clubs that cling to life like urchins on a rock in a maelstrom. We can't hate the players when we've helped create the game.
But that does not explain why the series was not scheduled as a T20 contest with the World Cup in mind. This speaks to a much more solvable conundrum than the need to steer cricket to a more egalitarian, equitable ecosystem.
The solution is simple: Alternating two-year cycles for ODI and T20I cricket, with an overlapping four-year cycle for Test cricket.
The Test Championship is a noble idea poorly implemented. As things stand, India and Australia are miles in front of the remaining seven teams. Australia have played 10 matches, India and England, in fourth, have played nine each. New Zealand, currently in third place, have played seven matches, as have South Africa down in seventh. The West Indies have only played two games, emphasising the lunacy in suggesting this competition has any semblance of justice.
No other sport would accept such bewildering limitations on the participation of its members. Imagine if Liverpool or Manchester City were allowed to play their full quota of 38 Premier League fixtures but Norwich or Aston Villa had to make do with 27. Oh sure, some of their games could count for more points. If they happened to beat Chelsea at Stamford Bridge then they could be awarded 4.5 points, but such a system would rightfully result in anarchy. A league and the winner it elects can only claim to be credible if every team contests the same amount of games home and away.
This would be possible if the winner was elected over four years rather than the current two. There would be less pressure to squeeze in more games and would also prevent the limited-overs showstoppers from overwhelming the old format.
As for limited-overs cricket, cycles corresponding to whichever World Cup is on the horizon makes sense not just when it comes to scheduling but also the probability of fielding teams at the peak of their powers.
England won the previous 50 over World Cup on home soil because the ECB dedicated as much time and energy as possible into a four year period of skill development and mental growth. The Test team struggled as a result, as batting collapse became common events. But the pay-off was huge, and which beleaguered Proteas fan would not have traded World Cup glory for the occasional double digit total against the red ball?
If governing bodies knew that from the final ball of a 50-over World Cup until the next time nations gathered for an international event they could make direct investments in the developments of each format rather than spread their resources across multiple fronts. Coaches and players could isolate the required skill-sets needed for each code. Fan engagement could be targeted so that supporters watching an international fixture anywhere in the world can immediately relate to its content.
Such structural changes are unlikely to take place. The ICC moves slowly, if at all, and one rant-laden piece amidst a global health and economic crisis is unlikely to shift the agenda in Dubai.
Instead, let's focus on ourselves. Sport is a great distraction but all too often we allow ourselves to forget to be decent human beings when engaged in the circus. This is not to level blame at the wicked. I myself have hurled obscenities at professional athletes, referees and rival fans. Under the guise of sporting banter, I have lost/forgotten my dignity. If you're reading this, I imagine you or someone you know can easily relate.
The list of examples are endless. England's Joe Marler sexually assaulting the Welsh forward Alyn Wyn Jones on a rugby field is not just another bit of tomfoolery. It is a crime and has been rightly punished with a 10-week suspension. The only alarming thing to have come out of this episode, apart from the act itself, has been the widespread clamouring to defend it.
Remember the Sonny Bill Williams masks in Port Elizabeth and Cape Town when Australia and South Africa were locking horns in a cricket contest for the ages? Did you laugh it off? Did you feel it was justified that David Warner's wife, Candice, became an object to be used? The toxic masculinity that was paraded as an acceptable form of fan engagement was endorsed by Cricket South Africa officials who posed with masked fans, giving broad smiles as they did so. One has landed himself a comfortable job in the tourism industry following his removal from office and the other was only cut loose in the wake of ousted CEO Thabang Moroe's failed power grab.
Let us be better. Let us all create a fan culture where racism, xenophobia, misplaced aggression and vitriolic sentiments are confined to the past. Let us charge forward when the whistle blows again and the umpire calls a start to the day's play with renewed perspective. Sport is the great distractor, an opiate we have created and on which we are now fully dependent.
This break is wrenching. We have resorted to watching football clubs contest virtual games of Connect Four and cheering for brightly coloured marbles as they race to the finish line (both are worth checking out, by the way).
But distraction is not enough. Sport also holds a mirror to society. The games we play and how we play them are just as character revealing as the food we eat, the art we create and the politicians we elect.
When sport returns to once again hold up its mirror, let it reflect a society improved after a period of introspection. If not a society completely transformed, then at least the individual looking directly back at you.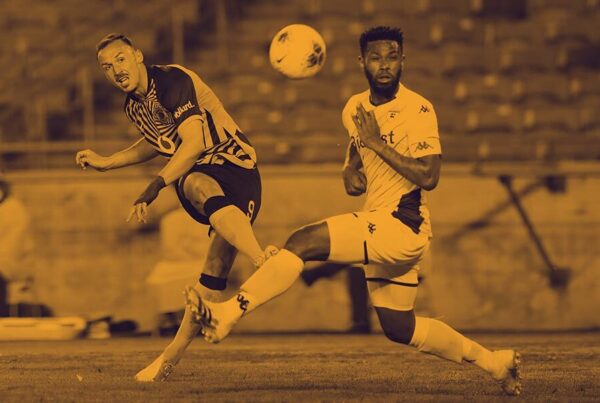 5 Things From the Return of South African Football - there are quite a few talking points after the return of PSL and local football this weekend.