South Africa v England: T20 Series Betting Preview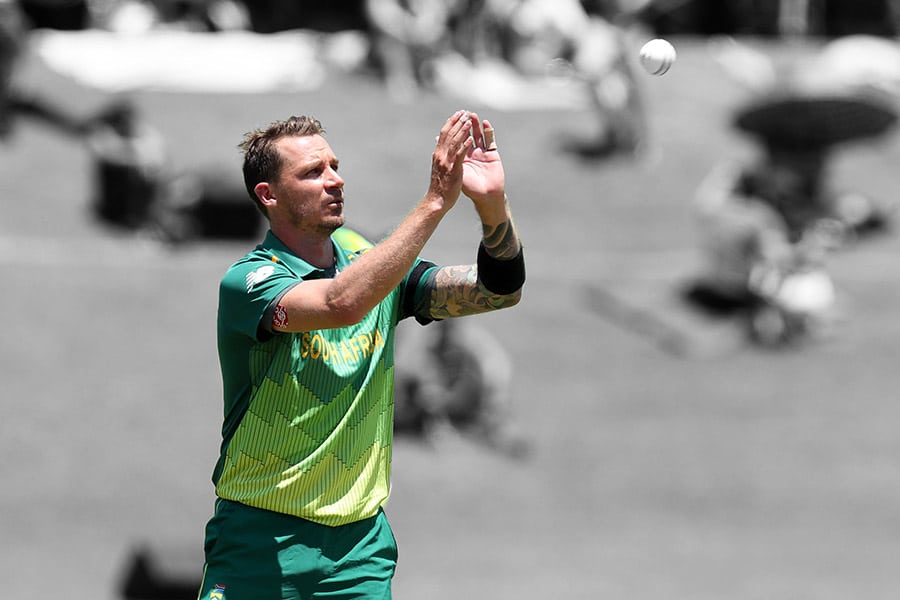 By BET Contributor
10 February 2020, by: 12th Man Analytics
South Africa v England: T20 Series Betting Preview
After some experimentation and rotation of players during the three-match One Day International Series, South Africa and England are likely to shift their attention to October's T20 World Cup in Australia as they search for optimal combinations during this final leg of the England tour.
Three T20 Internationals will be played in East London, Durban and Pretoria respectively, and below follows a data-driven preview highlighting notable aspects relating to the venues, teams and individual players.
BET: SA v ENG FIRST T20i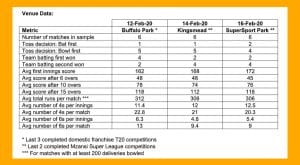 In order to project the potential nature of these surfaces, data has been sourced from the most recent South African domestic T20 competitions applicable to each venue. As far as run volume is concerned, Buffalo Park has produced an average first innings score of 162, compared to 168 at Kingsmead and 172 at SuperSport Park. Perhaps surprisingly Buffalo Park has produced the highest match totals on average (312), compared to the other two venues (306 in both cases).
Powerplay scoring at all three venues has proven to be relatively stable, with an average score of 48 during this phase applicable to both Buffalo Park and Kingsmead, compared to 45 for SuperSport Park. In terms of boundary hitting there is no major difference between the three venues as far as the rate of fours is concerned. The picture changes for sixes, however, as Buffalo Park's small size is a significant factor in producing an average of 13 sixes per match. This is significantly more than both Kingsmead (9.4) and SuperSport Park (9). Hence one can expect the ball to fly over the Buffalo Park boundary rope during Wednesday's first encounter in East London.

England's (0.63) white ball pedigree is well established by this point and this extends into the T20 format where they boast an 80% win rate over their previous 10 T20 Internationals. Perhaps surprisingly this win rate is mirrored by South Africa (1.14) – partly the product of a large portion of these fixtures having been played before the present 'turbulent phase' which has enveloped the team after last year's 50-Over World Cup.
Given the large number of changes that have occurred in the Proteas camp over recent months, the hosts are expected to face a significant uphill battle in matching England's powerful line-up. The table above highlights this daunting task, particularly from a batting perspective where the visitors have averaged nearly 200 runs per first innings outing over their past ten encounters. This is partly fuelled by significant six-hitting prowess, with an average of 7.3 sixes hit by England per innings, compared to 5.7 for the hosts (Most sixes? England at 0.73).
The following tables contain individual player data accumulated over the course of each team's previous 10 T20 Internationals.
The batting graph plots the average number of runs scored per innings by a player on the vertical axis and that player's batting strike rate on the horizontal axis. Consequently, the most desirable location on the graph is the top right quadrant where both these metrics are at their highest.
Dawid Malan (2.25), Eoin Morgan (7.00) and Jonny Bairstow (3.50) have been the most successful England batsmen in recent times, while for South Africa the likes of Quinton de Kock (3.00), Reeza Hendricks (3.25), Rassie van der Dussen (3.25) have produced similar run volumes. In the current squad only David Miller (7.00) has produced at an elite strike rate comparable to the three aforementioned Englishmen.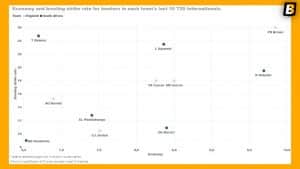 The bowling graph plots individual bowling strike rate on the vertical axis and that player's economy rate on the horizontal axis.
Consequently, the most desirable location on the graph is the bottom left quadrant where both these metrics are at their lowest. Beuran Hendricks (4.00) and Tabraiz Shamsi (3.50) have been standout performers in terms of economy rate for South Africa, while Hendricks also boasts the best strike rate across both teams. Adil Rashid (3.33) has been England's best performer by these metrics.
The series will likely see the appearance of some notable newcomers on both sides. For England the focus will be on their dynamic 21-year-old opener, Tom Banton, who has three T20 International caps to his name. He recently had a successful Big Bash campaign in Australia where he scored 223 runs at an average of 31.85 and a highly impressive strike rate of 176.98. He was also the second-leading run scorer in England's Vitality Blast competition in 2019, ending with 549 runs at an average of 42.23 and a strike rate of 161.47. If Banton is included in England's starting line-up then powerplay scores and six totals are likely to be under significant threat.
For South Africa there will be interest in middle order finisher, Pite van Biljon, as well as Sisanda Magala who could provide a boost during the death overs with the ball. Both have yet to play an international and have put their skills on display in the two editions of the Mzansi Super League held thus far. During the latter competitions Van Biljon (5.00) has produced a batting strike rate at the death – defined as the final five overs of an innings – of 156 (compared to an overall death strike rate of 144 for all teams). Similarly, Magala (4.50) has produced an economy rate of 8.02 runs per over during this phase, compared to the overall death economy rate of 9.02 for all teams.
England are the more accomplished white-ball team so backing them at 0.63 is reasonable despite T20 cricket being very unpredictable.
Can anyone argue against taking a punt on Quinton de Kock to be the top SA batsmen at 2.25?
The Proteas struggle against spin is well known, so some money onAdil Rashid to be the top English bowler at 3.33 makes sense
Buffalo Park's small size is a significant factor in producing an average of 13 sixes per match, England are stacked with a destructive nad powerful batting unit so a cheeky punt on them winning the sixes battle could be worth it at 0.73.
Jonny Bairstow is not firing but his 46 off 23 balls in the third ODI was a warning sign. He should be backed to get over 22.5 runs at 0.83.
Reeza Hendricks has struggled of late, specifically the ODI's but T20 seems to be more to his liking, back him to release the shackles and get over 22.5 runs at 0.83.
If he makes his debut at a ground very familiar to him (plays for the Warriors), Sisanda Magala is a skilful and competent white-ball bowler. A cheeky punt on him being the top SA bowler at 4.50 is great value. As is the case with another Eastern Cape resident in JJ Smuts, his darting left-arm spinners are hard to get away and at 7.00, it is a risk but unbelievable value.
England's captain Eoin Morgan's ridiculously strong wrists could do damage at a small Buffalo Park, he alongside another big-hitting leftie in David Miller are both 7.00 to be their teams top batsmen. Have a dip.
This report was compiled by 12th Man Analytics, a consultancy that specialises in data-driven decision making and player evaluation within cricket. Twitter: @12thAnalytics
JOIN BET.CO.ZA NOW AND
GET 100% DEPOSIT MATCH UP TO R1000
Open your BET.co.za account here
Deposit using your preferred method
Your bonus gets added immediately!
MORE CRICKET