PSL Talking Points – Matchday 21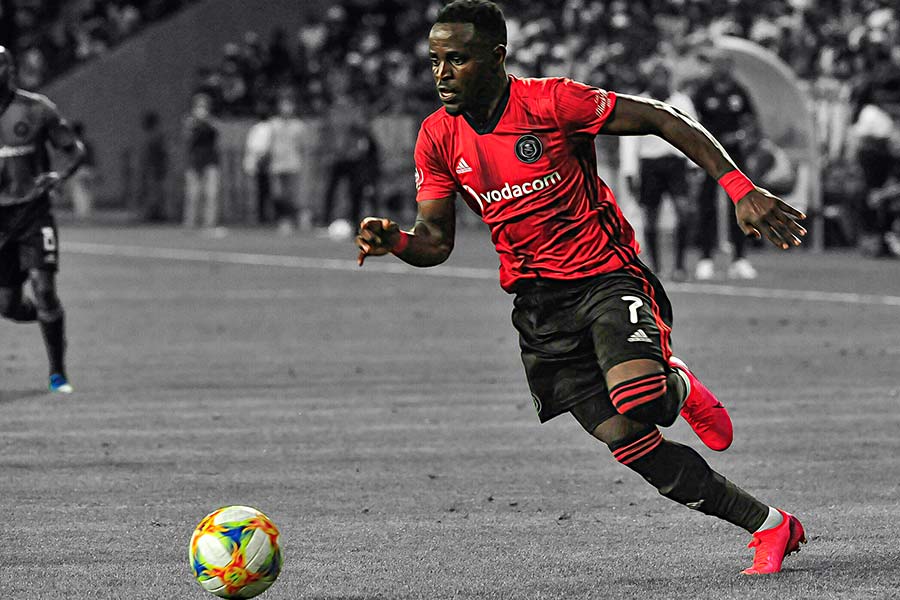 By Carl Lewis
03 February 2020, by: Thabang Kgeledi
PSL Talking Points – Matchday 21
Orlando Pirates are making the title race interesting, Black Leopards won their first game in 2020 and Amazulu came out tops in the battle of the basement-dwellers.
Check out the talking points in another weekend jam-packed with exciting Absa Premiership football.
"We don't talk about the title, we take it from game to game and then we'll see at the end of the season what happened and then we'll look for next season and then we can talk about the target that we have," Orlando Pirates coach Josef Zinnbauer told SuperSport after his team's 2-1 over Chippa United on Saturday night.
Orlando Pirates have won five and drawn one of their last six games. They have transitioned from a team fighting for a top 8 spot and being a Twitter meme, to a team that might just win the whole thing. The Buccaneers are only nine points behind the front running Kaizer Chiefs with 10 games to go.
Pirates, over the past couple of years at least, seems to perform better when there is little to no pressure on them. In the past two seasons, they made runs for the championship in the latter stages of their campaign but fell short to Mamelodi Sundowns on both occasions.
Kaizer Chiefs still have a substantial gap plus a game in hand over Pirates. This could be another case of the Ghost mounting a title charge when it's already too late.
Speaking to journalists earlier this month, Gabadinbo Mhango said nothing stops him from getting to Collins Mbesuma's 15-year-old scoring record.
"Yes, I believe I can do it," Mhango said. "All I want to do is to score more goals in every game for the team. Plus, I have heard that someone has set a record of 25 goals. I think it was Mbesuma. No one has touched that record and I believe I can do it."
The Malawian international scored a brace in Pirates victory against Chippa United. He has now scored 14 goals this season. With 10 games to go, he'd have to score at least a goal a game to reach the milestone. Having a striker who is hungry for goals and that can score is a good thing.
It only becomes a problem when his personal goals (excuse the pun) supersede the goals of the team. It's an unwritten rule in football that when asked about your aspirations as a player, you should give a politically correct 'it is more about the team' answer. I.e lie through their teeth.
Now that he put his ambitions out there Mhango has put pressure on himself. Defenders will be watching him closely and observers will be monitoring his shot to passing ratio.
Six days ago Black Leopards new coach Cavin Johnson was suspended by the team after only a month on the job. When asked why the 61-year-old mentor was suspended Leopard's spokesman Berry Ramunenyiwa told KickOff, "It's for the poor performance".
On Saturday, Black Leopards and Cavin Johnson official ended their quickie of a relationship. Nevertheless, on Sunday Lidoda Duvha took to the field against Stellenbosch having not won a game in their last eight. They dominated the Stellies in key areas on the field and were rewarded with a goal in the first half. Leopards didn't bury the game and allowed the Cape Town-based side to find an equalizer 10 minutes from time.
Captain Fantastic Thabo Matlaba found the game-winner five minutes later. This was an important win, a proverbial six-pointer, against a team who had won their last three games in a row. However, Leopards need to get their house in order. They amongst the worst run teams in the division and history tells us those don't last long in this league. The three points move them above the relegation zone by goal difference.
Amazulu and Polokwane City went into this game on Sunday with the same amount of points, the same desperation, and the same ability to be really bad at playing football.
Amazulu had won only one of their previous 10 games, scored four and conceded 13 goals. Polokwane City had also won a single fixture in their last 10 while scoring six and conceding 14 goals. Needless to say, I was not expecting a flurry of goals when I sat down to watch this match.
Amazulu dominated the early exchanges but didn't finish off their chances. The second half came around and in the 60th-minute Bongi Ntulu (aka the only person on the Amazulu team who knows how to score a goal) connected with a cross to put them up 1-0. Polokwane City threw the kitchen sink at the Amazulu for an equalizer but the Usuthu defence stood firm.
Amazulu still have a 'can-anybody-else-score-but-Bongi-Ntuli-score?' problem but that isn't something they are worried about right now. They won a vital game. These three points put them three points above Polokwane City and the automatic relegation spot.
MORE SOCCER