08 November 2019, by: Laduma Analytics
PSL Analysis: Understanding Kaizer Chiefs success this season
Five months can be a long time in sports. In May, Kaizer Chiefs were the laughing stock of South African football, having ended outside the Top Eight in the league, in ninth position (their joint-lowest finishing position ever) to be exact and trophyless yet again. If anything, they only boasted a few unwanted records.
Now, at the beginning of November, things couldn't be in more contrast as they have started the 2019/20 football season in scintillating form. The difference is so stark, one would imagine a teenager has used the latest photo-app filter to photoshop the picture. Ten matches in, Amakhosi are setting different types of league records, and are also just one win away from reaching only their second Telkom Cup final this decade.
The 2018/19 season was one to forget for The Glamour Boys. Giovanni Solinas, their new coach when the season started, struggled as his team gained only 18 points in their opening 14 league matches (a measly 1,29 points per game). Ernst Middendorp took over in December but his 21 points in 16 games also came at only 1,31 points per game. Not much improvement.
By the end of the season, Chiefs had won just nine league games – their lowest ever win tally in a full 30-game PSL season and had also amassed their lowest ever points total (39). It was also the first time they had ended the season with less than ten clean sheets (9). Nothing looked good.
Now, ten games into the new season, the words Kaizer Chiefs once again evoke much more optimistic thoughts. Eight wins in ten games is only one shy of their total from last season. They have won 25 points already this season, more than half of their full total from last season, and they've only played 10 games.
Only one side has had a better start to a 30-game PSL season and that was … Kaizer Chiefs in 2014/15 (25). No team has started the season so well and failed to win the league, with Chiefs in 2014/15 and Pirates (also 25 from 10 in 2002/3) ending those seasons as runaway champions.
Stuart Baxter's class of 2014 is the only team that has won more games (9) at the same stage of a league campaign than Middendorp's class of 2019 (8). Even Middendorp's record has improved with time. Only Pitso Mosimane (16) and Gavin hunt (14) have won more games than the German coach since he took over at Chiefs (13). For now, everything looks good. The visual below shows where the Chiefs' 2019 team rank for teams with the best starts to a PSL season: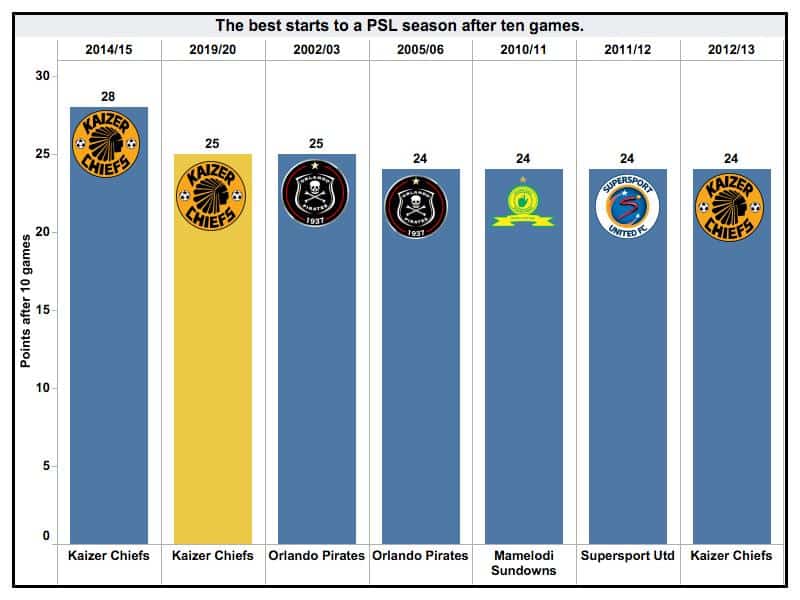 Missing out on the Top 8 may have been a blessing in disguise for Amakhosi, it allowed players to rest while other teams added extra matches onto their schedule, as many as four extra games if a team made the final. 
With the injuries that have plagued Amakhosi without the extra games, one wonders if their injury record would be worse had they played in the MTN8 Cup. Eight of their last 15 substitutes in the league have been made as replacements for injured players, while club captain Khune also continues to struggle with injuries.
Altogether, Chiefs have used 25 players in the league this season. Of the players used, Middendorp has rotated his squad consistently – Daniel Cardoso is the only player to have played every minute of every match this season. 
Experienced players like Manyama and Mathoho have played in every league match except this week's victory over Chippa, while Bernard Parker, Khama Billiat & new-signing Samir Nurkovic have also seen a lot of on-pitch minutes. The matrix below shows minutes played by age:
The extent to which young players have been used

The extent to which new signings (red) have been used, compared to players that were already at the club (blue).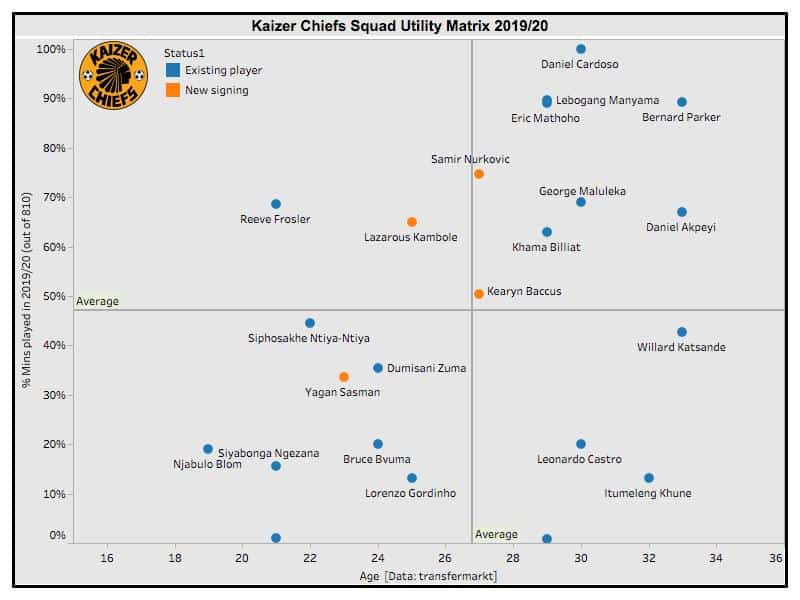 Reeve Frosler is the only young player to have played more than 50% of the available minutes. It seems Middendorp is banking on experience so far, but young players will need to be trusted as well. 19-year old Njabulo Blom's starring performance in the 2-0 win over champions Sundowns showed how trust in youth can be repaid. With two October friendlies and an additional two Telkom Cup fixtures (one of which went into extra-time), the games have started to pile on for the Glamour Boys. More minutes will need to be shared across the squad.
Chiefs (16) have scored the second-highest number of league goals this season. Only twice before (21 goals in 2004/5 and in 2014/15) have they had a more prolific start. In true Chiefs tradition, they have been solid defensively, boasting the best defensive record (5 goals conceded in 10 matches at 0.5 goals a game). If that ratio is maintained throughout the season, which is a big IF, it would equate to 15 goals conceded over the course of the season. Conceding less than 16 goals in a full season has only been achieved by 2 of the 272 sides that have competed in the 30-game PSL era.
Although they have conceded few goals, it is worth pointing out that Chiefs have allowed a lot of shots against them this season. According to data collected from Supersport televised matches, Chiefs average 13.9 shots per match, while they are allowing an average 13.9 shots per match this season. They have been outshot by their opponents in four of their ten matches – against Baroka, Highlands Park, Arrows and Sundowns, as their defence has been kept busy in most matches. The visualization below summarizes Kaizer Chiefs' ten matches into four quadrants: 
Matches with a busy defence (lots of shots against Chiefs) & a quiet attack (few shots by Chiefs).

Busy attack & quiet defence

Quiet attack & quiet defence

Busy attack & busy defence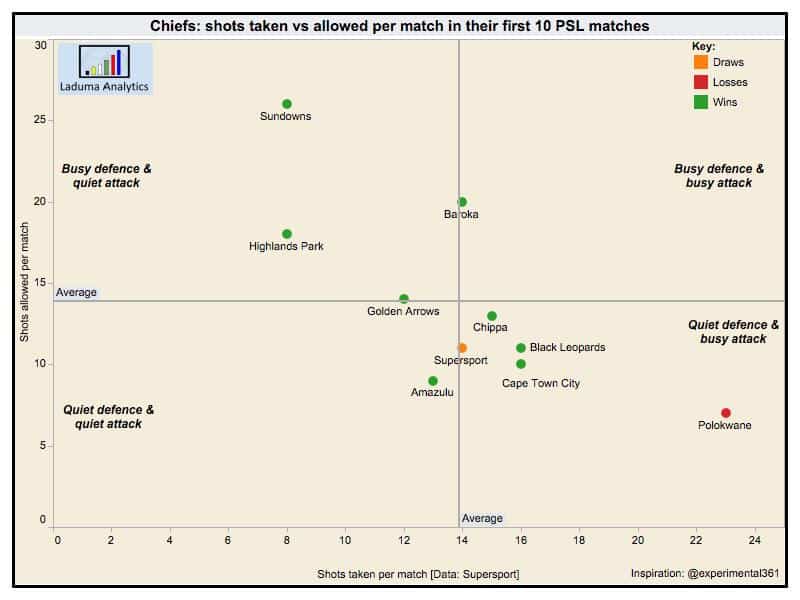 Judging by shot activity, half of Chiefs' matches fail in the "Quiet defence & busy attack" quadrant. Their defence has been quiet (based on shots) in seven of their ten matches. Beyond that, the Polokwane defeat & the Sundowns victories stand out. Against Polokwane, Chiefs were rarely attacked, but they took a lot of shots, on their way to a defeat. Against Sundowns, a busy defence held fort and kept a clean sheet, while the strikers were clinical (and fortunate) with their few shots at the champions.
Another way to look at Chiefs' progress this season is a comparison of results from similar matches last season, which is sometimes known as "The Uncle Jeff coefficient". This means looking at how they performed last season in the exact same matches they have played this season – for example, we compare their result in the away fixture against Highlands Park last season (0-0 draw) with their result in the corresponding away fixture this season (3-2 win) & note an improvement. Comparing all ten fixtures from this season, we start to see another trend.

Altogether, Chiefs won just 15 points in the corresponding matches last season, ten points fewer than the 25 they have won this term. They've won twice as many matches (8 vs 4), scored more goals (16 vs 11), with a higher total goal difference (11 vs 3) and also double the clean sheets (6 vs 3) this season in the same games. Using this as a measure, the improvement in their results starts to get clearer.
The Soweto derby result from this coming weekend will be the litmus test on their credentials as title challengers. The Pirates fixture has not been great for Amakhosi recently, as Chiefs have not won outright against their neighbours in 13 matches in all competitions (W5 D8, regulation time only). They last beat Pirates in a competitive match in December 2014, on their way to the 2014/15 title.
Yet, Amakhosi will be motivated by the Telkom Knockout penalty shoot-out victory against Pirates in the quarter-finals this past weekend. If Kaizer Motaung and family had been offered Kaizer Chiefs' current situation five months ago, chances are that even they would have laughed you off. But five months is a long time in sports.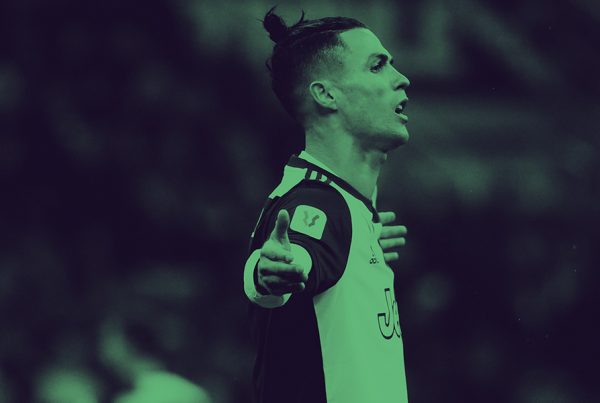 Daily Soccer Betting Tips - 23 May 2020 With Corona Virus affecting most leagues, we pick out betting tips from Germany, South Korea & Belarus.