31 October 2019, by: Quintin van Jaarsveld
RWC 2019 Final: Springboks v England – The Key Battles
Who will rise to the occasion and produce a pivotal performance to help propel their team to global glory when the Springboks square off with England in the Rugby World Cup final in Yokohama on Saturday, asks Quintin van Jaarsveld.
They don't get any bigger than this. The Rugby World Cup final. It's the match every bright-eyed schoolboy player dreams of and every professional athlete aspires to be a part of. On the game's grandest stage, superstars become immortals and legacies are cemented.
Springbok flyhalf Joel Stransky's iconic drop-goal to sink the All Blacks in 1995, Jonny Wilkinson slotting a match-winning drop-goal of his own to clinch the Webb Ellis Cup for England at Australia's expense in 2003, Stephen Donald becoming the unlikeliest of heroes by slotting the match-winning penalty against France in 2011, days after answering an All Blacks SOS while out fishing, Springbok great Victor Matfield and All Blacks icon Dan Carter's Man of the Match performances in 2007 and 2015 – these are all among the final heroics forever etched in history.
The stage is set for another legend to be born. Outshining one's opposite number goes a long way toward a player cementing his and his team's places in history. With that in mind, we highlight the key head-to-head battles that'll have a major bearing on who'll be crowned world champions.
Eben Etzebeth v Maro Itoje
One is struggling for form, the other is red-hot. Etzebeth has been uncharacteristically quiet in the No.4 jersey at the World Cup. The Springbok enforcer has a dark cloud hanging over his head following allegations of his alleged involvement in a physical, racially-charged incident at a pub in Langebaan. Etzebeth's had to defend himself through his lawyer after charges were formally laid and the intensifying saga has seemingly affected his game.
Itoje, on the other, played the game of his life against the All Blacks last Saturday. The 25-year-old was a force of nature, dominating the lineouts (seven takes and a steal), running for 20 metres, making 15 tackles and winning three turnovers in a career-defining Man of the Match performance.
The England second-rower has won more turnovers (10) than any other player at the World Cup and twice as many as the Springbok's top pilferer, Damian de Allende (5). For Etzebeth, the final and this head-to-head battle with Itoje is the ultimate opportunity to stand up and be counted.
Pieter-Steph du Toit v Sam Underhill
Both tireless Terminators are coming off huge games in their side's respective semi-final wins. Du Toit made a match-high 18 tackles in the Springboks' 19-16 win over Wales, while Underhill made 16 hits in England's 19-7 victory over the All Blacks. Incredibly conditioned athletes, theirs will be a battle of lightweight-like stamina and movement with heavyweight power.
They've both been brilliant throughout the tournament. Underhill ranks fifth in the tournament in tackles, with 62 (including an unmatched nine sacks), with Du Toit joint 10th with an even 50. While the 23-year-old Englishman (1.86m and 106kg), who was the Man of the Match in the win over Argentina, is no slouch with ball-in-hand, the bigger South African (2.00m and 115kg) is the better ball-carrier.
Out-and-out No.7 Underhill has a speed advantage, however, the two-time South African Player of the Year's added value is his lineout prowess as a lock-cum-flank.
Duane Vermeulen v Billy Vunipola
Talk about a heavyweight collision. These veteran Vikings are built like outhouses – Vermeulen standing 1.93m tall and weighing 108kg and Vunipola standing 1.88kg tall and tipping the scale at 126kg. Both eighthmen are like bulldozers with ball-in-hand and bone-crushing defenders.
Vunipola on Tuesday said he and his team are fully aware of what to expect from the physical Springboks, remarking, "They are very big people but then again we have a few big blokes on our team. They have already come out and said they want to fight fire with fire and I guess we return it by saying, 'Bring it on'. It is a final and one of those things you have to front up to and one of their biggest assets and something we have been working on."
The 26-year-old, who's England's primary ball-carrier with 55 runs (fifth-most of the tournament), also seemingly has a score to settle with 33-year-old Vermeulen who, he acknowledges, got the upper hand in their most recent meetings. "He just played better and it's something I think about in terms of trying to help my team as much as possible.
I guess he comes into that equation because he's such a big player for them. I played against him last summer and he was monumental in terms of getting them those two victories. Not just myself, but we've got to try and negate the influence of him and everyone else around him. They've got massive threats across the park."
Faf de Klerk v Ben Youngs
Both were integral in their teams' semi-final triumphs, De Klerk as the patient, methodical puppet master with his boot from the base and Youngs as the driver of the England bullet train with his quick, crisp service. For better or worse, De Klerk's box-kicking is the Springboks' preferred weapon of attack. It's, therefore, pivotal to the Springboks' cause that his execution is pinpoint to give the chasers the best possible chance of winning the contest in the air.
That's a lot of pressure, especially considering the "ugly" tactical task brings with it a ton of criticism from a large portion of South African supporters who are frustrated by their team's kick-heavy game plan and take it out on the scrumhalf. The 28-year-old's proven to have a thick skin and has built up a fair amount of international experience (29 Test caps), but how will he handle the unprecedented pressure of a World Cup final?
He's still not as consistent as coach Rassie Erasmus would like, but he seems to be peaking at the perfect time, producing a try-scoring Man of the Match performance in the quarter-final win over hosts Japan and following it up with an equally impressive outing against Wales.
Youngs delivered his best performance of the tournament against the All Blacks, in which he greased the wheels with his speed to the breakdown and accuracy of his passing to enable England to fire on all cylinders. Few have managed to upstage Aaron Smith, the most-capped All Blacks No.9 in history, and that's exactly what Youngs did. He keeps defenders honest as well, as was highlighted when he crossed the whitewash against the Kiwis for what was ultimately a disallowed try.
Handré Pollard v George Ford
Pollard found form at the perfect time for South Africa in last Sunday's semi-final, booting them into the decider with a perfect 14-point haul and making a crucial break that sparked his team's only try. The Man of the Match performance would've eased the pressure the pivot would've felt after having had a quiet campaign prior to it. The assured showing was a major psychological boost for the Springboks and, at the same, a warning to England that Pollard's primed to punish any ill-discipline inside their half.
He's scored the most points (140) at the World Cup of any Springbok and the joint seventh-most of any player overall. He's never scored a try at the tournament, though. Only Grant Fox (170) has scored more points at the World Cup without ever crossing for a try.
Ford has been fantastic all tournament. He's been far more mercurial on attack than Pollard and has been a sharpshooter off the tee as well. There are questions about his defence, but there shouldn't be based on his efforts thus far. The 26-year-old has been big in Japan in this regard, near-perfect in fact. His two missed tackles against the All Blacks are the only blemishes on his record, and even so, he boasted an 87% success rate when the semi-final was set and done after completing 13 hits.
He was flawless against Tonga (4), in his Man of the Match performance against USA (3), against Argentina (4) and when he came off the bench against Australia (2). Jones' surprising decision to bench the in-form Ford for the quarter-final showdown with the Wallabies was a precautionary measure (with Owen Farrell being the more physical defender) rather than a necessity, so his channel isn't as vulnerable as many perceive it to be.
Damian de Allende v Owen Farrell
Speaking of Farrell, if anyone can stop the freight-train that is De Allende, it's the England captain. A take-the-bull-by-the-horns type of competitor, he'll welcome the challenge with the same grin he had during the Haka. As aforementioned, Farrell is a physical, aggressive defender who's hard-hitting is another reason why he's such an inspirational figure for the Red Rose. He's worked on his tackle-technique but will have to be cognizant of his contact points after being guilty of going in too high (and with no arms) in the past.
De Allende has been nearly unstoppable on the big stage, his stellar solo try against Wales encapsulating what a dominant run he's had and how vital he's been for the Springboks. He's predictable yet hard to stop with his 1.89m, 101kg frame and powerful leg drives.
Farrell (1.88m and 92kg) is a strong ball-carrier as well but he's not on the Springbok brute's level. He does, however, have more tricks up his sleeve and plays a key tactical role with his boot. The 28-year-old, who he averages 10.3 points per game against South Africa (103 in 10 games), needs 11 points to become the second player to reach 100 World Cup points for England after Wilkinson (277).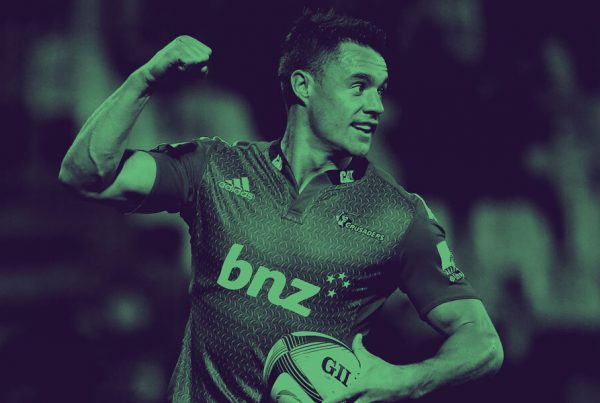 Super Rugby XV - Pick one player from each franchise to make a Super Rugby XV, using any player from the 25 years of Super Rugby.