04 October 2019, by: Laduma Analytics
Stellenbosch FC: Are the rookies' foundations strong enough?
There have been 18 teams promoted to the PSL from the National First Division over the last ten seasons. League 'newbies' or 'rookies' as they are sometimes known, can either surprise everyone and thrive in the top-flight or they can find the going tough & struggle to adapt to a new, tougher environment.
Highlands Park falls into the former camp – promoted at the end of the 2017/18 season, they finished 7th in the 2018/19 season on return and have gone all the way to the MTN8 final as well in 2019/20. With a quarter of the season past, the question of survival has been asked of Stellenbpsch as well, in the first season back up.
In the last ten seasons, six newly-promoted sides have gone on to be relegated after their first top-flight campaign. It may be too early to talk about relegation for Stellenbosch, as we're still in the first quarter of the season (61 of the 240 total matches have been played now), but it would also be naive to ignore some of the numbers stacking up around the men from the Cape Winelands.
BEAT THE OFFSIDE TRAP

WITH OUR SOCCER OFFERS
Extensive pre-match and live in-play markets for all major leagues and tournaments.
Get a stake refund if you lose your 6+ soccer multiple by 1 leg!
Offer exclusive to BET.co.za customers.
JOIN NOW
BET: SOCCER
Ts & Cs apply.
Only once in the last ten seasons has a newly-promoted side started the first seven games of the season with less than Stellenbosch's four points – Jomo Cosmos collected just three points in their seven games in the 2011/12 season on their way to relegation.
As shown below, the Cape team were also just the fourth league newbie to pick up four points or less after seven games in those ten years, after Jomo Cosmos (2011/12 & 2015/15) and Polokwane City in 2013/14.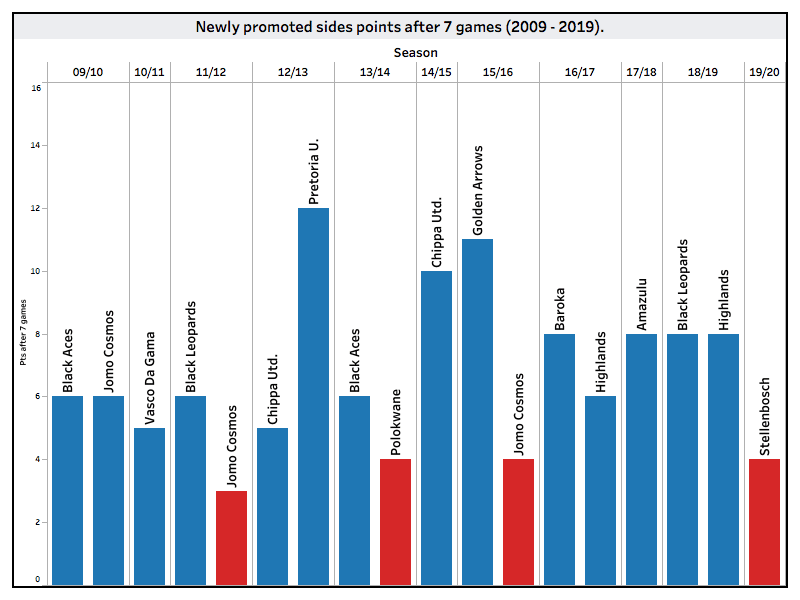 Before beating Polokwane City on Wednesday, Steve Barker's men were part of an unwanted club of five newly-promoted sides that had failed to win any of their opening seven games in the 30-game PSL era, including Jomo Cosmos (2011 and 2015), Free State Stars (2005) and Platinum Stars (2004).
Only one of these (Platinum Stars) survived relegation after such a poor start. Hopefully, the victory over Polokwane City in their eight match should help them kickstart a good run of form.
With almost a quarter of the season played, Stellenbosch have scored eight goals in eight games. Although Stellenbosch failed to score in their first three games, they remained solid, allowing just one goal past them. Thanks to Waseem Isaacs and some own-goal fortune, they started scoring, banging eight in their next five games.
The only problem was they also started to concede, letting in eight during that time. Averaging almost a goal per game by itself is not a bad return. However, when you're also conceding two goals per game (as they have in three of their last four games), that may be a handicap.
On one hand, they are conceding early goals – only a leaky Orlando Pirates defence (3 goals in the opening 15 minutes) has let in more than the two goals Stellenbosch has in the opening period of matches. More worryingly, Stellenbosch are conceding a lot of late goals.
Steve Barker's men have leaked six goals in the final half-hour of league matches, more than any other PSL side. The clean sheet against Polokwane in their last match was their first since August and gave some positive signs.
PSL experience must count
Having won promotion to the PSL directly after winning the NFD last season, the Stellenbosch hierarchy went about their transfer business intending to secure experienced PSL players.
Morgan Gould (ex Kaizer Chiefs and Superport), Marc van Heerden (ex-Amazulu), Robyn Johannes (ex-Wits) and Mpho Matsi (ex-Cape Town City & Maritzburg) are experienced players who featured for top clubs in past seasons.
They complemented experience by adding youngsters like Ryan Moon (Kaizer Chiefs) and Nyiko Mobbie (Sundowns), who have also played in the PSL. The visual below shows how a balanced mixture of PSL-proven players and players new to the PSL has been part of the coach's plan.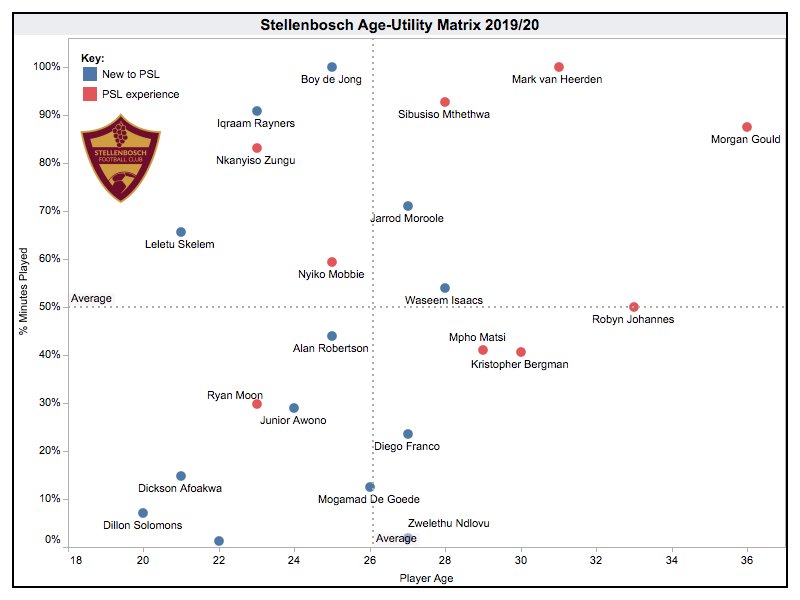 Marc van Heerden is the only outfield player to have played every minute of every match in the league for Steve Barker. Alongside new goalkeeper Boy de Jong, the two players to have played 100% of minutes played by Stellenbosch are all new signings.
In addition, Robin Johannes has also played every minute since he joined in mid-September, while Morgan Gould has played 90 minutes in all seven matches he's appeared in. The older players like Gould (36) and Johannes (33) may not have the legs to feature consistently throughout the season.
Younger players Iqram Rayners and Nkanyiso Zungu have also featured in every match (different from playing every minute) while Leletu Skelem is another young player who has been trusted with a lot of minutes on the pitch. Wise rotation of players could be another key ingredient for the team's success.
Coach Barker has used 22 players so far in the campaign, and only Sundowns(21), Wits (21) Supersport (17) have used fewer players in the league.

It is also worth noting than Stellenbosch have had a somewhat decent run of fixtures to start their PSL journey. Four of their eight fixtures have been against teams that finished 10th, 12th, 13th and 15th in the PSL last season.
That included three of last season's struggling teams in Chippa United (12th last season), Black Leopards (13th) and Maritzburg (15th), two of whom have already seen a change in coaches two months into the season. These are matches in which Stellenbosch would have targeted to collect three points, considering as well that they played Leopards and Maritzburg at home.
Given how other teams have started the first quarter of the season, Stellenboschs's fixture list for the rest of the 2019 already looks daunting.
They will have to face in-form teams like Kaizer Chiefs (1st on the log) and Highlands Park (5th) before the end of November, while matches against perennial giants Sundowns (4th), Supersport (6th) and Orlando Pirates (8th) are also on the cards before the season breaks for Christmas.
"At the end of the day' it's foundations that are being laid…." Steve Barker (26 August 2019)
30 points is the safe target for a team aiming to finish 14th and survive relegation or playoffs. One would imagine this is Stellenbosch's primary goal for the season – avoid relegation.
Over the last ten seasons, the average points total for a side finishing 14th at the end of the season is 29,8 points. With seven points in the bag, the question becomes – where will the 23 points they need to survive come from?
Firstly, Stellenbosch have to find a way to hold onto their leads. Having taken the lead against Bloemfontein Celtic and Black Leopards, they went on to lose and draw both those games, dropping crucial points.
Their average of 1.33 points in matches where they scored first is the 3rd lowest in the league, and they are one of only three teams to have lost a match in which they scored first. The 2-0 victory over Polokwane could be the right blueprint for the future.
Moreover, they will also have to maximise on their home form, and ensure that it is tough for any team to visit and collect three points. And if that is the yardstick, then they have not started too badly. The fixtures have aligned such that they've played only two games at home, and six away.
In both home games, they have been solid enough to ensure the spoils are shared, and are one of just five clubs yet to lose a league match at home. That is a foundation to build on. With Orlando Pirates their next home opponents, and Kaizer Chiefs and Sundowns set to visit before the end of 2019, they will need that foundation to be strong, if they are to mount serious challenges against the Gauteng giants.
BET NOW AND

GET 100% DEPOSIT MATCH UP TO R1000
Open your BET.co.za account here
Deposit using your preferred method
Contact support to get your first deposit bonus added
JOIN NOW
New customer offer. Ts & Cs apply.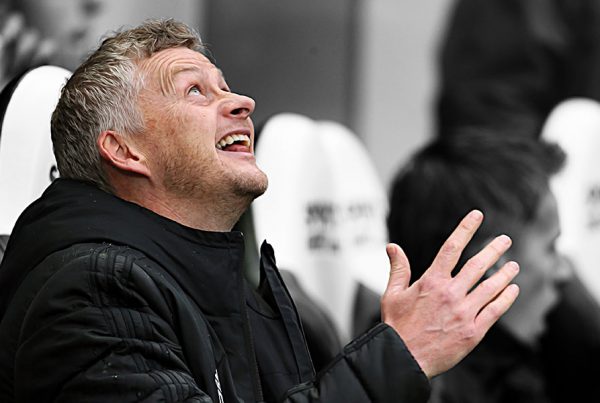 18 October September 2019, by: Carl Lewis PREMIER LEAGUE STAT PACK - GAMEWEEK 7 Eight gameweeks gone and Liverpool lead by eight points ahead of champions Manchester City. After an…
18 October 2019, by: Usiphile Mpetsheni for Extra Time Media  RWC 2019: Which Quarter-Finalist Is The Most Experienced? The last four World Cups have shown us that experience doesn't always…