11 July 2019, by: Grant de Smidt
BAFANA BAFANA AFCON 2019 POST MORTEM
As the dust settles on South Africa's quarter final exit from the Africa Cup of Nations, we break down the key areas where Stuart Baxter's side excelled and struggled.
For any coach, managing perceptions is key. Look around most of the local media and there is a feeling that Baxter's side were too negative at this tournament and suddenly came to life against Egypt, where they attacked the hosts. This is simply not true.
Throughout the competition, South Africa tried to play football. The selection of Ronwen Williams is goal was an indication of that. Baxter explained that he saw Darren Keet as being better for teams who focus on crossing, whilst Williams was selected because "his shot-stopping and his quick distribution would be important".
Baxter's sides have rarely focused on build-up play, instead actively ceding possession to draw opponents onto them in order to create space to exploit on transitions.
Yet, in this tournament, Bafana Bafana tried to build up in every game. Either, the central midfielders would receive off Williams, with Furman as the first receiver (or Zungu in the Namibia and Morocco games when Furman was injured) or the goalkeeper would hit diagonal passes to advanced fullbacks.
The issue was not a lack of intent to attack and hurt opponents, but a lack of quality and structure to do so. With central defenders who do not play that way at club level, it was a slightly curious decision to look to implement this in just three weeks of pre-tournament training.
In the build-up below, Furman has dropped between the two central defenders from Williams' goal kick. Nigeria have invited Bafana onto them, but when Hlatshwayo is looking for forward options, he has only Tau and Mothiba coming towards the ball, both with Nigeria opponents about to pounce on a pass into feet.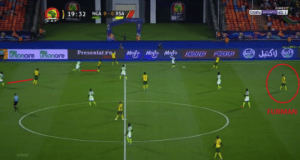 Throughout the AFCON, teams who have been effective have possessed wingers. Nigeria have five in their 23-man squad, so have constant fresh legs within games in those positions. With players comfortable on the flanks, opponents become stretched, whilst also lowering the reliance on trying to play through central areas.
African teams are renowned for favouring physically strong central defenders who are excellent in duels, and packing their sides with defensive midfielders. Using wide interplay is a crucial strategy to bypass the middle of the pitch, yet South Africa went to Egypt with not one single winger in their squad.
If you look through the PSL, there are currently very few wingers performing to a high standard and the best ones of recent seasons have been foreigners like Deon Hotto or others who are currently not playing regularly, like Aubrey Ngoma.
There is no doubt that Baxter's hand are tied somewhat with Mamelodi Sundowns and Orlando Pirates favouring three narrow players behind a lone striker, Wits' plethora of wingers all being foreign, and Chiefs using a winger-less formation precisely because they lack high-quality options in their squad. Keagan Dolly was selected, but pulled out with injury.
Besides stretching play and bypassing the middle, having natural wide-men would also have given some defensive cover to the exposed fullbacks. So who could he have taken to play wide? The three obvious options that stick out are Aubrey Modiba, who was in most of the qualifying squads, Thapelo Morena and Vincent Pule.
Although all three players tend to spend much of their time these days playing in other positions, they are the best options in a weak pool. All of them could have given greater balance to the squad and have helped avoid the incredibly narrow 4-2-2-2 formation used against Cote d'Ivoire or the 4-3-2-1 that exposed Bafana's fullbacks to constant one versus ones against Nigeria.
Screenshot below: Cameroon – with two wingers on the touchlines and a striker pinning back the Nigeria central defenders – create space between-the-lines against man-orientated midfield defending by Ndidi and Etebo. Leads to a goal. South Africa's tactics allowed the Super Eagles to defend with a narrow back four and a fairly high line.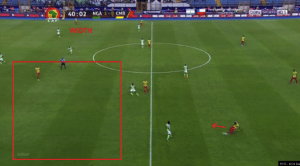 Bafana lacked depth in their play in every game. This refers not to having good backup players, but the ability to play deep passes behind the opposition's defence. Watching Senegal, you see one of the most depth-reliant sides in Africa, looking for constant passes over the top to the front three making runs. South Africa need not mirror that strategy, but going to the tournament with two target men who lack pace and who both look to come towards the ball, makes the side completely predictable.
Again, Baxter did not have a wide range of speedy attackers or vertical wide forwards to call upon, like so many other countries. However, he could have taken at least one forward who can run the channels and turn defences. Having someone threatening behind, and width to stretch teams wide, opens up space between-the-lines where guys like Percy Tau and Themba Zwane thrive. So who could he have taken? In a small pool with few good options, Phakamani Mahlambi was the obvious selection. How South Africa missed the bustling runs of Tokelo Rantie!
In the screenshot below, South Africa are on a rare counter attack against Nigeria, but have Mothiba fighting a central defender with his back to goal. Simply spinning off would open up a gap in midfield, whilst giving the ball-carrying a runner to pick out.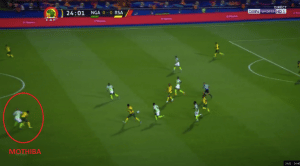 There is no doubt that this was an excellent performance. Baxter brought in Dean Furman for Thulani Serero from the Morocco game – seemingly a defensive selection – but the added protection in central midfield actually freed up Percy Tau for the first time all tournament. Instead of having to track back in wide areas, he could stay high up for counter attacks. This was in stark contrast to the Morroco game, where he had to track back into defensive areas.
In the below screenshot, Tau has been forced to track Mazraoui all the way back into the defensive line. This was a regular feature of a game where South Africa managed only two shots all game and none on target. He was given space against a disconnected Egypt side.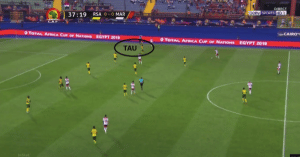 However, all of this came in the context of an extremely reckless Egypt side buoyed on by the home crowd. They committed swaths of men forward, allowing Bafana to counter-attack against a defence lacking in any recovery speed. This sort of transitional game-plan has been Baxter's bread and butter since working in Mzansi.
With space to attack, Tau and Thembinkosi Lorch had a field day despite South Africa having just 37.7% possession in the match. Despite so little of the ball, Baxter's side had 14 shots with six on target.
Playing against the top sides away from home, Bafana beat Nigeria 2-0 and Libya 2-1 in qualifying with the extra space afforded to them.
Baxter admitted after the Nigeria game that his side lacked penetration and often struggles against organised, defensive opponents:
"Our penetration play in the tournament has not been the best, that is usually one of our strengths, where we launch our attacks from is important, when we have spaces to launch our attacks from we're very good. When teams close down, close ranks, we find it difficult."
Screenshot below: Egypt were ludicrously open, leaving big gaps behind their advanced fullbacks and space in front of their backline. At the time of the goal – a counter attack from a throw-in – Egypt had just removed a defensive midfielder for another number ten.

There is no doubt that making the quarter-final is a positive outcome, considering the failed attempts to even qualify for recent major tournaments. The team spirit and the buy-in to Baxter's methods were both clear to say, whilst players with very few international caps to their name, like Lorch, Mothiba, Maboe and even Tau and Zungu, all got some much-needed experience and exposure.
Defensively, the side were generally very good with just four goals conceded. Three of those came from set-plays: the last minute goal for Nigeria from a corner, Morocco's last-minute winner from a lateral freekick, and the late winner for Cote d'Ivoire… on a counter attack from South Africa's own corner.
In open play, the side's defending was generally very good in central areas, though there were problems dealing with wide players like Nicolas Pepe, Nordin Amrabat and Samuel Chukwueze.
Summary Of Bafana's Afcon 2019
This tournament proved a good adventure for supporters of the country and for an inexperienced squad (despite having the second highest average age in the tournament). To some extent, many of the problems faced by Baxter were out of his control, such as the country simply lacking wingers, ball-playing central defenders and pacey forwards.
However, he also did not make the most of the resources by selecting five defensive midfielders in the squad, not using his bench effectively and using Percy Tau on the flank for the most part.
Ahead of World Cup qualifying, some fresh blood is needed in the squad with the tournament (in the event that Bafana make it) a full three years away. The nucleus of a good team is there though despite losing three of the five matches in the AFCON.
BET NOW AND

GET 100% DEPOSIT MATCH UP TO R1000
Open your BET.co.za account here
Deposit using your preferred method
Contact support to get your first deposit bonus added
JOIN NOW
New customer offer. Ts & Cs apply.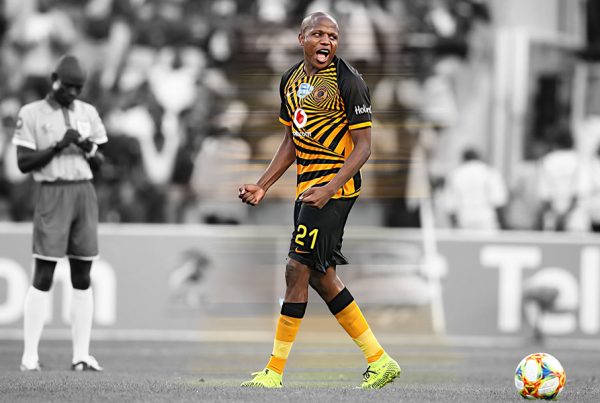 20 November 2019, by: Leonard Solms Telkom Knockout Predictions: Semi-Finals Golden Arrows host Mamelodi Sundowns on Saturday in the first Telkom Knockout semi-final before Maritzburg United and Kaizer Chiefs face…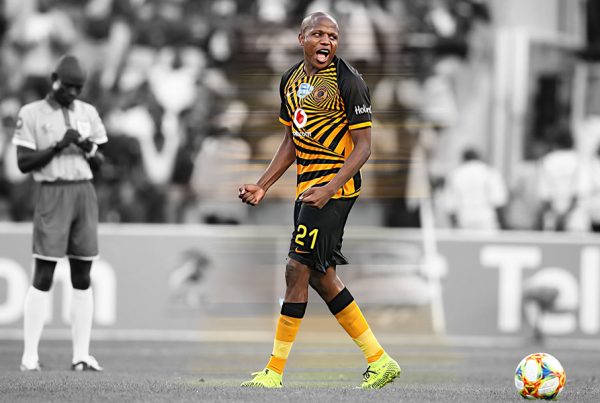 20 November 2019, by: Leonard Solms Telkom Knockout Predictions: Semi-Finals Golden Arrows host Mamelodi Sundowns on Saturday in the first Telkom Knockout semi-final before Maritzburg United and Kaizer Chiefs face…