09 July 2019, by: Zach Lowy
ANALYZING LEBO MOTHIBA V EGYPT AFCON 2019
In a must-win Round of 16 match, South Africa beat Egypt 1-0 thanks to Thembinkosi Lorch's late winner. While many had expected the 2019 Afcon hosts to advance deep into the knockout round, largely owing to their star-studded front three of Mohamed Salah, Marwan Mohsen and Trézéguet.
Although, it was Bafana Bafana's attack that shone brightest on Saturday: Percy Tau on the right, Lebo Mothiba up top, and Lorch on the left.
Tau was brilliant at cutting into the middle with his close control and quick dribbling. Lorch did well to exploit space behind Ahmed Elmohamady. It was Mothiba who was the one that linked it all together.
After a brilliant debut season at Strasbourg, he helped set up a quarterfinal match-up with Nigeria with a phenomenal centre-forward display.
Between his strength, speed, and height, Mothiba is an intimidating attacker to have breathing down your neck. His constant pressing forced Egypt to make rushed decisions in the build-up, resorting to errant long balls or wayward passes.
However, when Egypt's defence had played out of the press and advanced to the halfway line, Mothiba dropped back and used his cover shadow to mark Tarek Hamed out of the game. With Hamed unavailable as a passing option, Egypt struggled to progress the ball through the centre of the pitch.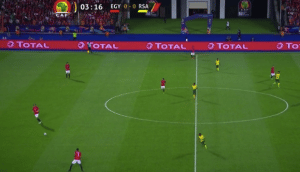 After blocking the passing angle to Hamed, Mothiba would either press the defender into sending through a long ball or follow the centre back as he aimed to dribble forward.
In general, South Africa's gameplan off-the-ball was to shut down the central passages for Egypt. Midfielder Bongani Zungu and his teammates worked hard to neutralize Mohamed ElNeny. Mothiba stuck to Hamed like glue with tireless zonal marking. The result? Egypt were rushed and unproductive in possession.
With Mothiba removing Hamed as a passing option, the Egyptian centrebacks tried to find Salah or Trézéguet on the wings, who would then be swarmed by defenders.
Mothiba was a menace off the ball, marking Hamed out of the game, pressing the centre backs, and even dropping back to block passing lanes to midfielders.
José Mourinho praised the performance from Stuart Baxter's men, noting "South Africa were patient, disciplined and well-organized. On the other hand, Egypt were really disappointing."
Baxter's game-plan sought to force Egypt into playing long balls while limiting the midfielders to horizontal passes. As the game progressed, one forward (often Tau but occasionally Lorch) joined Mothiba to press Egypt's defence high up.
South Africa allowed Egypt to dominate the lion's share of possession, but they pounced on the counter, taking advantage of Egypt's high line. Thanks to Tau and Lorch's threat on the wings, as well as Mothiba's reliable hold-up play, South Africa managed to carve out several opportunities against the run of play.
The slender centre forward worked tirelessly all game to build constructive attacks. He often drifted wide right to combine with Tau and play a quick one-two into space. One occasion, it took a last-ditch tackle from Hamed to stop Mothiba's run, although it could've resulted in a yellow for Hamed had the Zamalek midfielder timed his tackle a second late.
Thanks to Mothiba's strong hold-up play, the likes of Lorch and Kamohelo Mokotjo always had a reliable target man to play off of, a bulky centre forward who could hold off defenders and create space for them. Mothiba boxed out Egypt defenders with his impressive back strength and tight control, often drawing fouls after receiving long balls.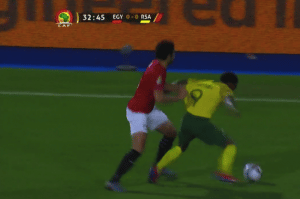 With his back to goal, Mothiba was a key part in South Africa's counter-attacking strategy. He would quickly return a short pass, before looking to advance up the pitch and find a passing option in a dangerous position.
In this scenario, instead of trying to thread it through to Lorch, he hesitates, turns, and finds Mokotjo in open space. Mokotjo launches the low shot, just firing wide of Mohamed El-Shenawy's goal.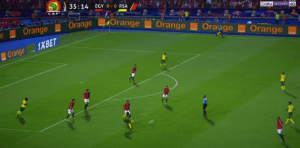 While Egypt dominated possession, South Africa carved out better scoring chances, and they could've easily had a penalty in the 49th minute. After spinning and swivelling past defenders, Mothiba found Mokotjo, who released Sifiso Hlanti for a beautiful cross.
Mothiba was wrongly judged to have fouled Ayman Ashraf though; on the contrary, after finding space in between Ahmed Hegazi and Ashraf, Ashraf was the one who tried to drag him down.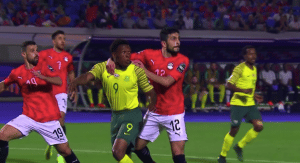 Despite being the youngest starter on the pitch at 23, Mothiba gave a veteran's performance. He controlled searching long balls from Ronwen Williams, combined with his attacking teammates and occupied Hegazi with his combination of speed and strength, stretching the defence with runs into space.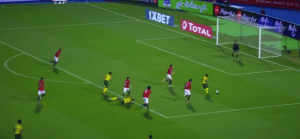 Williams did well to pick out Mothiba between the lines with his pinpoint dropkicks, finding the target with regularity.
By the time the goal came, Javier Aguirre had used up all of his substitutions. Baxter, on the other hand, had not made a single change. Instead, he remained resolute in his belief that his starters could finish the job, and in the 85th minute, he was vindicated.
Mothiba quickly dropped back to beat out two Egypt players and control Tau's throw-in, before advancing down the right flank with a buccaneering run.
Tau swiftly combined with Lorch and Zungu, with Zungu launching a Zidane-esque through ball into Mothiba.
Suddenly, South Africa had a 2-v-1 scenario, with Lorch and Mothiba launching forward, and Hegazy helplessly wondering where his defensive assistance was.
Mothiba played a perfect pass into Lorch, who placed a calm finish past El-Shenawy and into the right corner. 1-0.

In the most important match that Bafana Bafana have played since the 2010 FIFA World Cup, they proved they were up to the task, knocking out the hosts and continuing a trend of upsets which had previously seen Cameroon and Morocco eliminated at the Round of 16.
While the quarterfinal match-up against Nigeria will be a tough task for Baxter's men, they proved against Egypt that they can dig in, defend with discipline, and counter with menace.
If South Africa are to make it to their first AFCON semi-finals since 2000, they'll need Mothiba to be at his best once again.
Further Afcon 2019 reading...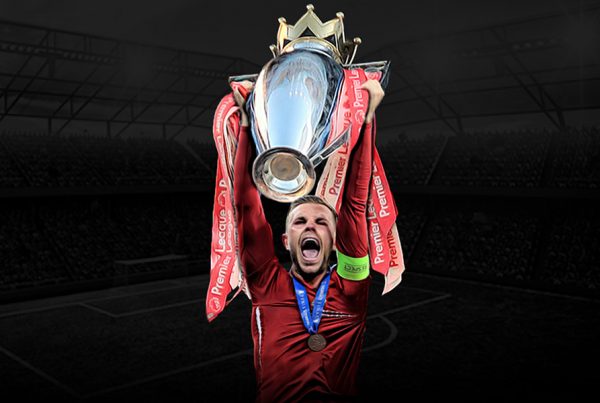 11 November 2019, by: Brenton Chelin BET.co.za pay out early on Liverpool to the league After almost three decades of failure, it's finally their year! After watching Liverpool dismantle the…