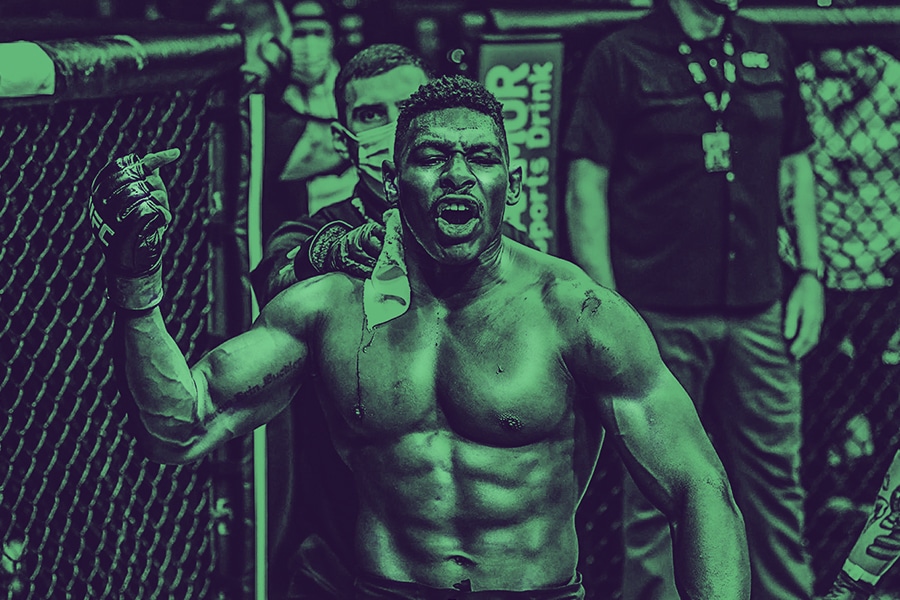 In a year in which the world was brought to a standstill, the Ultimate Fighting Championship (UFC) was the closest thing to the gift that kept on giving, writes Quintin van Jaarsveld.
Leave it to the UFC to lead sport's fight against the crippling Covid-19 pandemic. The world's pre-eminent mixed martial arts promotion in May hosted the first major sporting event of the coronavirus era. Held in Jacksonville, Florida, UFC 249 was a silent celebration for sport in general and a grand slam for the UFC.
Spearheaded by its ever-determined president Dana White, who went as far as procuring a private island in Abu Dhabi to stage international fights, the UFC went from strength to strength, so much so that 2020 is set to be the promotion's most successful year yet, according to White.
The lack of live crowds has brought a new level of rawness to what's already the most primal form of competition. The world-famous Octagon offered a platform for pugilists to purge and they did so in unforgettable fashion.
Here are our picks for the top 10 UFC knockouts of 2020:
10: McGregor Kicks Off 2020 With A Bang
Conor McGregor made his much-anticipated return and kicked off 2020 with a 40-second destruction of Donald Cerrone at UFC 246. A jacked "Notorious" completely outclassed "Cowboy" in what was expected to be a welterweight war. The Irish phenom busted Cerrone's nose with the most effective shoulder strikes ever seen in the Octagon, connected with a head kick – Cerrone's signature weapon – and finished off his fellow legend with ground-and-pound to become the first fighter in UFC history to score knockouts in three weight classes (featherweight, lightweight and welterweight).
9: Khaos In The Octagon
Seven months after a dream debut that saw him stop Alex Morono in just 27 seconds, welterweight Khaos Williams was at it again. Abdul Razak Alhassan looked to steal his thunder at UFC Fight Night 182, but missing weight didn't help his cause. The fight lasted just 30 seconds, with Williams stiffening "Judo Thunder" with a sledgehammer straight down the pipe.
8: Kattar Hellbow Cleans Stephens' Clock
Rising star Calvin Kattar made a major statement when he walked down Jeremy Stephens, one of the hardest hitters in the featherweight division, and left him in a heap gushing blood midway through the second round at UFC 249. Living up to his moniker, "The Boston Finisher" connected with a brutal elbow that spelt the beginning of the end for "Lil Heathen".
7: Spinning S**t
'Spinning s**t', as Nick Diaz famously called it, rarely pays off in the Octagon but it certainly did for Beneil Dariush at UFC Vegas 6. The Iranian lightweight, whose devastating knockout of Drakkar Klose in March also almost made our list, dominated Scott Holtzman and closed the show with a beautiful spinning back fist.
6: Polish Power
Jan Blachowicz is revered for his 'Polish power' and it propelled him to UFC light heavyweight gold in 2020. He needed just one shot to crumble Corey Anderson in their UFC on ESPN+ 25 headliner, avenging the loss from their first meeting back in 2015 and ending Anderson's four-fight win streak. The impressive finish sent Anderson packing to Bellator and earned Blachowicz a title tilt against Dominick Reyes, which he won with another brutal knockout in September to capture the championship vacated by Jon Jones.
5: "The Predator" Feasts
At 1.93m, 117kg and seemingly carved out of granite, Cameroon-born colossus Francis Ngannou is arguably the most terrorising knockout artist in UFC history. "The Predator", who holds the world record for the hardest punch ever thrown – the equivalent to 96 horsepower – has left a pile of bodies in his wake in pursuit of a rematch with heavyweight champion Stipe Miocic including that of Jairzinho Rozenstruik, who he savagely steamrolled in just 20 seconds at UFC 249.
4: Holland Slays Souza
One of the breakout stars of 2020, Kevin Holland not only secured his fifth win of the year when he battled Brazilian veteran Ronaldo Souza at UFC 256, he did so in spectacular fashion. It was clear the surging prospect was brimming with confidence as he showed no fear of the former Strikeforce middleweight champion's renowned jiu-jitsu when he found himself on his back early. One of the most unique knockouts you'll ever see, a grounded "Trailblazer" scrambled, swung his hips and uncorked a lethal looping right on "Jacaré" before jumping up and finishing off his folded foe.
3: The Suga Show
Sean O'Malley made an immediate impact when he burst onto the scene with a stunning knockout of Alfred Khashakyan on Dana White's Contender Series to earn a UFC contract back in 2017. Was the colourful "Suga" all hype? This bout would go a long way towards answering that lingering question as he faced his toughest test by far in former WEC bantamweight champion Eddie Wineland at UFC 250. A composed killer on the night, the 26-year-old flat-lined the UFC veteran with a bazooka-like cross and casually walked off like it was nothing.
2: Garbrandt's Haymaker From Hell
McGregor wasn't the only former champion who made a spectacular comeback in 2020. Over a year after being knocked out by Pedro Munhoz, ex-bantamweight king Garbrandt was back in the Octagon and immediately inserted himself back into the title picture with a walk-off knockout for the ages. Raphael Assunção had aimed to advance his title aspirations heading into this co-main event at UFC 250 but made the cardinal error of switching off for a second in the final moments of the second round, opening the door for "No Love" to put him to sleep with a hellacious right hook.
1: Buckley's All-time Classic
Despite a smorgasbord of stunning knockouts, there was a clear standout for the second successive year . In just his second Octagon appearance, Joaquin Buckley ensured his name will live forever when he starched Impa Kasanganay with a jaw-dropping jumping spinning back kick in their middleweight match-up at UFC Fight Island 5. One of the greatest knockouts in UFC history, Buckley's whirlwind of destruction broke the internet, smashing records as the promotion's most-watched Instagram video ever with over 17.8 million views and generating more than 65 million views and 83 million impressions on other social media platforms.
SIGN UP TO OUR

BET CENTRAL PLAYBOOK
Get weekly emails packed with the best tips and sports content.
Get ahead of the game now - fill in the contact form below.