Pieter-Steph du Toit Tribute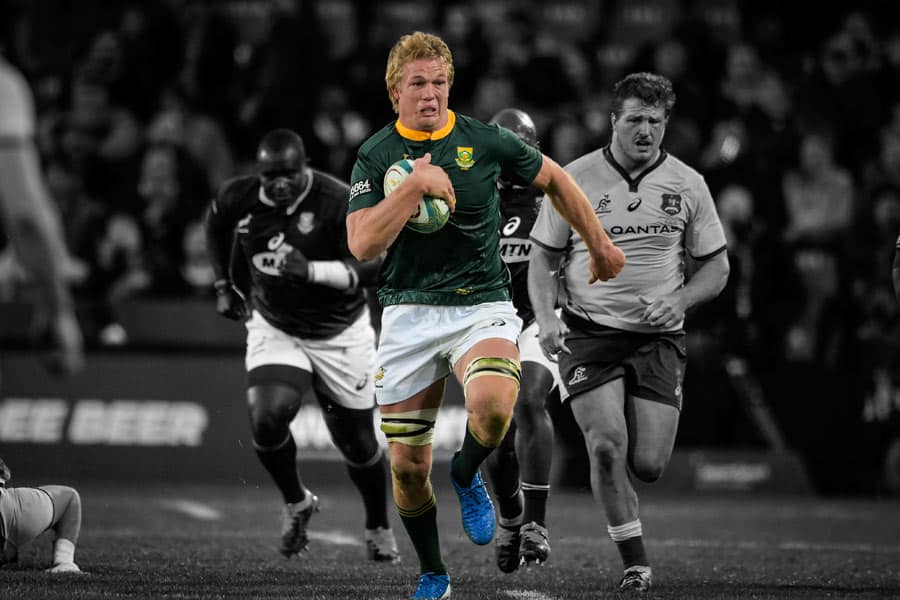 13 February 2020, by: Quintin van Jaarsveld
Pieter-Steph du Toit: Mr Blood, Sweat and Tears

In a world reserved for only the top one-percent of elite athletes, Springbok and Stormers superstar Pieter-Steph du Toit is one of a kind, writes Quintin van Jaarsveld.
Sport, in general, is about moments – unforgettable moments that stand the test of time, moments that seep into and become part of the very fabric of the game. While appreciated for the poetry in motion that they are, it's not breath-taking tries but rather iconic images that are forever ingrained in the minds of rugby lovers.
The Springboks have produced some of the most iconic and transcendent images in rugby history. Joel Stransky's legendary drop-goal in the 1995 World Cup final against the All Blacks at Ellis Park, Francois Pienaar receiving the trophy from Nelson Mandela – the president proudly wearing a Springbok jersey – after the epic 15-12 triumph and most recently, Siya Kolisi – surrounded by his racially-transformed band of brothers – becoming the first black captain in history to lift the Webb Ellis Cup in Yokohama last November.
On Saturday, 15 September 2018 in Wellington, the rugby world witnessed the resurrection of the Springboks and the emergence of a legend. In one of the all-time classic clashes, the Springboks conquered the world-champion All Blacks 36-34 in an almighty display of desire.
Springbok rugby had been on its deathbed. The men in Green and Gold had gone down 57-15 to New Zealand in Durban in 2016 and had suffered a soul-snatching 57-0 shutout – the worst defeat in Springbok history – in Albany in 2017. The Boks headed into the Wellington Test off the back of back-to-back defeats to Argentina and Australia and with a real sense that the game's greatest rivalry had died.
Now under Rassie Erasmus, the Springboks refused to go quietly into the night. They emerged from their slumber and turned the rugby world on its axis as they threw everything at the All Blacks to record their first win over the old foe on New Zealand soil in nine years. It was THE key moment of the Bok revival, and Du Toit was at the heart of the heroic triumph.
According to Sanzaar, Pieter-Steph du Toit has made the most tackles (61) in the Rugby Championship, including 24 against New Zealand in New Zealand. He also leads the Boks for carries (39).

— Craig Lewis (@craigolewis) September 27, 2018
The two-metre tall, 119kg blindside flank had poured his heart and soul into the titanic Test, making no less than 24 tackles and five strong carries, and was overcome with emotion when referee Nigel Owens blew the final whistle. The war had been won, and the tears flowed freely from the face of the physically and mentally spent Bok back-row warrior.
That image of the towering Du Toit in tears told the story of true grit. In that magically-captured moment, he forever became Springbok rugby personified – Mr Blood, Sweat and Tears. On that special night at the Cake Tin, he evolved from star to superstar, from hero to legend.
Pieter-Steph du Toit has been named the @WorldRugby Men's Player of the Year at the #WorldRugbyAwards for his outstanding performances in 2019.#StrongerTogether pic.twitter.com/J3k872OiVJ

— SuperSport ? (@SuperSportTV) November 3, 2019
Back-to-back seasons of sheer brilliance saw Du Toit ascend to rugby royalty as he claimed the highest honour in the sport, the prestigious World Rugby Player of the Year award, and became only the third three-time winner of the South African Player of the Year award (after Naas Botha and Bryan Habana) after playing a key role in the Springboks' 2019 World Cup and Rugby Championship triumphs.
With his coronation as the world's best player in Tokyo, a day after South Africa's stunning 32-12 win over England in the World Cup final, he'd not only lived up to but exceeded his prodigious potential.
In a world of super athletes, Du Toit makes most of his peers look ordinary. The grandson of ex-Springbok prop Piet "Spiere" du Toit is a freak of nature, whose remarkable physical traits are matched only by his steely determination and an unquenchable hunger for competition.
He's big, strong and athletic, boasts superhuman stamina and cyborg-like consistency. He's equal parts brains and brawn, a leader and a rugby terminator, who takes the fight to the opposition every minute of every match, week in and week out, year after year after year.
He's a throwback and futuristic rolled into one. A hybrid of greats that have come before him – legends like Frik du Preez, Schalk Burger, Juan Smith and André Venter. He has their domineering physicality, athleticism, intensity, relentlessness, class and conditioning in addition to being a versatile virtuoso – a dual threat who's equally adept at flank and lock.
Long before Du Toit's rise to legendary status, 2007 World Cup-winning Springbok coach Jake White predicted big things from the bright-eyed blue-chip prospect he'd come across. While serving as Sharks mentor in 2014, White hailed Du Toit as the most talented player he's ever coached and said he could become the best lock, blindside flank or No.8 in the world. How right he was.
However, nothing in rugby is ever guaranteed and the sport was almost robbed of a future great as Du Toit's career nearly ended before it truly took off. He had a dreadful time in Durban, where he started his first-class career, suffering one serious injury after the other.
He had to undergo no less than five operations and complete five painful, frustrating, long and rocky roads of rehabilitation. The fifth injury threatened to bring his blossoming career to a screeching end – a torn anterior cruciate ligament in the very knee he had crocked during a Super Rugby clash against the Cheetahs the previous year.
To rub salt in the wounds, the 2015 World Cup was just five months away. He had been ruled out for the remainder of the year, but all hope was not lost after all. Dad Pieter donated his own tendons to give his son a new lease on his rugby life. Rather miraculously, the procedure was such a success that he made it to the World Cup and started in South Africa's tournament-opener against Japan.
These challenges that he had to endure and overcome had steeled him. It's because he walked through the fire that he, more than most, has a real understanding of and utmost appreciation for the privilege it is to play the game at the highest level, knowing full well that every match could be his last. It became the fire that fuelled him, the driving force behind his now-legendary work ethic. Yet, he plays with selflessness and fearlessness that speaks volumes of his love for his country and the Bok emblem.
2016 proved to be a pivotal year in Du Toit's progression and saw him scoop his maiden South African Player of the Year award. He took a back to the future approach, returning home and joining the Stormers, where he shone in the second-row alongside Eben Etzebeth before he eventually reverted to flank where he'd first put himself on the radar as a schoolboy at Hoërskool Swartland.
He had started the aforementioned Miracle of Brighton in the No.7 jersey as a stand-in for the injured Willem Alberts. It went about as well as the Boks' performance as a whole in the first-ever defeat to the Brave Blossoms. New Springbok coach Allister Coetzee, however, was keen on moulding Du Toit into a world-beating back-rower and committed to the process during the turbulent early stages.
When Rassie Erasmus took over as national coach in 2018, he saw Du Toit's leadership qualities and made him captain of an experimental Springbok side featuring 13 uncapped players for the season-opening clash against Wales in Washington DC. The one-off Test was a bust, with the Boks losing 22-20 and returning to South Africa with more questions than answers.
Erasmus on Twitter this week posted videos of frank team talks he had with players in the lead-up to last year's triumphant World Cup campaign in Japan. In it, he cautioned players of the evils of entitlement and warned of the need for continuous introspection and used himself as a former Springbok loose forward and captain as an example of someone who'd fallen victim to these afflictions for a portion of his career.
As I found out the hard way (entitled) pic.twitter.com/A0bRyj0W6P

— Rassie Erasmus (@RassieRugby) February 10, 2020
As a person, Du Toit is as humble as professional athletes come, as much of a gentleman off the field as the gladiator, he is on it. As a player, Erasmus was fully aware of the thoroughbred he had in Du Toit, but pedigree and reputation counted for nothing in the new Bok mentor's eyes.
He wanted Du Toit (and the rest of the squad) to show him what he's made of, so he relegated him to the bench for the following week's Test against England. It worked like a charm. Through that initial litmus test, respect was earned and a bond was formed. It brought out the best in Du Toit and he bagged his second South African Player of the Year award that season.
"There was always desire, but I wanted to see the hunger," Erasmus told SA Rugby magazine when asked about benching Du Toit a week after he'd captained his country for the first time. "He is a player who is so naturally blessed, but often with players so good, they never have to go to the darkest places to find themselves. What has been defining about him this season is that he has gone to those places, triumphed and emerged as a leader as much as a victor."
Somehow, Du Toit managed to eclipse his 2018 heroics in 2019, producing a career-defining season that culminated with him and his beloved Boks at the very pinnacle of the sport – as the best in the world.
A pillar of strength, he started nine of the Boks' 11 Tests and elevated his already awe-inspiring game to otherworldly new heights every time. Immense and irrepressible, he was South Africa's undisputed ironman, who inspired those around him with his physicality, passion and professionalism.
A list of @Springboks who have won the @WorldRugby Men's Player of the Year award:

2004 Schalk Burger
2007 Bryan Habana
2019 Pieter-Steph du Toit pic.twitter.com/UYpZZFayhM

— SuperSport ? (@SuperSportTV) November 3, 2019
In the World Cup final in Yokohama, he mowed down the English at every turn. He was a Zombie-like, in-your-face threat that refused to go away. Owen Farrell and company will not soon forget Du Toit's face and will never be able to wipe the harrowing memory of that mauling from their minds.
A man of values, valour, natural ability and absolute dedication, Du Toit's the prototypical Springbok every schoolboy should aspire to be. At 27, he's only halfway into his career and already the most decorated Springbok of his generation. When it's all said and done, he might bow out as the best Bok ever. He's that special.
JOIN BET.CO.ZA NOW AND
GET 100% DEPOSIT MATCH UP TO R1000
Open your BET.co.za account here
Deposit using your preferred method
Your bonus gets added immediately!
MORE RUGBY