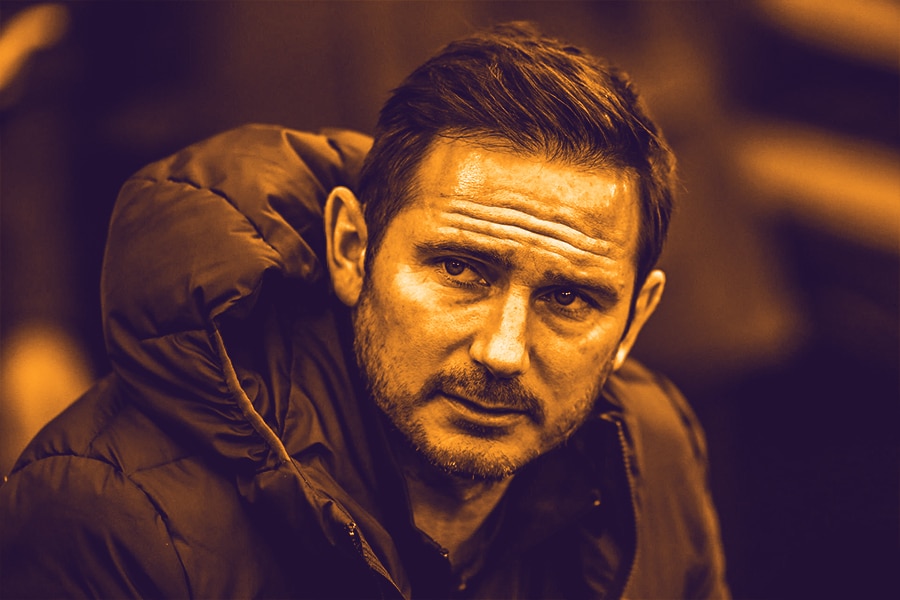 Monday's news that Chelsea had sacked Frank Lampard would not have surprised many people, especially with recent reports in the press. That so many outlets had stories loaded and ready to fire when the news broke was a telling sign that the club made their decision weeks ago. What exactly went wrong for the coach and does this finally put to bed any hopes of the club having a long-term manager?
First Season: Success
At the time and looking back now, Frank Lampard's first season can only be seen as a success despite the major disappointment of losing the FA Cup final to Arsenal. Especially after the summer transfer ban and a January window where Chelsea could sign players but didn't strengthen the squad – much to Lampard's frustration with Hakim Ziyech the player the club couldn't get over the line.
This summer's massive outlay immediately changed expectations. Not only were improved results expected and a closing of the gap to Man City and Liverpool, but the way the club and the squad looked at themselves changed too. Playing like an underdog – as Lampard did to good effect in certain matches last season – was no longer an option. Few things highlight that like the fact that Chelsea have used a back five out of possession on just a single occasion (drawing 0-0 at Old Trafford). It was a regular go-to last term.
Ahead of his campaign, many predicted that the young players that Lampard had promoted and trusted so much would lose their places. Timo Werner appeared to be signed to replace Tammy Abraham. Kai Havertz plays in the same position as Mason Mount. Hakim Ziyech is a winger like Callum Hudson-Odoi. This was given more credibility by how much less many of the academy players were selected after the restart. Many thought those players had served much of their function and the new additions would start right away.
Preparation Nightmare
For any team to integrate six new signings into their starting XI is a tough ask. Aston Villa have managed to perform right away with five new starters but all five either had Championship or Premier League experience. Chelsea had gone out and signed Ben Chilwell from Leicester, granted, but also Kai Havertz, Timo Werner, Hakim Ziyech, Thiago Silva and Edouard Mendy.
With just five weeks between the 2019-20 season ending for Chelsea and the new one starting, players would need to both find time to rest and to do some sort of preseason training. There was also an international break two weeks before the season started! Yes, a couple of other teams also finished their season late (Man City and Man Utd) but they were not trying to integrating so many new players. Liverpool, Leicester and Tottenham all had two extra weeks between seasons.
Add to this, ten Chelsea players had to spent two of the three weeks before the international break in quarantine so you effectively have no preseason. Kai Havertz joined on the eve of the first match and trained four times before his debut. Hakim Ziyech was injured in preseason and only made his debut in October. Ben Chilwell arrived at the club still struggling with a foot injury. And Edouard Mendy was only signed late after Kepa Arrizabalaga's error ridden start to the season saw the board finally relent to Lampard's pleas for a new goalkeeper. Chilwell and Mendy made their debuts in the fifth match of the season.
Say what you like, it was undeniable that Lampard had a very tough job trying to integrate new signings without any training time before the season and many only joining after the campaign was well underway.
Lampard's Laundry List of Errors
Any young coach is going to make mistakes. Any inexperienced coach, appointed not for the job he did at Derby County but for his personality and character as a player and person, is going to make mistakes. The only thing Lampard's job at Derby did was not disprove the feeling at Chelsea that he would make a great manager. Young and inexperienced coach are learning on the job. They are also not the finished article but then neither are any of the academy players who were promoted and nor are Werner or Havertz.
However, Lampard certainly did make many mistakes. His biggest one early on was appointing a coaching staff who were all very like-minded and who had similar backgrounds as people. Having such an insular staff meant there were not enough dissenting voices nor anyone with experience to lean on. Eddie Newton is a Champions League winning assistant coach and he was sidelined after being somewhat forced on Lampard.
Aside from that, Lampard's biggest issue was how many injuries his side picked up. As a player, he loved extra training and shuttles runs after sessions. Not all players are like that and his fitness heavy approach – as evidenced by the club's training diaries, Lampard's own comments, the number of muscle injuries and the slow performances after a full week to prepare – were all red flags. Added together, it was almost undeniable that the players were being overtrained.
This term, there were less problems. Lampard admitted he was managing N'Golo Kanté's training to keep him fresh for matches. It worked. However, the coach framed that as credit for himself and therefore his inadvertent admission that last season's injuries were his fault was never admitted.
Ditching Players, Then Recalling Them
Throughout his time in charge, Lampard had a curious selection criterion. Seemingly putting more stock in training performances (a means to an end only, no one moved up the table for how well they trained) and less in matchday displays was a regular comment from the coach as to why certain individuals like Callum Hudson-Odoi were being left out.
Many players found themselves in the team, then suddenly frozen out for a long period, and then recalled. Marcos Alonso, for all his faults as a player, sums that up well. He was out of favour when Lampard arrived with Emerson playing. Then, he started a long stretch of matches in a row, performing very well. Poor outings against Ajax and Man Utd saw him cast aside. He eventually came back into the side and was a regular until a slow recovery run for a goal at West Ham. After that, out of favour. He ended the season at first choice. This season, he started the campaign whilst Ben Chilwell was injured but his poor headed clearance at West Brom saw him taken off and never get another minute. His off-field behaviour post-match to go sit on the bus at full time should not detract from the point being made.
Lampard could not decide what he thought of players. Andreas Christensen, Kurt Zouma, Callum Hudson-Odoi (ten weeks without a start at one point last season) and especially Jorginho all had this type of treatment as did Olivier Giroud. The latter barely had a kick until February as Michy Batshuayi got minutes instead but was first choice after the restart! Let's not get started on Fikayo Tomori who was excellent for months and then suddenly never seen again after a couple of iffy displays.
Too Adaptable, And Then Too Stubborn?
No one can accuse Lampard of not being adaptable last season. He decided to surprise both Wolves and Tottenham by using a back three and winning impressively at two tough award grounds was a testament to that. He did the same against Man Utd in the FA Cup semi-final and it worked a treat. The problem is that Lampard often stuck to that shape for subsequent matches when it wasn't suited and Chelsea ended up losing.
The coach started both campaigns with what appeared to be his most favoured 4-2-3-1 shape before switching to a 4-3-3 with one lone holding player and two number eights.
Both times that move brought some very good results. However, seemingly with more pressure to play "good" football, Lampard was not keen to arrest the recent slump by changing to a back three to solidify things in the short-term. That stubbornness and doing the same thing over and over again made it easy for opponents to analyse Chelsea.
Peak Age Mediocrity
Whilst Lampard has made many mistakes, there can be no doubt that the board have bungled recruitment in many recent windows. Looking at this Chelsea squad, you have several academy players and at least three (Mason Mount, Hudson-Odoi and Tammy Abraham) can claim to have been amongst the best performers this season. They are backed up with further young players who are 24 or under in Christian Pulisic, Werner, Havertz, Billy Gilmour and Chilwell.
Then you have some veterans like Cesar Azpilicueta, Thiago Silva, Kanté and Giroud who are all reliable performers and great professionals and give balance to the academy players. The issue with this roster is the peak age players. The ones who are meant to be carrying the side and playing the best football of their career. In that age group, you have many individuals you simply can't hang your hat on – Jorginho, Mateo Kovacic, Andreas Christensen, Antonio Rudiger, Emerson and Marcos Alonso. That the squad is still bloated with these players is a stain on the club's recent transfer business.
Yes, many of those have not played regularly this season but their very presence has stopped a pathway being there for Tomori and Ethan Ampadu (and Gilmour, to a lesser extent). Their presence has also made it difficult for the club to justify buying new players in the club's biggest problem position in central midfield. It could be years until Chelsea stop paying for (literally) the signings made to help make Sarri-ball a reality. Let's not even get started on Kepa.
Another factor of these poor peak age performers is that they expect to play every week and when they don't, it leads to dressing room disharmony. Chelsea saw the summer transfer window close with one too many goalkeepers, at least one too many central defenders and one too many left-backs. No wonder there isn't enough game time to go around.
This poor squad building by the board meant it was only a matter of time until Lampard had a mutiny on his hands especially as no deals were lined up for those surplus players as soon as the January window opened. Essentially, these players cost a lot of money, they cost Chelsea results when they play and most importantly, there is an opportunity cost to having them in the squad.
Legacy of Youth
With doubt, the legacy of Lampard's time in charge will be the opportunities he handed to young players. For years, Chelsea have had the best academy in England in terms of results at youth level. What wasn't there was a pathway to first team minutes. Lampard gave academy players the chance to dream again with eight debutants in his 18 months in charge with six of those getting regular and meaningful minutes.
Seeing Mount, Tomori and Abraham scoring five goals between them away at Wolves and seeing Billy Gilmour win back-to-back man of the match awards against Liverpool and Everton was a joy to see. Hopefully, this group of academy players will be at the club for the next decade together. In the worst case scenario, they will be sold for large transfer fees.
Did He Deserve More Time?
Chelsea went top of the Premier League at full time after beating Leeds 3-1 on the 5th of December and ending that day two points off the top having gone 14 matches unbeaten in all competitions. That saw the side on a run of eight wins in nine matches with eight clean sheets in 11. The side had balance defensively and were scoring goals for fun in attack.
Timo Werner was looking tired but contributing goals and assists from a wide role. That feels like almost a lifetime again now as the results took a nasty turn for the worse. From toothless attacking displays to naïve defending, to losing late at Wolves, to a complacent performance to be beaten by an Arsenal team with one win in 10 matches. Everything seemed to go wrong. The Man City defeat which ended 3-1 but could have been by a much larger margin, it seemed to show that Lampard did not know to stop the rot.
Whether he "deserved" more time will be debated but the club decided that backing a manager long-term was not for them. It may never have been. In hindsight, Lampard's appointment may only have been a temporary solution for the board – a club legend coming in and maximising what he has for a short period. That made Lampard more a Roberto Di Matteo figure. Perhaps the assumption that the club was changing the way it was doing things was simply never based in reality.
As a Chelsea fan, looking more than one or two matches ahead is futile now. The club cares only about the here and now and the end destination, not how the club gets there. Winning with Lampard in charge would have been the ultimate for Chelsea supporters of a certain generation who were fans of the club during his glorious period in Blue. For newer supporters, they simply don't understand the uproar over his sacking.
It's not clear if Lampard will have regrets but if he does, maybe he should have simply been more ruthless and ditched underperforming players earlier. Maybe he could have defaulted to using youth once things took a bad turn in December and January and not fallen back on picking the poor peak age players. Perhaps he could have switched shape or tactics to arrest the decline. It probably wouldn't have mattered anyway. The club were always going to ditch him at the first sign of trouble as that is just how they operate. Like every Chelsea manager, he was a dead man walking from the start. Only he did it with academy kids. That is his legacy.
SIGN UP TO OUR

BET CENTRAL PLAYBOOK
Get weekly emails packed with the best tips and sports content.
Get ahead of the game now - fill in the contact form below.